Tech Tidbits From Around New Hampshire
UNH School of Law introduces bioInnovation research and law course, SilverTech promotes within ... and more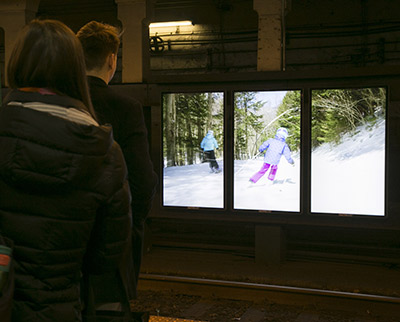 Novocure, a New Jersey-based oncology company with operations in Portsmouth, has entered into a $150 million term loan agreement with BioPharma Credit PLC, an investment fund managed by Pharmakon Advisors, LP. The proceeds will be used to pay in full Novocure's existing $100 million term loan debt and fund working capital. The agreement improves upon the pricing and terms of Novocure's existing credit facility with BioPharma Secured Investments III Holdings Cayman LP and extends the maturity of Novocure's debt until February 2023.
Proto Labs, the Minnesota-based owner of RAPID Manufacturing in Nashua, reported the New Hampshire manufacturer generated $3.6 million in revenue in the fourth quarter. Proto Labs acquired RAPID in the fourth quarter of 2017.
iCAD, Inc., a Nashua-based provider of cancer detection and therapy solutions, has been named one of the "Top 10 Artificial Intelligence Solution Providers" of 2018 by Healthcare Tech Outlook magazine. iCAD was recognized for its innovative PowerLook Tomo Detection solution, which leverages artificial intelligence to improve efficiency and workflows of radiologists tasked with reading digital breast tomosynthesis images.
Digital marketing agency, SilverTech, recently announced three internal promotions. Derek Barka, who joined SilverTech in 2013 as chief software architect has been promoted to chief technology officer. Most recently serving as senior director of finance and accounting, Nina Chang has been promoted to vice president of accounting and finance. And John Wingate has been promoted from senior engineering manager to director of engineering.
Hanover-based New Energy Capital Partners has closed on $12.5 million capital commitment to San Francisco-based Renewable Properties, a team of experienced renewable energy professionals with development and investment capabilities throughout the U.S., to develop, finance and operate solar energy projects for utilities, local governments and large commercial entities.​ Renewable Properties has a rapidly growing pipeline of utility solar projects located throughout the U.S. and plans to bring approximately 75 MW DC of solar capacity online in 2018, which is enough electricity to power nearly 12,657 homes a year.
For the four weeks between January 15 and February 11, the New Hampshire Division of Travel and Tourism is running a winter attractions campaign across the Boston Massachusetts Bay Transit Authority system. The campaign has been made possible by OUTFRONT Media's ON Smart Media network, is a cloud-based, app-driven platform that combines hardware, software, content and data to engage audiences with digital out-of-home advertisements. The campaign showcases creative that is both unique and engaging to passersby, with skiers shredding the slopes across multiple screens. The creative for the campaign was developed by GYK Antler.
The University of New Hampshire School of Law is introducing an innovative course highlighting the intersection of health, intellectual property and business law, called "bioInnovation Research Collaboration and the Law." The course is a collaboration between UNH Law and industry partners, as the school teamed up with BioFabUSA and the Advanced Regenerative Manufacturing Institute (ARMI) to create a curriculum that addresses legal and regulatory issues in a rapidly-growing field. Students will gain a clear understanding of the bio-medical product development process, and navigate the issues facing companies seeking services from BioFabUSA and ARMI, as well those facing academia and the industry at large in developing these products.
Systems Engineering, a Portland, Maine-based IT strategy and managed services provider with a location in Manchester, has announced Lynne Gawtry is joining the company as director of human resources and as a member of the company's senior leadership team. Gawtry will be responsible for leading the company's strategic HR initiatives, including oversight of all employee benefits, attracting top talent and training and developing existing employees. Gawtry has more than 20 years of human resource experience.
The next New Hampshire High Tech Council TechWomen Power Breakfast on Wednesday, February 14 will feature Tranquilo CEO and Founder Melissa Gersin who will discuss how her work and passion led her to create her own technology and ultimately launch her own company. The Valentine's Day Power Breakfast is from 7:30 to 9 a.m. at the Manchester Country Club, 180 South River Road in Bedford. Tickets for the Power Breakfast are $10 for members of the Council and $20 non-members, and include breakfast. Click here for more information.
In collaboration with the Massachusetts Biotechnology Council and North Shore Technology Council, New Hampshire's Biotech/MedTech Cluster, an initiative of the NH High Tech Council, will host a regional gathering on Tuesday, March 13 to discuss regenerative medicine and the opportunities it will bring to New England and the nation. Dean Kamen, president of DEKA Research and Development and acting executive director of ARMI/BioFabUSA, will be the keynote speaker. Registration is available online for the March 13 event or by phone at 603-935-8951. Tickets are $15 for Council members, $25 for not-yet-members and $10 for students.
Worcester Polytechnic Institute will be holding an Advanced Biomanufacturing Symposium on April 9-10. Day 1 will focus on traditional protein therapeutics and emerging technologies. Day 2 will focus on cell and tissue therapies. Click here for more details and to register.
The University of Maine at Augusta, through the Unmanned Aircraft Systems pilot training center, will host a daylong conference, Drone Applications for Business: Navigating Your Airspace, on Saturday, Feb. 17 at Jewett Auditorium on UMA's Augusta campus. This conference will showcase cutting edge drone applications for businesses.
The NH High Tech Council is accepting nominations for Tech Woman of the Year, Tech Student of the Year and Tech Teacher of the Year. Click here for the nomination form.