Tech Tidbits From Around New Hampshire
Hassan-sponsored Connected Government Act signed into law, 2018 FIRST Robotics Competition season kicked off ... and more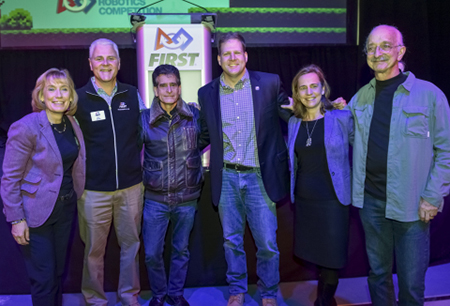 A Congressional Review Act resolution of disapproval co-sponsored by U.S. Senators Jeanne Shaheen, D-NH, and Maggie Hassan, D-NH, to undo the Federal Communications Commission's anti-consumer regulations and restore net neutrality rules now has more than 40 co-sponsors, including Republican Senator Susan Collins. This type of resolution requires the support of 30 senators to be sent to the Senate floor for a vote and a simple majority is needed for its passage.
Yesterday, the bipartisan Connected Government Act — introduced by Senators Maggie Hassan, D-NH, and Cory Gardner, R-CO — was signed into law by President Trump. The Connected Government Act will expand access to government services and information by requiring that all new federal websites are mobile-friendly. The bill also requires the General Services Administration to submit a report to Congress on agency compliance with this law within 18 months of enactment. The bill is intended to support 80 percent of Americans who experience disabilities while using wireless technology every day and low-income Americans who rely on mobile broadband at higher rates.
On Jan. 6, FIRST Founder Dean Kamen launched the 2018 FIRST Robotics Competition season with the Kickoff of a new robotics game called FIRST POWER UPSM before a crowd of more than 1,000 people, including Governor Chris Sununu and Senator Maggie Hassan, D-NH, at Southern New Hampshire University in Manchester, New Hampshire, hometown of FIRST headquarters. More than 91,000 high-school students on 3,647 teams at 137 venues around the globe joined the 2018 Kickoff via Twitch Live Broadcast.
Nashua-based Unified Office has announced Advantrix Corporation, a leading provider of medical billing services, has deployed Unified Office's Total Connect Now suite of services. Advantrix needed an innovative, easy to use reliable business communications platform with exceptional business continuity that tied together all of their employees and offices around the world. After more than a year of evaluating various phone systems, unified communications companies and service providers, (both cloud and premise based), Advantrix selected Unified Office's service offerings.
Last week, Congresswoman Carol Shea-Porter, D-District 1, announced that Meera Kurup of Merrimack has won the First District Congressional App Challenge for her ALZPoetry app, which helps Alzheimer's patients listen to poetry recorded by their family members. The Congressional App Challenge aims to engage students in coding and computer science. Over 4,100 students participated in the 14-week regional competitions, and they submitted over 1,270 original student-created apps. The winners are listed online at CongressionalAppChallenge.us.
FairPoint Communications has announced the launch of virtual Customer Premise Equipment, a cloud-based routing solution that provides scalability, accelerated provisioning and built-in geographic diversity. vCPE eliminates the need for traditional dedicated routing hardware on-premises, moving routing for WAN, IP and VoIP services to a world class, cloud-based routing solution. vCPE is available now in Maine, New Hampshire and Vermont.
Thunderbolt Innovation has announced the launch of their compliance management software solution for the construction industry. The Thunderbolt Compliance delivers robust, easy-to-use functionality that allows construction companies to better manage their time consuming, complex compliance issues. From subcontractor payroll compliance, to regulatory compliance for things such as labor licensing or OSHA. Thunderbolt Compliance is fully integrated with the company's flagship solution, Thunderbolt Pipeline. The Pipeline delivers end-to-end bid and project management, financial tracking, resource planning, and CRM.
Citizens Bank has become one of the first large regional banks to partner with Zelle, allowing its customers to send or receive money with a convenient person-to-person payments experience. Zelle allows funds to be sent from one bank account to another in minutes, using only a recipient's email address or mobile number. Citizens Bank customers can access Zelle through their mobile banking app or through online banking.
The Enterprise Center at Plymouth where we will be hosting a Business After Hours with the Central NH Chamber of Commerce on Tuesday, Jan. 23 from 4:30 p.m. – 6:30 p.m. Learn about Grafton RDC, the ECP and all its new tenants as well as all of the exciting things going on at the ECP.
Alpha Loft is accepting applications for its accelerator program, Accelerate NH, through Sunday, Jan. 14. Accelerate NH is a free 3-month program that will take a small batch of startups through an aggressive program to iterate through their business and product hyothesis to identify what works, and grow. The 2018 cohort will run from late February through late May. Early stage startups in NH are encouraged to apply.
The Wicked Good Web husband-and-wife team will be presenting methods and tools regarding "Getting Your Business on The Web," on Tuesday, Jan. 16 from 9 – 10:30 a.m. at the Enterprise Center at Plymouth. If you provide your business name and URL when registering, Wicked Good Web will even take a look at your web presence before the seminar and have feedback specific to you. For more information, or to register for the free event, click here.
Dr. Ross Gittell, chancellor of the Community College Systems of New Hampshire, will speak at the University of New Hampshire CEO Forum on Thursday, Jan. 18. The program begins at 8 a.m. in Huddleston Hall. Dr. Ross Gittell will talk about the current and future state of the NH workforce—its economy, labor and industry/ education partnerships—and how companies can benefit from the Workforce Development 2025 Initiative. The event is free to members and $49 for first-time attendees. To register, call 603-862-1107 or cfb.ceo@unh.edu.