Tech Tidbits From Around New Hampshire
Right Networks integrates three apps in cloud offerings … and more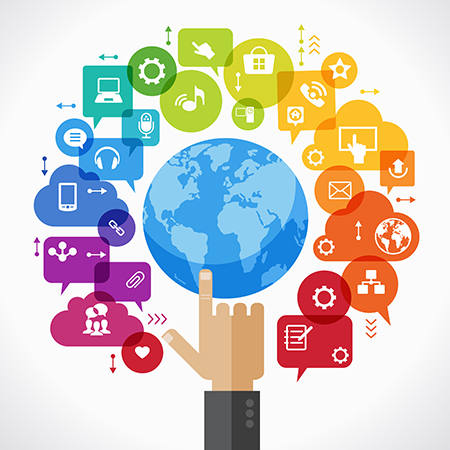 Rapid Manufacturing recently awarded $8,000 in scholarships to six students enrolled in Nashua Community College's precision manufacturing program: Patrick Grady of Londonderry, A.J. Knust of Merrimack, Eric Rantamaki of Mason, Amanda Roy of Goffstown, Alana Samuelson of Francestown and Nicholas Taylor of Brookline. NCC has two-year associate degree programs in precision manufacturing and mechanical design technology and advanced certificate programs in precision manufacturing CNC operator, metrology and quality control for precision manufacturing and machine tool technology CNC programming.
The Local Crowd Monadnock, a crowdfunding platform serving the Monadnock Region, is expanding into three additional towns – Alstead, Jaffrey and Peterborough.
The towns join Chesterfield, Keene, Hinsdale, Swanzey and Winchester. Entrepreneurs, businesses and organizations based in the communities are invited to submit project proposals to TLC Monadnock. Successful proposals will launch their campaigns this winter, based on their ability to positively impact local economies and communities.
This request for proposals is available online at monadnocklocal.org/lift. All proposals are due before 5 p.m. Friday, Jan. 12, 2018.
Hudson-based Right Networks, a provider of cloud-based accounting and business solutions, has entered integration partnerships with Bill.com, a business payments app, Expensify, a receipt and expense management app, and TSheetsm a time-tracking app. They are now part of the new Right Networks Business Cloud and Application Cloud bundles, offering a set of cloud connected applications that accounting professionals and their clients can use to run their business, streamline workflow, and boost productivity and savings, the company said.
Manchester Community College and the Robotics Education & Competition Foundation have partnered to fund, launch and support 100 new youth robotics teams in New Hampshire.
The funding will support 75 elementary and middle school-level teams at $500 and 25 high school-level teams at $1,200 each. The funding is accessible not only to academic groups, but organizations such as Girl Scout troops, homeschool students and community-based teams. Grants will be awarded on a first-come basis and the deadline to apply is Wednesday, Dec, 20. For more information, visit robotevents.com/grants or email Dan Larochelle at dlarochelle@ccsnh.edu.
Endur ID of Hampton, a designer of identification wristbands, cards and accessories, has been acquired by Capital Resource Partners, a private investment firm based in Boston.
Endur manufactures and distributes wristband products and identification solutions for Veterans Administration hospitals, non-VA hospital systems, long-term care and mental health facilities, and correction/detention, immigration and customs enforcement agencies. Its core product is a line of wristbands that can be customized with a patient's personal medical information and printed on site off virtually any laser or ink-jet printer.
The company was advised through the process by John Howe, director, and Ken Schaefer, deputy director, of Business Transition Strategies, a merger and acquisition firm based in Pembroke, NH, and Andover, Mass.
Gigajot Technology of Lebanon, NH, has licensed Sunnyvale Calif.-based Rambus Inc.'s Rambus Binary Pixel technology and patents for use in Gigajot's Quanta Image Sensor (QIS), which enables high-speed counting of single photons of light at gigapixel resolution. The company says the new features can benefit imaging applications such as scientific, automotive, security, defense, encryption, AR/VR, 3D and consumer photography.
The sensor is based on the QIS technology developed by the Dartmouth-based Dr. Eric Fossum, inventor of the "camera on a chip" found in billions of smartphones.
Medicus Healthcare Solutions of Windham has introduced mSolve, a diagnostic process that customizes staffing solutions for healthcare facilities. The company said mSolve tailors an alternative staffing strategy to help healthcare organizations better achieve defined goals througha a five-step analytical process that evaluates, diagnoses, customizes, executes and solves staffing gaps.