Tech Tidbits From Around New Hampshire
UK firm buys UNH startup, TechWomen Ambassadors week … and more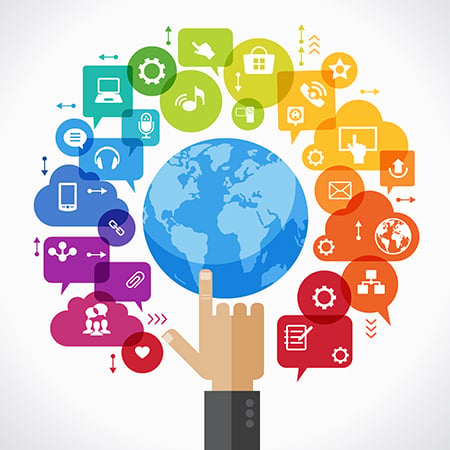 Hudson-based Right Networks, a provider of cloud-based accounting and business solutions, has completed its acquisition of Atlanta, Ga.-based Xcentric, a provider of managed IT solutions for accounting firms.
John Farrer, CEO and founder of Right Networks. said the firm's combined offerings "will bring our customers an unparalleled set of solutions to choose from as they move along their cloud journey. The Right Networks cloud combined with Xcentric's complete cloud offer gives the market a wide range of offerings to choose from."
The expanded Right Networks said it will maintain its Hudson headquarters.
Alpha Loft be holding its first Hoopla event Nov. 7 at its new space at WBC Office Suites in downtown Manchester.
The network event, designed for entrepreneurs, creatives and tech professionals, begins at 5:30 p.m. at the new Alpha Loft site, on the second floor of 1087 Elm St.
The NH High Tech Council's TechWomen|TechGirls committee is seeking volunteers and mentors as part of the third annual TechWomen Ambassadors week. During the week, schools across New Hampshire will hold special sessions for 9th grade girls to discuss careers in STEM with women currently employed in those fields. The two-hour sessions will take place in Lebanon, Nashua, Rochester, Manchester, Derry, Plaistow, Berlin and other locations in development.
Meetings will begin with a 30-minute opening talk during which students will hear from professionals in many different tech fields. Then they participate in small roundtable discussions with other students and mentors designed to encourage aspirations of STEM related career goals and discuss the path to realize them.
For more information, call Carol Miller at 603-271-2341 or carol.miller@nh.gov.
Jack Barry and Don Vallerand, the two founders of the Nashua Community College Aviation Technology program, recently were presented with the Charles Taylor Master Mechanic Award after a lifetime in the aviation industry. Barry and Vallerand founded the Aviation Technology program at Nashua Community College in 1991.
The award is named after Charles Taylor, the first aviation mechanic in powered flight. Taylor served as the Wright brothers' mechanic and is credited with designing and building the engine for the first successful aircraft. The Charles Taylor Master Mechanic Award recognizes the lifetime accomplishments of senior mechanics.
Lewiston, Maine-based Budget Document Technology has acquired Reliable Technologies, a dealer of HP, Xerox and Lexmark imaging technology based in Manchester, NH.
Reliable, founded in 1991 by owner Mike Lambert, grew from a toner manufacturer to a full-service office equipment dealership. Over the last five years, the Reliable team has been led by Matt Zanni, who will remain as general manager of Budget Document Technology's New Hampshire office.
The acquisition is Budget's second in less than a year in Manchester, having previously acquired Continental Business Systems in November 2016.
XMOS, a UK-based supplier of advanced embedded voice and audio products, has acquired Setem Technologies, a startup with University of New Hampshire roots, as part of its plan to change how consumers communicate with smart electronic devices in homes, vehicles and at work.
The company, has established new offices in Hampton, NH, where staff will concentrate on developing new VocalSorcery products that use Setem's patented technology.
UNH professor Kevin Short's research provided the foundation for Setem's algorithms, which enable devices to focus on a specific voice or conversation within a crowded audio environment to achieve optimized input into speech recognition systems.
In September, XMOS announced that it had raised $15M in a Series-E funding round, led by a strategic investment by Infineon Technologies.
New England IT consulting firm SkyTerra Technologies of Portsmouth has hired David Trask of Auburn, Maine, as director of business development for northern New England.
The NH Small Business Development Center and the Peter T. Paul College of Business and Economics at the University of New Hampshire, are looking for small businesses with challenges they'd like a team of UNH honor students to tackle next spring.
The teams of economics, finance, marketing, analytics and accounting students can address challenges from multiple perspectives, with the goal of improving the learning experience for students and providing a customized result for the business.
Interested parties can contact Rich Grogan, NH SBDC state director a richard.grogan@unh.edu or visit nhsbdc.org/engage-students. Deadline to apply is Dec. 1.