Tech Tidbits From Around New Hampshire
Cirtronics hosts 45 students for manufacturing month, FirstLight completes acquisition of 186 Communications ... and more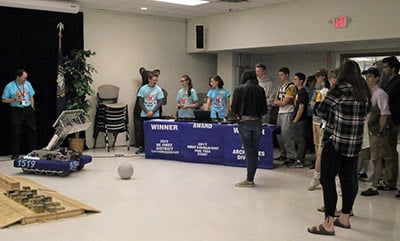 Bottomline Technologies, a Portsmouth-based provider of financial technology, announced earlier this week that it is expanding its global footprint with a new financial messaging operation center in Singapore. With the new center, Bottomline said it is positioned to provide a uniquely secure set of core financial messaging capabilities in the Asia-Pacific region.
​
FirstLight, a fiber-optic bandwidth infrastructure services provider based in Albany, N.Y., with operations in the Northeast, has completed its acquisition of Nashua-based 186 Communications.186 Communications operates a high-capacity fiber network in New Hampshire, Massachusetts and Vermont, with two data centers in the Granite State. The completed acquisition and acquisition of other New York-based fiber network operators makes First Light one of the largest fiber network providers, owning 14,000 route miles of high-capacity fiber, connecting nearly 8,000 locations and 12 data centers across the region.
The New Hampshire Judicial Branch has selected FirstLight to provide internet and data center services for its system of 82 courts in 38 locations throughout the state. The New Hampshire Judicial Branch locations include supreme, superior, district, family and probate courts, from where IT services are provided to approximately 700 employees in total.
Portsmouth-based global provider of Internet of Things enabling cloud-based software and services platform, Senet, has entered a partnership with Boston-based Yodiwo, an application enablement platform and Internet of Things services provider, to integrate the companies' respective platforms. By leveraging Senet's carrier grade Low Power Wide Area Network infrastructure and OSS, Yodiwo will be able to serve its customers sustainable and scalable Internet of Things solutions, said Yodiwo's CEO.
Cirtronics, a contract manufacturer in Southern New Hampshire, hosted 45 high school students for a manufacturing month event on Friday, Oct. 6, featuring Mechanical Mayhem, a FIRST Robotics team, and a facility tour. For the past two years, Cirtronics has partnered with Mechanical Mayhem to expand that experience to include an interactive demonstration to further increase interest in applied technology. This year, Mechanical Mayhem brought their new robot and students watched a live demonstration and had an opportunity to directly engage in discussions with their peers.
MassRoots, Inc., a technology platform for the cannabis industry, announced today the release of its new Dispensary Finder service with 6,000 entries that catalogue all medical, recreational and delivery-based dispensaries in nine states, including New Hampshire.
Middlebury, Vt.-based Co-operative Insurance Companies, a provider of property and casualty insurance in Vermont and New Hampshire, and Calif.-based Guidewire Software, Inc., a provider of software products to property and casualty insurers, announced that Co-op has successfully implemented Guidewire InsuranceNow to its Business Owners Policy line of business in Vermont and New Hampshire. InsuranceNow modernizes the Co-op's technology platform and automates manual business processes.
The Northern New England Women's Investor Network — a coalition of aspiring and seasoned women investors from New Hampshire, Maine and Vermont — will hold its inaugural educational event from 1 to 7 p.m., Wednesday, Nov. 1, at the 100 Club in Portsmouth. The event is open only to accredited investors — individuals whose earned income exceeds $200,000 (or $300,000 with a spouse) each of the prior two years as well as the current year, or who have a net worth of over $1 million. Women seeking to hone their skills, network with peers and explore early-stage investing opportunities in northern New England are encouraged to attend. For more information visit livefreeandstart.com.
Early-stage startups will get the opportunity to pitch directly to investors at the NH Speed Venture Summit, from 3 to 7 p.m., Thursday, Nov. 30 at the Manchester Country Club in Bedford. Startups are encouraged to apply now for the opportunity to pitch. Applications are due by Friday, Oct. 20. Companies will be notified by Friday, Nov. 3. Those accepted will be also attend a pitch camp on Thursday, Nov. 9 and Monday Nov. 13, both from 6:30 to 8 p.m. at Alpha Loft in Manchester. For more information, click here.
The Museum of the White Mountains at Plymouth State University recently announced the launch of Campbell Online: a dictionary of nineteenth-century artists of New Hampshire mountain landscapes and online database of seminal White Mountains paintings and artists. The comprehensive database of White Mountain artists and paintings is available at www.plymouth.edu/campbell-online/.
Safran Optics 1, a full-spectrum electro-optics company in Bedford, in conjunction with "Operation Care for Troops", is reaching out to the community for donations to support our troops during this coming holiday season. Donations will be brought to the Operation Care for Troops facility for their Holiday Packing Event in early November and forwarded to troops worldwide for the holiday season. Donations can be dropped off on Saturday, Oct. 28, between the hours of 10 a.m. – 2 p.m. at 1 Corporate Headquarters/Production Facility, 2 Cooper Lane in Bedford (located at the top of the hill behind the Copper Door restaurant).

The following items are in need:

· Power bars – protein and granola bars
· Dental items – toothbrushes, toothpaste, dental floss, lip balm
· Individual drink mixes
· Small canned fruit – flip tops
· Nuts/Trail mix – individual sizes or smaller packages
· Hand lotions (Aveeno, Eucerin, O'Keefe's Working Hands, Neutrogena, etc.) for dry hands – small to medium size (1.5 – 5.0 oz.)
· Foot powder (Gold Bond or similar) – small/medium size
· Oatmeal – individual packages
· Hot coca – individual packages
· Girl Scout cookies
· Tuna or chicken – foil pouches
· Playing cards
· iTunes gift cards
· Gum
· Baby wipes/body wipes – 10 count to 40 count (to fit the shipping box)
· Thank you cards/Holiday notes