Tech Tidbits From Around New Hampshire
Alpha Loft to host patent and trademark considerations seminar, NH High Tech Council honors Product of the Year on Oct. 12 ... and more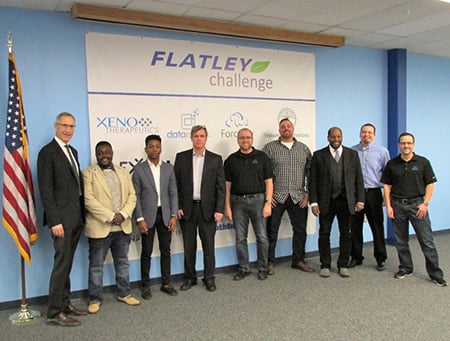 The NH High Technology Council's 12th annual Product of the Year awards program will be held at 5:30 p.m., Thursday, October 12, 2017 at the Manchester Country Club in Bedford. The award honors outstanding innovations by New Hampshire's high tech companies. Pilot Innovations, iCAD Inc., Crane Currency, Wagz Inc. and Vybe Software LLC will compete for the top prize, with audience voting as well. To learn more about the products and to register for the event, click here.
Last week, the U.S. Senate unanimously passed the Making Available Information Now to Strengthen Trust and Resilience and Enhance Enterprise Technology (MAIN STREET) Cybersecurity Act. The legislation, which Senator Maggie Hassan cosponsored, will help to provide a consistent set of resources for small businesses to best protect their digital assets from cybersecurity threats. The Cybersecurity Enhancement Act of 2014, which codified the industry-led process for the National Institute of Standards and Technology (NIST) Cybersecurity Framework, provides a comprehensive voluntary guide for organizations and businesses to better manage and reduce cybersecurity risks. The MAIN STREET Cybersecurity Act will ensure NIST considers the needs of small businesses as it updates the framework and provide simplified, consistent resources based on the NIST framework specifically for small businesses.
Wright-Pierce, an employee-owned, multidisciplinary environmental engineering firm with offices in Manchester and Portsmouth, has been recognized again this year by Engineering News Record as one of the "Top 200" environmental firms in the country. Engineering News Record compiles and publishes annual rankings of engineering and construction firms in the U.S., measured by gross revenues. In June, Engineering News Record also cited Wright-Pierce as a "Top 500" design firm. Wright-Pierce has been ranked in the Top 500 and the Top 200 for eight consecutive years.
The John Flatley Company is still accepting applications for the 6th Annual Flatley Challenge, a tech startup competition that provides winners with a year of free rent for up to 5,000 square feet of office and/or lab space at the Nashua Technology Park and/or Nashua Office Park at Gateway Hills and up to $10,000 in fit-up, connectivity and related costs. Interested candidates may apply online at http://www.gateway‐hills.com/flatley‐challenge/. Deadline for applications is Tuesday, October 31, 2017. Any questions about the Flatley Challenge should be directed to Kathleen McLaughlin, marketing manager for the John Flatley Company, at 603-598‐7500 or via email at kathleen.mclaughlin@johnflatleyco.com.
The Hannah Grimes Center in Keene is hosting a seminar on negotiating techniques when dealing with business partners on Thursday, Oct. 12 from noon to 1:30 p.m. For more information click here.
The next TechWomen Power Breakfast is Wednesday, October 11 from 7:30 to 9 a.m. at the Manchester Country Club, 180 South River Road in Bedford. The networking and educational event will feature Samantha Maltais, principal strategist and marketing manager at SilverTech. This month's focus will be on digital trends, emerging technologies and how technology professionals can take cues from the music industry to learn about the future of digital marketing. For more information, click here.
Wolfeboro Web Geeks will convene at Wolfe's Tavern at the Wolfeboro Inn on Thursday, Oct. 12 from 6:30 to 8 p.m. to discuss all things web related. The evening will start with lightening talks and move on to member questions. Bring your laptop or tablet to demonstrate your findings or search for new methodologies. To register, click here.
UNH's Paul College will host its 4th Annual Digital Marketing Symposium on Friday, Oct. 13 from 8 a.m. to 4:30 p.m. on the Durham campus. This year's symposium will include presenters from Hubspot, Hootsuite, PixelMedia and other digital media firms to discuss the power of content marketing, enhancing customer engagement, crafting a digital analytics strategy and other topics. To register, click here.
Albany International Corp. recently announced that its subsidiary, Albany International France S.A.S. has initiated discussions with the employee Works Council regarding a proposal to restructure operations at the company's machine clothing production facilities in Sélestat, France. The proposed restructuring would reduce employment by approximately 54 positions. Machine Clothing market conditions in Europe have continued to decline since an earlier restructuring in 2013. Global machine clothing sales were $582 million in 2016, compared to $693 million in 2012, a decline of 16 percent.
Alpha Loft will host a Lunch & Learn on patent and trademark considerations on Wednesday, Oct. 18 from noon to 1 p.m. at its new Manchester location at 1087 Elm St., 2nd Floor. IP attorneys Bill O'Sullivan and Brian Thomas will lead the presentation of what matters most for startups. To register, click here.
The NH High Tech Council will hold its annual Entrepreneur Forum on Wednesday, Nov. 8 from 5:30 to 7:30 p.m. at FIRST in Manchester. In front of a live audience, companies will present their business challenge to a panel of industry experts and receive board-level and executive advice on how to best address it. In addition to the presentations, the event will include a cocktail hour with hors d'oeuvres and time for networking. Click here for more details.