Tech Tidbits From Around New Hampshire
SNHU celebrates 85th anniversary, HydroComp Inc. recognized among 100 innovative companies in subsea sector ... and more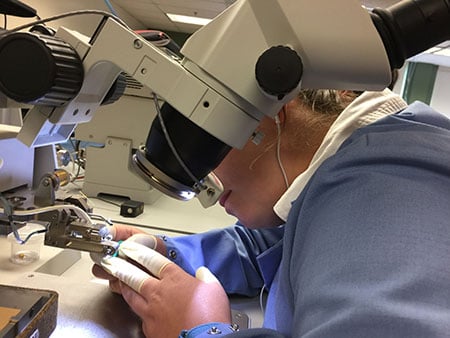 The 5th class of the Microelectronics Boot Camp at Nashua Community College is about to graduate. The 10-week training course prepares students for careers in manufacturing, focused on wire and ribbon bonding. This term, 11 students completed the course, and several have already received job offers from BAE Systems. The program was developed in partnership with BAE Systems and with the support local companies such as SemiGen in Londonderry and Mercury Systems in Hudson. After one year in operation, the hiring rate for Microelectronics Boot Camp graduates stands close to 95 percent. The next session is recruiting now and begins Monday, Oct. 2.
The Marine Technology Reporter listed Durham-based HydroComp Inc. as one of the 100 innovative companies in the subsea sector. HydroComp provides technical software for ship resistance and propulsion predictions, propeller sizing and propeller design. The company is a pioneer in the area of applied hydrodynamics, says the publication.
The fourth Women in Technology event will be held on Wednesday, Oct. 4 from 5 to 7 p.m. at 3S Artspace in Portsmouth. The event is sponsored by Market Street Talent, BDS Insight and Diveristy Workforce Coalition. RSVP here.
Acuant, a Los-Angeles based provider of data capture and ID authentication solutions with an office in Manchester, NH, announced its revenue has increased over 90 percent year over year and its business has nearly doubled. Acuant attributes its growth to the acquisition of Manchester-based AssureTec in June 2016 — providing business in monthly processing IDs from all 50 states, all Canadian provinces and 196 countries.
Southern New Hampshire University has been recognized by U.S. News & World Report as the #1 Most Innovative University in the north. SNHU has earned this distinction for the past three consecutive years. Washington Monthly also recognized SNHU as one of the nation's top 12 Most Innovative Colleges for Adult Learners. In celebration of SNHU's 85th anniversary of our founding, SNHU has launched a new interactive timeline on its website.
Salem NH-based travel risk management provider On Call International has integrated with Massachusetts-based app-less mobile information sharing provider KeynectUp. Through a text, a traveler can receive a link to download contact information for On Call's 24/7 Global Response Center and other customized client details. With one click, this contact information is properly formatted and stored right in the traveler's phone for easy and seamless access.
Senators Jeanne Shaheen and Maggie Hassan have joined a bipartisan group of their colleagues to call for a full investigation into the sale of nearly $2 million in Equifax securities held by high-level Equifax executives shortly after the company learned of a massive cybersecurity breach. The Senators asked the Securities & Exchange Commission, the Department of Justice, and the Federal Trade Commission to investigate the stock sale. Equifax, a major consumer credit reporting agency, recently disclosed that unauthorized parties had obtained sensitive information – such as Social Security numbers, addresses, and driver's license numbers — for as many as 143 million people. The breach is believed to have occurred in May and was discovered internally by Equifax in late July.
Senator Jeanne Shaheen applauded the Trump administration for "heeding my call to remove Kaspersky Lab software from all federal agencies." In June, Sen. Shaheen amended the National Defense Authorization Act (NDAA) to ban the use of Kaspersky software at the Defense Department. Since then, she's offered an additional amendment to the NDAA that would extend the ban to the entire federal government. NDAA is currently being considered on the Senate floor. "The strong ties between Kaspersky Lab and the Kremlin are very alarming and well-documented. I'm optimistic that Congress will soon act on my government-wide ban of Kaspersky software so that this new policy is reinforced by statute," said Shaheen.
Gateway Hills in Nashua is hosting its 3rd Annual Fall Festival on Columbus Day, Monday, Oct. 9 from noon to 3 p.m. at the Athletic Field. The event is free and open to the public. There will be a blue grass band, pony rides, games, a petting zoo, Nashua PD K-9 demonstration, photo booth and a 7th Settlement food truck. Click here to learn more.
ProPhotonix Limited, a manufacturer of LED illumination systems and laser diode modules based out of Salem, NH with operations in Ireland and the United Kingdom, announces that it will be exhibiting its range of UV LED curing systems, the COBRA Cure FX Series, in Europe for the first time at Labelexpo Europe 2017, an advanced label and package printing technology trade show in Brussels. The COBRA Cure FX Series, an innovative range of UV LED curing systems, has been designed specifically for UV curing of inks, coatings and adhesives. ProPhotonix Limited will be at booth 11A09.
The BioTech/MedTech cluster of the NH High Tech Council is hosting an event at te SEE Science Center on Thursday, Sept. 21 that will feature speakers including Commissioner of the Department of Business and Economic Affairs Taylor Caswell, State Rep. Terry Wolf and Director of STEM Education David Benedetto. The event is focused on building a bridge between the tech sector, education and government. For more information or to register, click here.
The New Hampshire High Tech Council has opened the application period for its annual TechOut event, a startup competition aimed at enhancing the New Hampshire tech ecosystem by awarding investment capital to young startups. Now in its sixth year, the 2017 TechOut event has been revamped with a tripling of the investment award funding from the Millworks II Fund, a partnership among NH investors and the New Hampshire Business Finance Authority. Click here to learn more. The application deadline is Friday, Sept. 22.
The New Hampshire High Tech Council will host its next TechWomen Power Breakfast on Wednesday, Sept.13 from 7:30 to 9 a.m. at the Manchester Country Club in Bedford. The event will feature Heather Iworsky, branch manager at ReVision Energy. Iworsky will focus on what it means to be a Certified B Corporation, and how ReVision Energy has been able to maintain this certification while growing its business. Click here to learn more.
Hampton-based analyst Technology Business Research will be holding a series of technology-related webinars throughout the rest of the year. TBR webinars are typically held on Wednesdays at 1 p.m. and include a 15-minute Q&A session following the main presentation.
Oct. 11 Exploring the mind of the developer
Oct. 18 M&A in the telecom operator space: Drivers, trends and implications
Oct. 25 Surfing the second wave of digital CX transformation
Nov. 1 The slow strengthening of cloud business models
Nov. 15 From outsourcing to robosourcing: Service delivery model evolution in the era of AI
Nov. 29 Perception says enterprises are shifting to cloud; reality says otherwise
Dec. 6 IoT will drive companies to organize for innovation
Dec. 13 Digital transformation: A process-led view of disruptive technology adoption