Tech Tidbits From Around New Hampshire
Gov. Sununu, Dean Kamen launch Robotics Education Fund, Center for Digital Education recognizes SNHU administrator ... and more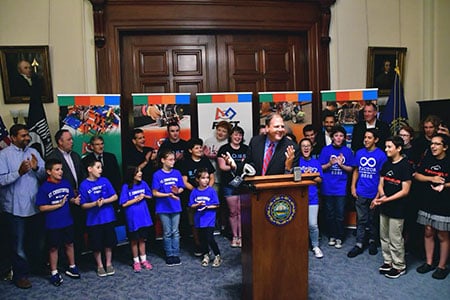 Governor Chris Sununu announced the reboot of the New Hampshire Robotics Education Fund, alongside Dean Kamen, lawmakers and New Hampshire students on Tuesday. K-12 public and charter schools are eligible to apply through the month of September to receive a portion of the $375,000 allocated for the next two years to form school robotics clubs.
The Center for Digital Education recognized Matthew J. Belanger, assistant vice president of academic operations and first year experience at Southern New Hampshire University, among 30 other education and technology leaders who are transforming the education landscape in the U.S. through the use of digital tools. The 2017 Top 30 Technologists, Transformers and Trailblazers were selected based on their efforts to improve education through effective implementation of technology-rich solutions, their impact on student outcomes and their overall initiative, creativity and leadership skills.
The 2017 Gateway Hills Summer Concert Series — a free series of summer concerts at the Outdoor Ampitheater at 100 Innovative Way in Nashua — will feature country artist Tom Dixon from 5:30 to 7:30 p.m on Thursday, Sept. 7. More information can be found here.
The board of directors of Albany International Corp. has declared a quarterly dividend of $0.17 per share on the company's Class A and Class B common stock, payable on October 6 to shareholders of record on September 11. Based in Rochester, NH, Albany International Corp. is a global advanced textiles and materials processing company, with two core businesses: producing custom-designed fabrics and belts essential to production in the paper, nonwovens and other process industries and a supplier of composite parts for the aerospace industry through Albany Engineered Composites.
The British American Business Council of New England will travel with businesses to Manchester, Leeds and Newcastle in the UK Sept. 16-23 as part of a trade mission. Businesses in the life sciences/pharmaceutical, technology or business services industries that are interested in attending are encouraged to contact the BABCNE office immediately via business@babcne.org. The cost for attending is in the $2,500 range. More information can be found here.
Michael Liberty, co-founder of Silicon Valley-based startup Signifyd, is the featured speaker of Alpha Loft's Founder Series on Tuesday, Sept. 12. The event will take place at 5:30 p.m. at the Sandbox Collaborative at SNHU, located in downtown Manchester. To register, click here.
The New Hampshire High Tech Council has opened the application period for its annual TechOut event, a startup competition aimed at enhancing the New Hampshire tech ecosystem by awarding investment capital to young startups. Now in its sixth year, the 2017 TechOut event has been revamped with a tripling of the investment award funding from the Millworks II Fund, a partnership among NH investors and the New Hampshire Business Finance Authority. Click here to learn more. The application deadline is Friday, Sept. 22.
Beginning this September, Great Bay Community College will host a monthly Customer Relationship Management user group to help business people in the Seacoast use their CRM software with greater efficiency. CRM refers to the practices, strategies and technologies that companies and other organizations use to analyze and manage customer interactions, to improve customer retention and drive sales growth. The first meeting will take place Tuesday, Sept. 12 in the Student Success Center at Great Bay's Portsmouth campus. Each meeting will last about two hours, and will include a 30-minute presentation about a specific subject. Great Bay is developing the program with input from local businesses and industry that are part of the college's business department advisory groups. For information, contact Monique Jordan at mljordan@ccsnh.edu.
The New Hampshire High Tech Council will host its next TechWomen Power Breakfast on Wednesday, Sept.13 from 7:30 to 9 a.m. at the Manchester Country Club in Bedford. The event will feature Heather Iworsky, branch manager at ReVision Energy. Iworsky will focus on what it means to be a Certified B Corporation, and how ReVision Energy has been able to maintain this certification while growing its business. Click here to learn more.