Tech Tidbits From Around New Hampshire
Scribe Software nabs global e-commerce client, Lottery.com launches mobile app and global lottery platform in New Hampshire ... and more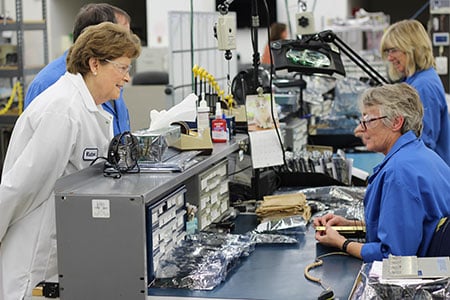 Senator Jeanne Shaheen, D-NH, visited Milpower Source — a Belmont-based small business and military sub-contractor — to tour the ISO 9001 and AS 9100 certified manufacturing facility, where Milpower Source produces high quality rugged power conversion products for defense clients. Shaheen, who is a member of the Senate Armed Services Committee and ranking member of the Senate Small Business & Entrepreneurship Committee, said Milpower Source "continues our state's long tradition of supporting our national defense." "New Hampshire is a small business state, and it's crucial that we continue to support small businesses like Milpower Source with workforce development programs," said Shaheen.
cleverbridge — a global e-commerce, billing and payment solutions provider based in Cologne, Germany — has selected Manchester-based Scribe Software's integration platform as a service (iPaaS) to expand and streamline clients' e-commerce operations. Scribe's iPaaSwill enable cleverbridge to provide clients with real-time customer data through bi-directional integration between the cleverbridge e-commerce platform and a host of CRM, business intelligence, ERP, web analytics, marketing automation and reporting systems.
On Call International, a travel risk management company in Salem, has appointed Ryan DeStefano as its vice president of security. DeStefano will lead On Call's team of global security specialists following the retirement of Chief Security Officer Jim Hutton. In his new role, DeStefano is responsible for the development, implementation and management of the organization's security services, products and strategies. DeStefano joins On Call with a combined 15 years of security and management experience. Prior to joining On Call, DeStefano was the security director of Liberty Mutual Insurance and also held positions on the global security teams of Procter & Gamble and Gillette.
This week, Lottery.com launched a mobile app and global lottery platform in New Hampshire, Texas and several other states that allows users to scan and track their physical tickets, and get notified when they've won. Along with the app launch, the company released results from a national survey in which 60 percent of lottery players expressed a desire for mobile lottery access, and 63 percent say they play the lottery when the jackpot is high. The survey, which was conducted online, found the majority of people would like the ability to play the lottery from their smartphones and use digital tools to monitor lottery results.
FUJIFILM Medical Systems U.S.A., Inc., a leading provider of enterprise imaging and medical informatics solutions, recently celebrated becoming the enterprise imaging partner of choice for several healthcare providers across the nation, including Elliot Hospital, which contracted with FUJIFILM for radiology PACS replacement and Synapse VNA installation.
Catholic Medical Center's Dr. Yvon Baribeau served as the principle investigator for the clinical study of evaluating the use of the PleuraFlow Active Clearance Technology (ACT) System to prevent retained blood complications in heart surgery patients. PleuraFlow is a medical device designed by Anaheim, Calif.-based ClearFlow Inc. that is used at the bedside in the ICU, enabling caregivers to proactively maintain chest tube patency following cardiac surgery. The positive clinical trial results were presented at the International Coronary Congress last Friday in New York.
The 2017 Gateway Hills Summer Concert Series — a free series of summer concerts at the Outdoor Ampitheater at 100 Innovative Way in Nashua — will feature country artist Tom Dixon from 5:30 to 7:30 p.m on Thursday, Sept. 7. More information can be found here.