Tech Tidbits From Around New Hampshire
Scribe Software opens data center in Frankfurt, Germany, Nashua Community College seeks participants for new Microelectronics Boot Camp ... and more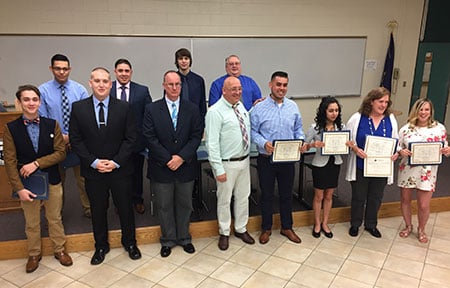 Tonight, the 2017 Gateway Hills Summer Concert Series — a free series of summer concerts at the Outdoor Ampitheater at 100 Innovative Way in Nashua — will feature the Brickyard Blues Band from 5:30 to 7:30 p.m. More information can be found here.
Manchester-based Scribe Software, a global data integration firm, has opened a new data center in Frankfurt, Germany. The data center will meet significant new demand for integration-platform-as-a-service (iPaaS) throughout Europe, the Middle East and Africa, and further help global organizations maintain compliance with all applicable regulations for storing data, including the European Union's General Data Protection Regulation, according to the company's press release. The facility also gives companies with Europe-based operations the option to host their integrations and keep transactional data within Europe, helping ensure compliance to location-driven mandates and data sovereignty laws, according to Scribe.
Nashua Community College celebrated the graduation of its fourth Microelectronics Boot Camp on June 23. All 10 graduates have been offered positions at BAE Systems after 10-weeks of training certification. The most recent graduating class was the first group in which 100 percent of graduates were offered positions at BAE. Other local businesses that support the program with resources, equipment and employment opportunities include SemiGen, Inc., Mercury Systems, Inc., Lockheed Martin and Monzite Corp. The next session is set to begin July 10. For more information, click here, or contact Jon Mason, corporate, community and continuing education coordinator at NCC, at jmason@ccsnh.edu or 578-8900 ext. 1763.
Auburn-based product development firm Sunrise Labs will host its 3rd annual charity golf tournament to benefit the David Ortiz Children's Fund. The event will take place on Monday, Oct. 16 with a 10 a.m. shotgun start at Portsmouth Country Club in Greenland. More information can be found here.
As part of the state's capital budget, the Legislature passed HB 25, which allocates $8 million for renovations the R.W. Creteau Regional Technology Center in Rochester. The original bill requested $16.8 million in funding, but was cut by the House committee in April over uncertainty on whether the city would fund its share of the cost.
Michael Jones, the president of The Maritime Alliance and The Maritime Alliance Foundation, will speak at UNH Marine Innovation Day on Thursday, July 27 at the Victory Club at Wildcat Stadium in Durham. The all-day event will focus on "the blue economy, innovation, bluetech and clusters". The event will feature information about the UNH School of Marine Science and Ocean Engineering, UNH Center for Coastal and Ocean Mapping/Joint Hydrographic Center, UNH University Instrumentation Center, research vessels and more. Participants are encouraged to register here.
"Facebook Advertising: Be where the eyeballs are," a free seminar offered at the Enterprise Center at Plymouth, will take place on Thursday, July 13 from 9 to 10:30 a.m. More information can be found here.