Tech Tidbits From Around New Hampshire
Orchard Systems wins Dartmouth Entrepreneurial Forum Competition, Future in Sight receives grant to expand technology to visually impaired children ... and more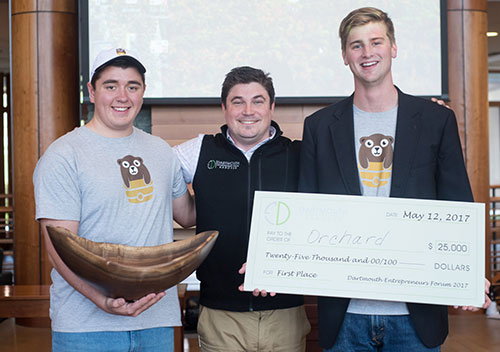 Dartmouth College students Ian Bateman and Thomas Cecil of Orchard Systems, Inc. placed first in the 2017 Dartmouth Entrepreneurial Forum Competition held last month. Orchard System's core product, Order Orchard, is a fluid online platform that connects hungry customers with restaurants for quick menu perusal and ordering. Order Orchard has enjoyed great success working with local restaurants. Twelve teams made up of student, faculty, and alumni competed in the semi-final round of the Entrepreneurial Forum Competition. On Friday, Orchard was announced the winner of the $25,000 top prize. They plan to continue expanding Order Orchard, as well as developing OrchardPOS and OrchardOS products.
Dover-based N'ware Technologies, a provider of business management software for small and medium businesses, was ranked #2 among SAP Business One partners in North America by enterprise application software provider SAP. N'ware Technologies was also listed as a finalist during the prestigious SAP Pinnacle Awards in the Digital Marketing Momentum Partner of the Year category. The nominations acknowledge the contribution of SAP partners who have distinguished themselves by helping clients meet their challenges and achieve their business goals.
The DALI Lab (Digital Arts Leadership and Innovation) in Hanover has a new staff job opening for a design resident. The position would oversee web and mobile UI/UX of DALI Lab projects and DALI brand identity and materials. For more information, click here.
Future in Sight, a Concord-based nonprofit formerly known as the New Hampshire Association for the Blind, has received a $300,000 grant from the New Hampshire Department of Education to expand technology and teacher training for visually impaired children. Future In Sight will receive the money starting in July to help train teachers on new technology and curriculum that can help children learning with sight limitations. The organization will work with the state to develop a statewide model to design and coordinate technical assistance and professional development.
The NH High Tech Council's Entrepreneur of the Year event will be held on Tuesday, June 13 at 5:30 p.m., taking place at Southern New Hampshire University in Hooksett. The list of finalists includes executives Jay Jacobs, owner/CEO of RAPID Manufacturing in Nashua; Jason Syversen, founder & CEO of Siege Technologies in Manchester; and Kevin Isett and Warren Kett, CEO and CSO, respectively, of Avitide Inc. in Lebanon. The event includes networking with more than 250 leaders of tech-based companies, tabletop presentations from promising tech start-up companies, dinner, and a cash bar. To learn more about this event contact michelline@cooksonstrategies.com or click here.