Tech Tidbits From Around New Hampshire
SymQuest Group donates $11,000 in grants to nonprofits in the Upper Valley, U.S. Cellular to hold free seminar on mobile security ... and more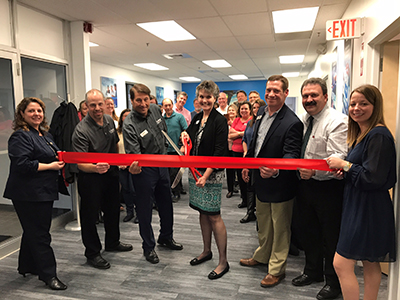 SymQuest Group, Inc., an IT services and office technology provider, as well as a wholly-owned subsidiary of Konica Minolta Business Solutions U.S.A., Inc., contributed $11,000 in grants to New Hampshire area nonprofits as part of its "One Grand of a Helping Hand for Upper Valley Nonprofits" campaign. The grants were announced at SymQuest's May 5 ribbon cutting for its new office located at 66 Benning St., Suite 7 in West Lebanon. Nonprofit grant recipients included: David's House, Good Beginnings, Inc, Good Neighbor Health Clinics, Green Mountain Children's Center, Twin Pines Housing Trust, American Precision Museum, Developmental Services of Sullivan County (Pathways), Enfield Shaker Museum, LISTEN Community Services, Spark! Community Center, The Center for Cartoon Studies, Upper Valley Aquatic Center, Upper Valley Waldorf School, Vermont Adult Learning, Vermont Institute of Natural Science, WISE and Woodstock History Center.
U.S. Cellular will host an interactive seminar with knowledgeable associates to provide attendees with information on the importance of password protection; using secure sites, passphrases and geolocation; securely placing online orders and more. The free event will be held on Tuesday, June 13 from 5 to 7 p.m. at 946 South Willow Street. Individuals do not need to be U.S. Cellular customers to attend. For more information on the event, please call 603-622-1033.
Motivis Learning, the learning relationship management system designed for student-centered, personalized education models based in Salem, announced that its Vice President of Strategy, Gerry DiGiusto, will host the lunch breakout speaking session at Eduventures Summit 2017, which is being held on June 7-9, 2017 at the Intercontinental Boston Waterfront Hotel in Boston, MA. DiGiusto will address summit attendees on how personalizing curriculum and support for learners can improve retention and learning success, while reducing time to completion.
The Comcast Foundation has awarded $47,000 in scholarships to 38 New Hampshire high school seniors through its annual Leaders and Achievers Scholarship Program. The program, funded by the Comcast Foundation, recognizes the best and brightest high school seniors for their community service, academic performance and leadership skills. Governor Chris Sununu and Comcast recently recognized the students at a special event held at the State House. Thirty seven students received $1,000 scholarships and one lucky student was awarded a $10,000 Comcast Founders Scholarship – instituted in honor of Ralph J. Roberts, Founder and Chairman Emeritus of Comcast Corporation.
DataGravity, a Nashua-based company that provides behavior-driven data management solutions, announced last month a new solution called DataGravity for Availability, with support for Veeam Backup and Replication 9.5, including the cloud. DataGravity for Availability helps manage sensitive data to defend against insider threats, while providing higher levels of visibility and availability. This is the first solution that automatically responds to data exposure and security threats in a Veeam backup repository.
Broadband Technology Report, a Nashua-based resource of broadband products and their rankings, is accepting entries for the 2017 Diamond Technology Reviews. Rather than merely rating each entry, this year BTR's panel of independent judges will determine finalists and winners in 16 categories: CPE, Wi-Fi Solutions, Cabling and Accessories, Active Network Hardware, FTTH/Optical Access Platforms, Video Distribution Solutions, Video Processing Solutions, CCAP Systems, SDN/NFV/Cloud, Optical Transport/Carrier Ethernet, Content Discovery, Back Office, Video Content Security, Monitoring & Analysis, Field Test Instruments, Network-Level Test Instruments). The early-bird deadline for submissions is June 12. The final deadline is June 16. Winners will be announced October 18 at a reception during the SCTE Cable-Tec Expo in Denver, CO. More information can be found here.