Tech Tidbits From Around New Hampshire
Systems Engineering opens an office in Manchester, Women in Tech plan gathering in Portsmouth ... and more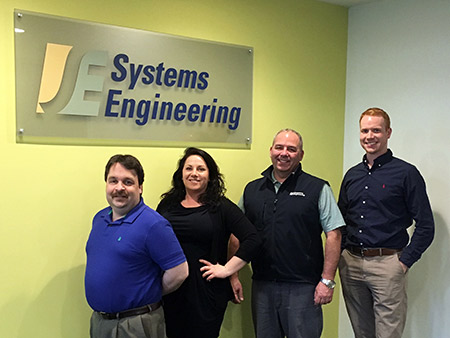 A panel of women in tech and manufacturing — including Lauren Provost, Ph.D., director of science and technology outreach at Dartmouth College; Becky McCullogh, director of North American recruiting at Hubspot; and Leslie Ann Buckley, division vice president of Northeast division engineering and network operations centers at Comcast — will speak in Portsmouth on Monday, April 10, about cultivating cultures in tech that make women succeed. More information can be found here.
Systems Engineering, a Portland, Maine-based managed IT services provider, announced earlier this week that it is expanding into Manchester, N.H., to meet increasing demand for its services in New Hampshire and other surrounding regions. It is the company's first move outside of Maine, though Systems Engineering has been providing services to New Hampshire businesses over the past 10 years. The new office is located at 1750 Elm Street in the Brady Sullivan Tower and the company employs six staff members.
On Thursday, April 13, Jeff Hoffman, co-founder of Priceline.com, will speak at UNH's Durham campus about his career as a the founder of multiple startups as well as serving as the CEO of both public and private companies. To register please click here.
Nicholas Kirsch, associate professor of electrical and computer engineering at the University of New Hampshire, will speak at Alpha Loft's Launch Series on Tuesday, April 11 about how the Internet of things and massive bandwidth will change everything. More information can be found here.
Manchester's Javascript User Group will meet at Alpha Loft on Wednesday, April 12 at 6 p.m. More information can be found here.
The NH High Tech Council will kick-off the re-launch of the BioTech/MedTech Cluster on Thursday, May 18. The BT/MT Cluster is engaging with stakeholders to create an industry-led initiative that highlights and focuses on BioTech/MedTech specific concerns and opportunities, including bringing resources to the forefront, focusing on filling the workforce pipeline, and showing the dynamic BioTech/MedTech industry in New Hampshire. More information can be found here.
B2W Software, a Portsmouth-based provider of heavy civil construction management software, hosted its largest User Conference to date this month in Las Vegas. The company used the 16th annual conference to provide 70 hours of training sessions, best-practice networking opportunities, and one-on-one consultations. B2W will hold its 17th User Conference in March 2018 in Boca Raton, Fla.
Auburn-based product development firm Sunrise Labs will have a booth at BIOMEDevice 2017, an event being held in Boston from May 304. Visit Booth #755 to learn more about the challenges of connected device development and accelerating time to market.
To celebrate its new location in West Lebanon, SymQuest will be giving away five $1,000 grants to local nonprofits. Interested nonprofits should click here to apply. The grants will be awarded during the ribbon cutting ceremony on May 5.