Tech Tidbits From Around New Hampshire
Manchester School of Technology's FIRST Robotics team places at Greater Boston competition, NHIRC seeks applicants ... and more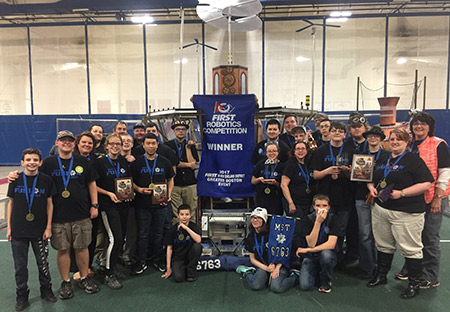 The New Hampshire Innovation Research Center is now accepting proposals for partnership projects between New Hampshire-based companies and colleges or universities in the state. Each project is eligible to receive up to $125,000 in matched funds to carry out collaborative research and development. Those interested in applying for funding must send a signed, nonbinding letter of intent on company letterhead by May 4. Click here to learn more.
Manchester School of Technology's FIRST Robotics team came home victorious from the New England District Greater Boston competition, just weeks after the first-ever team at MST was established. Team 6763 placed third on its own, then captained the alliance team that won first place in another part of the competition. In addition, Team 6763 received the Rookie Highest Seed Award for scoring the highest points in a match and the Rookie All-Star Award. Up next is another district-level event at UNH on April 6-9. From there, if MST's students are the highest scoring rookie team or place high enough to gain enough merit points, they will qualify for the World Championship in St. Louis, MO, on April 26. A generous grant from the FIRST Foundation helped get Team 6763 started in January. 2
Alpha Loft at the UNH ECenter will hold its monthly Hoopla! gathering of entrepreneurs, creatives and technical masterminds on Tuesday, March 28 at 5:30 p.m. Enjoy a beverage, hang out with your peers, and relax. No presentations. No fuss. Just a lot of hoopla. Registration can be found here.
The Enterprise Center at Plymouth is holding a seminar on marketing strategy and planning on Friday, March 21 from 2 – 3:30 p.m. at the Lincoln Town Hall. The seminar will offer a practical approach for creating or refining a marketing plan for your business, and implementing pragmatic marketing activities that make sense for you, based on your business goals. Register here.
Concord-based Secure Care Products LLC recently released ENVisionIT® Real-Time Locating System, utilizing Ultra Wide Band technology. The next generation of the Real-Time Locating System provides the ability to more easily perform day-to-day tasks in a more automated fashion while saving hospitals and facilities time and money, according to the company.
SymQuest Group, Inc., a wholly-owned subsidiary of Konica Minolta Business Solutions U.S.A., Inc., and regionally based IT services and office technology provider, has moved its West Lebanon office to 66 Benning St., Suite 7 in West Lebanon, N.H. The new 4,400-square-foot location will support sales, service and network operations personnel. The new office will also house a demonstration facility for office technology solutions including multi-function copiers and printers, production and wide format printers, and cloud infrastructure solutions.
Great Bay Community College will offer an automotive technology certificate program beginning in the fall. The 24-credit program will take one year to complete, and will focus on training students to become entry-level technicians, performing inspections, diagnostics, maintenance and repairs on cars and light trucks. Classes will be held in the late afternoon/evening at the Richard W. Creteau Regional Technology Center in Rochester. The program responds to an immediate need in the Seacoast for certified auto mechanics, said Debra Mattson, a Great Bay administrator. The New Hampshire Department of Labor projects there will be more than 1,200 openings for automotive technicians in the Seacoast area through 2022. Great Bay is working with the New Hampshire Auto Dealers Association to design the curriculum.