Tech Tidbits from Around New Hampshire
Arizona-based Lattice Biologics joins ARMI, RoundTower Technologies invites guests to browse emerging technologies ... and more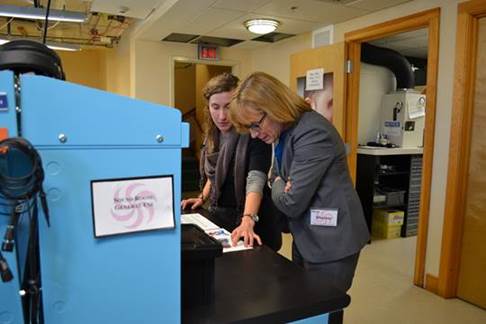 Scottsdale, Ariz.-based Lattice Biologics Ltd. has announced that is partnering with the Advanced Regenerative Manufacturing Institute. ARMI will receive approximately $80 million from the federal government, which will be combined with more than $200 million in non-federal cost share. In collaboration with key individuals at ASU Biodesign in Tempe, Ariz., Lattice Biologics is developing products, which include the use of scaffolds derived from human tissue that can support ingrowth of tissue progenitor cells (notably, stem cells), direct and preserve the phenotypes of engrafted cells, and enhance healing times and improve patient outcomes. Underlying these efforts is the use of extracellular matrix secreted by stem cells and/or harvested from various tissues including muscle, adipose and placenta, to develop game-changing technologies in the field of regenerative medicine.
Melissa Thompson, CEO of Hyndsight Vision Systems in Peterborough was invited to present the company's versatile new portable rear view, wire-free vision system at the fifth annual Venture Summit West in Mountain View, CA that was held February 28 through March 1. The Summit is an industry gathering that connects venture capitalists, corporate VC's, angel investors, technology transfer professionals university researchers with early stage and emerging growth companies.​
Great Bay Community College will add an associate's degree in cybersecurity to its career options beginning in fall 2017. Great Bay's program will train students for jobs in the medical and financial sectors, where security risks are high, as well as national security and a range of other fields and industries that are central to the nation's economy, including retails and manufacturing. The program will provide a transfer pathway to UNH-Manchester for a bachelor's degree.
RoundTower Technologies will provide a tour of its Portsmouth office and an interactive view of its emerging technologies on Wednesday, March 15, starting at 4 p.m. Those interested can register here. In addition to mingling with key executives, practice managers and local colleagues, the evening include New England inspired hors d'oeuvres, custom drinks, special giveaways.
In partnership with Eversource, Amphenol Printed Circuits has completed a comprehensive project to upgrade the facility's heating and cooling system in order to become more energy efficient. The upgrades completed at Amphenol were funded in part by a $128,000 incentive paid by Eversource's Energy Rewards Program. Under the program, Eversource accepts proposals for electrical energy efficiency projects to be implemented at the facilities of commercial and industrial customers. The upgrades completed at Amphenol are expected to reduce the company's energy use by more than 650,000 kilowatt hours per year, enough to power 100 average New Hampshire homes for a year.
On Monday, Senator Maggie Hassan visited an engineering research and development company, Creare, in Hanover, where she highlighted the importance of supporting innovative businesses that are creating good jobs and moving our economy forward. Creare works with clients from a range of industries, including medicine, manufacturing and defense, to provide research and design services that help them overcome engineering challenges to produce innovative products. For more information, read here.
AQYR International, Inc., a subsidiary of AQYR Technology, Inc. in Nashua, has appointed Nader Said El-Dajani as its regional director for the Middle East and North African markets. El-Dajani will work with AQYR to identify new value added resellers and other channels to market, manage and support these channels and provide sales, marketing, and technical support throughout the region. AQYR designs and manufactures highly portable GBS and 2-way Ku/Ka-band full auto-acquisition, single case portable ground terminals.
Red River in Claremont, along with eight other companies across the country, was awarded part of a $2.5 billion contract with the U.S. Army for desktop and mobile computing.
Red River also announced it received the Splunk Global Reseller Partner of the Year award, last month, for its outstanding performance, joint customer success and commitment to the Splunk's Partner+ Program. Red River also received the Public Sector Partner of the Year award as part of Splunk's Global Partner Summit in Las Vegas.
And Dave Levin, Red River's senior director of partner strategy, was named to CRN's list of 2017 Channel Chiefs. The executives on this annual list represent top leaders in the IT channel who excel at driving growth and revenue in their organizations through channel partners.