Tech Tidbits From Around New Hampshire
Manchester West High School seeks professionals for Career Day, River Valley Community College partners again with Hypertherm to teach workforce skills ... and more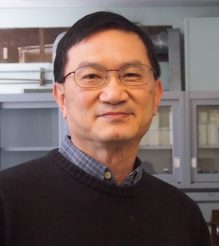 Monadnock Paper Mills, Inc., a family-owned manufacturer of specialty papers for the technical, packaging and printing markets, today announced that Dr. Fuushern Wuu has joined the company as senior product manager in its R&D, Technical Services Department. Wuu is the author of several patents and has extensive experience with wet-end paper chemistry and specialty coatings. His previous roles include a five-year tenure with SAPPI North America, Inc. as an associate research fellow and ten years with Stora Enso as a senior research engineer. Dr. Wuu holds a Ph.D. in Paper Science and Engineering from State University of New York, Syracuse. His undergraduate B.S. degree is in Forest Products from National Chung-Hsing University, Taiwan.
Manchester West High School is seeking industry representatives for Career Day, to be held on Wednesday, March 29. Participants need to be willing to commit to a whole of half day, educate high school students about their industry and business and provide hands-on activities that will be engaging for students. Every teacher will be matched with a guest speaker and every student could potentially interact with five to seven speakers. Professionals who work as interpreters, museum curators, travel guides and in the airline and occupational therapy industries are particularly in demand.
River Valley Community College and Lebanon-based Hypertherm are again joining forces with a program to teach under-and unemployed workers the skills needed for careers in advanced manufacturing and other high tech occupations. Funded by a grant from the U.S. Department of Labor's H-1 B program, the partnership is administered by RVCC through the Hypertherm Technical Training Institute, which functions as an RVCC satellite campus for this initiative. The USDOL's H-1B program also authorizes temporary employment of qualified individuals who are not otherwise authorized to work in the United States.
The training is condensed into a high intensity, nine-week, 40 hour-per-week schedule. Graduates earn an Advanced Manufacturing Certificate, along with 28 academic credits that can be applied towards an Engineering Technology Associates Degree at RVCC. After initial testing administered by RVCC, students are enrolled in the RVCC/Hypertherm Skills Through Apprenticeship Retraining (STAR) Program and are hired on as full time employees the day they begin classes at HTTI, which also marks the beginning of a two-year state-recognized apprenticeship.
To learn more about RVCC or apply to any of its academic programs, visit rvcc.edu or contact H1B Grant Coordinator and Advanced Machine Tool Technology Director Scott Lazzarro at 800-837-0658 ext. 5429 or slazzaro@ccsnh.edu.
The 2017 NH Startup Challenge Kick-Off will be held on Wednesday, Feb. 22 at Alpha Loft in Manchester. All are welcome to learn about the competition, receive helpful tips from past winners, hear how you can become the next winner of a prize package of cash and in-kind services and network with business leaders, inventors and entrepreneurs. Drinks and hors d'oeuvres will be offered. More information and registration can be found here.
An info session about registered apprenticeships in the tech industry through the Community College System of NH will be held on Thursday, Feb. 16 at SilverTech. CCSNH has been awarded a $1.2 million grant from the U.S. Department of Labor Employment and Training Administration to enhance registered apprenticeship opportunities within the information technology, healthcare and advanced manufacturing sectors. This grant will support the development of new RA opportunities, provide funding for related instruction at NH's community colleges, and support outreach to employers who wish to expand work-based learning at their sites.
If you are a NH Tech employer interested in Registered Apprenticeship and would like to register to attend this event please email Charlotte Williams, CCSNH workforce development administrator, at cpwilliams@ccsnh.edu or call 603-230-3534. More information and registration can be found here.
Great Bay Community College is partnering with a new nonprofit organization, the Digital Marketing Center to launch three digital marketing certification programs this month.
The Inbound Marketing Training Certificate starting on Feb. 27th is a 10-week part-time program that will focus on Google AdWords fundamentals, search advertising, shopping advertising and mobile advertising. The program has an experiential component to it as students will apply their knowledge by working with a local business, managing a real pay-per-click (PPC) advertising budget, and developing a comprehensive marketing plan for their partner business. Those who complete the program would get four certifications from Google that can be applied toward becoming a Google Certified Professional or Associate.
The Outbound Marketing Training Certificate program starting on April 4th teaches students how to leverage social media, video and display advertising to increase website traffic and generate leads. During this 10-week part-time program, students will partner with a local business to implement these outbound marketing services as part of their coursework. Completion of the program awards three Google certifications.
The User Interface Design Certificate is run as a full-time boot camp over two weeks and teaches students how to optimize the web presence of their partner business while focusing on prospective clients. Each student will be responsible for a user interface overhaul for a local business website. The boot camp will also prepare students for the Google Analytics IQ Certification Exam and is planned for this coming June.
The courses will be taught by Jonathan Day and Bob Rustici, who both have significant industry experience in digital marketing. The classes will also feature additional guest lecturers and experts. Jonathan Day is also the co-founder and executive director of DMC – Seacoast, which was created in cooperation with the New England Innovation Center (NE-IC) and GBCC to provide digital marketing training services and offer resources and related services to local businesses.
To learn more contact Kathleen Totten at ktotten@ccsnh.edu, 603-427-7651 or visit the DMC website.