Tech Tidbits From Around New Hampshire
Cirtronics hosts robotic-themed Manufacturing Day event for high school students, Anthem Blue Cross and Blue Shield expands remote access to doctors .... and more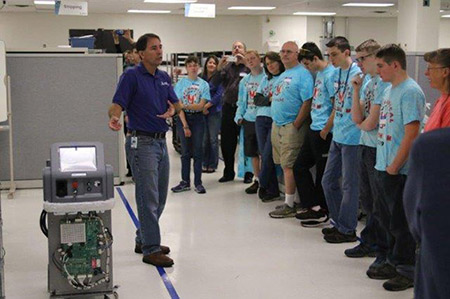 For Manufacturing Day, Milford-based Cirtronics welcomed students for an event featuring a facility tour and a presentation by US First Robotics team Mechanical Mayhem. Cirtronics supports Mechanical Mayhem by providing working and testing space for the team during the US First Robotics competition season. A group of 30 Milford High School and home school students attended an invitation-only event. The group was accompanied on the tour by a remotely operated robot that is built and tested at Cirtronics.
Connection, formerly known as PC Connection Inc., has acquired GlobalServe, a New Jersey-based company. The acquisition, which took place on Oct. 19, is the latest phase in the Merrimack company's ongoing growth and rebranding initiative. GlobalServe, led by CEO Jamal Khan, provides companies with technology platforms for controlling acquisitions, and management and support of information technology assets. GlobalServe has a network of nearly 500 partners and 25,000 original equipment manufacturer-authorized service professionals in about 175 countries, according to a release. Connection currently employs 2,500 workers, with 1,100 of those employees stationed in New Hampshire. Its new acquisition of GlobalServe and its OneSource procurement engine will allow Connection to be better positioned to fulfill the needs of its multinational customers that want to simplify international sourcing and reduce costs, according to McGrath.
November 14 kicks off the 2nd Annual TechWomen Ambassador Week, where schools across New Hampshire will hold special sessions for ninth grade girls to discuss careers in science, technology, engineering and math (STEM) with women currently employed in those fields. The two-hour sessions, taking place in Lebanon, Nashua, Rochester, Manchester, Derry and Berlin, are the center of the newly-launched TechWomen Ambassador initiative, born out of the New Hampshire High Tech Council's TechWomen|TechGirls committee. Learn more about the TechWomen|TechGirls initiative or volunteer for TechWomen Ambassador Week by visiting nhhtc.org or contact Carol Miller at 603-271-2341 or carol.miller@dred.nh.gov for more information.
Steve Doroff, founder of startup CDBG, will discuss augmented reality and virtual reality solutions improving processes in the areas of customer delivery, operations, product development and training on Oct. 25 at 6 p.m. at Alpha Loft. Click here for more information.
Kevin Vandecar, a forge developer advocate and manager for the Media & Entertainment Autodesk Developer Network Workgroup, will discuss using 3D content on the Web during a seminar at Alpha Loft on Dec. 14. More information can be found here.
There are eight days left to submit business plans to the Flatley Challenge, which provides $10,000 and free office and/or lab space for one year to a tech startup or emerging businesses. Deadline for applications is Friday, Oct. 28. Applicants can apply here. Any questions should be directed to Kathleen McLaughlin at kathleen.mclaughlin@johnflatleyco.com.
Unified Office, Inc., a leading managed services provider in Nashua, offering hybrid cloud-based virtual communications services and business analytics, announced that independent pizza franchise, Pizza 911, has deployed its Total Connect Now service. Total Connect Now is a unified communications service, which, together with its Visual Performance Suite™ business analytics package, that provides franchise-wide and store-level service performance and actionable intelligence to the franchise owner.
Starting in 2017, Anthem Blue Cross and Blue Shield will provide coverage for New Hampshire members of the Medicare Advantage plans to reach doctors through remote access technologies. Members can contact a U.S.-based, board-certified network doctor on a secure connection over the Internet via a smart phone, tablet or computer using LiveHealth Online, a website that allows patients to connect with doctors 24/7. It will be available at no extra cost.
Six New Hampshire companies have been named finalists for the 2016 NH High Tech Council's Product of the Year Award. The finalists will compete on Nov. 10 at the Manchester Country Club, where entrepreneurs and inventors will receive free advice, major project promotion and podium time in front of hundreds of tech leaders who will then help choose the winner in real time. To register to attend the event, click here.
The finalists are:
· The RollerMouse Free3, an ergonomic work solution for computer workstations that features a rollerbar mechanism that replaces the traditional computer mouse and can also be purchased with a keyboard. It's made by Contour Designs, a Windham company founded in 1995 that uses sound research and design initiative to continually advance the engineering of accessory products.
· The Contender post-operative elbow brace, a medical device for use by patients following reconstruction surgery. It's made by Corflex, a 32-year-old Manchester company that combines unique designs and manufacturing processes with user-friendly features that help improve patient outcomes.
· The JMA-165 accelerometer, a sensor used for rail applications that provides feedback on the performance and control of passenger trains. It's made by Jewell Instruments, a Manchester company founded in 1950 that designs and manufactures sensors, meters, testing equipment and other products for various industries, including avionics, transportation, military and medical.
· The LinkAlign-60EBP, a power-over-ethernet antenna positioner designed for use with microwave line of sight systems. It allows users to remotely maintain their systems rather than deploy tower crews. It's made by NextMove Technologies, a Milford-based company founded in 2008 that manufactures automated antenna alignment products used in the commercial and government communications markets.
· The Optical Barrier Swing Glass-Wave, a turnstile system for use in government buildings, corporate offices and other areas where secure admission is a requirement. The system uses touchless fingerprint scanning and can admit one person per second through the turnstile. It's made by Orion Entrance Control Systems, a seven-year-old company based in Laconia.
· The Scott Hybrid Patriot 5510, a backpack respirator system that offers life support for military and first responders. The latest iteration of the product adds Bluetooth communication technology and reduces the system's weight by 10 pounds. It's made by Wilcox Industries, a Newington-based company founded in 1978