Tech Tidbits From Around New Hampshire
DRED wins $213k exports grant, Unified Office awarded patent … and more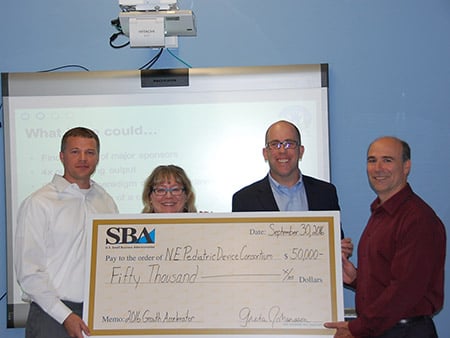 The NH Department of Resources and Economic Development has received a $213,000 grant through the State Trade Export Promotion (STEP) program, which is designed to help small businesses reach new foreign markets.
The award was jointly announced by U.S. Sen. Jeanne Shaheen, lead Democrat on the Senate Committee on Small Business & Entrepreneurship, and Gov. Maggie Hassan.
A new night class at the Hugh Gallen Career and Technical Center in Littleton is helping residents of northern New Hampshire gain skills in technical manufacturing. The class, Introduction to Technical Manufacturing, which began Aug. 14, is a collaboration between White Mountains Community College, Littleton High School, New England Wire, Burndy, Robotec and Genfoot America.
The non-credit course focuses on AutoCAD Inventor, where students create 3D models and detailed drawings; hierarchical storage management computer-aided manufacturing software, and using the AutoCAD model to create a 3D prototype. The semester-long course is funded by a Community Development Finance Authority grant.
Red Brick Data has named Steve Dastous as a business intelligence architect at its Portsmouth headquarters.
Tom "TK" Kuegler, co-founder and managing partner of early-stage venture capital firm Wasabi Ventures, will be the guest speaker at the Oct. 17 meeting of the NH Creative Club. The meeting will run from 5:30 to 7:30 p.m. at Alpha Loft in Manchester.
Nashua-based Unified Office Inc., a managed services provider offering hybrid cloud-based virtual communications services and business analytics, has been issued a patent for the technology that forms the foundation of its Virtual Performance Suite, currently being used by Unified Office customers. U.S. Design Patent Number D766,302 covers the technology used in Unified Office's display screen, advanced call center performance analytics and graphical user interface.
The Masters in Health Informatics program at New England College in Henniker has been named the most affordable in the nation by college rankings firm College Choice. Also on the list of the 17 most affordable programs nationwide was the Health Informatics program at Southern New Hampshire University in Manchester.
BAE Systems has been awarded a $13.5 million order to begin producing new weapon sight systems that allow soldiers to conduct surveillance and acquire targets in any light or weather conditions.
The company said the new weapon sight system allows the user to view targets that are more than 1,000 meters away, and the new technology is smaller and lighter with superior image quality.
The contract with the U.S. Army calls for initial production of more than 100 thermal weapon sight systems.