Tech Tidbits From Around New Hampshire
Connection celebrates name change, Rivier University receives National Science Foundation grant ... and more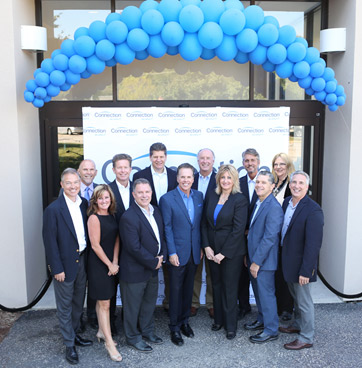 Technology solutions provider PC Connection celebrated its new brand name change to Connection and CNXN NASDAQ symbol with official ribbon-cutting and flag-raising ceremony yesterday at the company's corporate headquarters in Merrimack. Connection's leadership team was joined by local dignitaries, including Senator Kelly Ayotte (R-NH), for the event. Following the launch, all PC Connection, Inc. companies, including, PC Connection Sales Corporation, GovConnection, MoreDirect, and Softmart, will do business as Connection.
The National Science Foundation has awarded Nashua-based Rivier University's biology department a five-year, $650,000 grant to support the education of young scientists. The grant will fund a pilot program titled ARGYLES (Attract, Retain and Graduate Young LifE Scientists) to engage biology majors as emergent scientists who will contribute to the vitality of the STEM workforce in the Northeast. ARGYLES successes will be shared with peer institutions to encourage program adoption at other colleges and universities through conference presentations, news releases and peer-reviewed journals. Preference will be given to minority, female and first-generation learners, currently underrepresented in the STEM disciplines. Key program components include summer field study, peer and faculty mentoring, community building, independent research proposals and projects, travel to scientific conferences, and workforce preparation.
The New Hampshire High Tech Council will be designating its October Power Breakfast event to hold a special "Power Forum" featuring the candidates for the U.S. Senate and Governor's office on Wednesday, October 12 from 7:30 to 10 a.m. at the Manchester Country Club in Bedford. The breakfast forum will be "town hall" style, allowing each candidate the opportunity to present their views on the impact and importance of the tech sector in New Hampshire, and how their respective administrations/offices would support growth and innovation in the future, and will allow for questions from the audience. The candidates for US Senate have been confirmed; the gubernatorial candidates have been invited.
The World Affairs Council will host its Global Business Summit 2016 on Tuesday, Sept. 27 from 5 to 7:30 p.m. at the Dining Center Banquet Hall of Southern New Hampshire University. The summit will focus on "How Today's Cyber Conflicts Impact New Hampshire & the World," featuring Trey Herr, cybersecurity fellow at Harvard Kennedy Shcool and author of "Cyberinsecurity: Navigating the Perils of the Next Information Age" as well as a panel including executives from Dyn, Cisco and Sheehan Phinney Bass + Green.
The New Hampshire High Tech Council has extended its deadline to enter the 2016 Product of the Year competition to Friday, Sept. 30. This year marks the eleventh year the Council has provided this opportunity that shines the spotlight on innovators. Finalists and an overall winner will present their products to a live audience on Nov. 10 at the Manchester Country Club. Click here to apply.
Five finalists have been selected for TechOut 2016, New Hampshire's largest tech startup competition: Awato, Forcivity, A partnership between the New Hampshire High Tech Council and Alpha Loft, TechOut identifies entrepreneurs with viable plans to develop and market new technology products and funds them through investment capital awards of $100,000 a year. The contest's winners will be selected at the live event beginning at 5:30 p.m. on Wednesday, Oct. 5. TechOut includes live pitches from the finalists, an unveiling of the three winners with the 3rd place winner selected through a real-time audience vote), networking, and food and beverages for a very nominal entry fee.
The finalists for this year are:
· Awato, presented by CEO and co-founder Matthew Guruge, is an online platform that automates quality academic and career counseling for colleges. Its main feature is a series of dynamic assessments that learn from and adapt to the user.
· Forcivity, presented by CEO and co-founder Steve Baines, is a cloud-based data reporting and access platform that makes the once impossible tasks of Salesforce.com users possible. Its focus is to restore a sense of control when using the Cloud.
· Heat Oracle, presented by founders Louis Trebaol and Greg Hovagim, is an (Internet of Things (IOT) technology platform that creates an intelligent and efficient heating fuel ecosystem through monitoring heating oil consumption and marketplace price.
· KudosWall, presented by CEO Jag Vootkur and founding team member Nikhil, is a social platform and an automatic portfolio builder that makes it easy to keep track of the talents, experiences and proudest moments of students. KudosWall can be used for college applications, resumes or scholarships, and is a growing K-12 community.
· Near Field Magnetics, Inc. (NFMI), presented by CEO and co-founder Dave McManus, is an Internet of Things (IOT) sensor company whose sensors allow for data collection in radio frequency hostile environments where traditional wireless sensors fail. NFMI is focused on the B2B segment of the IoT.