Tech Tidbits From Across NH
UNHInnovation honors researchers … and more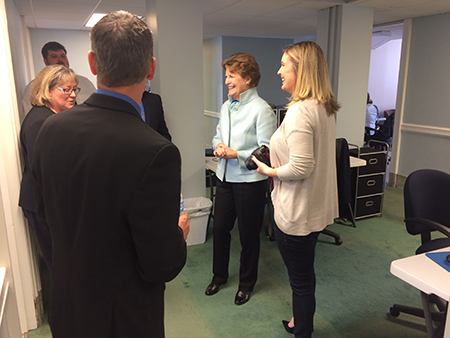 Six researchers from the College of Life Sciences and Agriculture and the NH Agricultural Experiment Station at the University of New Hampshire have been honored for their intellectual property contributions to the university in the last year.
They were recognized at the 2015 Innovators Dinner hosted by UNHInnovation, which advocates for, manages and promotes UNH's intellectual property.
UNH's cumulative intellectual property revenue exceeded $4.4 million in fiscal year 2015.
Those honored included:
• Subhash Minocha, professor of plant biology and genetics, whose research will produce plants that are naturally decaffeinated vs. those from which caffeine is removed by chemical methods to produce decaffeinated tea.
• Cheryl Whistler, associate professor of molecular, cellular and biomedical sciences, who was recognized for her discovery of a new method to detect a bacterium that has contaminated New England oyster beds and sickened consumers who ate the contaminated shellfish.
• Chuck Walker, professor of molecular, cellular and biomedical science, recognized for his innovation that helped identify "Steamer," a novel mollusk retroelement that is elevated in HN-diseased clam populations.
• Peter Erickson, professor of biological sciences, extension dairy specialist, and graduate student Kayla Aragona were recognized for their innovation involving niacin supplementation in cattle.
• J. Brent Loy, emeritus professor of plant genetics, was recognized for three licenses for his pumpkin hybrid and squash inbred seeds.
• Jennifer Durant, former assistant research professor of molecular, cellular and biomedical sciences, was recognized for her invention of a method to directly purify and extract sodium itaconate, a bio-based molecule, from the fermentation media used to produce itaconic acid from carbohydrates.
WMUR-TV is part of the launch of NewsON, a new service that provides consumers with access to live and on-demand from over 100 local newscasts.
Viewers can use the NewsON app to watch WMUR, and over 100 other stations' newscasts, on their iPhone, iPad, Android phone and tablet, and on the Roku platform across Roku players and Roku TVs.
NewsON is a free, ad-supported app which enables users to watch us at their convenience. Along with WMUR, other station groups participating in the NewsON launch are the ABC Owned Television Station Group, Cox Media Group, Graham Holdings, Hearst Television, Hubbard Broadcasting, Media General, Raycom Media and TEGNA.
ENE Systems Inc. has purchased Pro Controls, a Bow-based facilities and energy management control system contractor. ENE is a member of the InsideIQ Building Automation Alliance. With the acquisition, ENE Systems has launched ENE Systems of New Hampshire, focused on helping customers run complex building automation systems.