Tech Tidbits From Across NH
Seacoast NH Start-Up competition, New Hampshire InnovateHER challenge … and more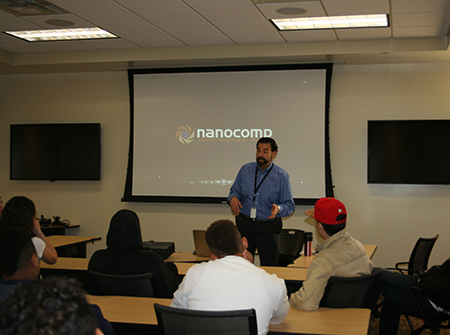 The first event under the rebooted eCoast technology networking brand will be a tour on Oct. 15 of four leading Seacoast tech companies. Presented the Greater Portsmouth Chamber of Commerce and the NH High Tech Council the event, which will run from 5 to 8 p.m., will feature stops at: Newmarket Inc., an Amadeus Company; PixelMEDIA; C3 Metrics; and Neoscope Technology Solutions, all located in the Pease International Tradeport in Portsmouth.
Tickets, which include beverages, snacks and transportation to tour sites, are $10 in advance or $15 at the door, and are available online.
A diverse and experienced panel of marketing, business development and technology experts will advise two New Hampshire tech companies at the NH High Tech Council's Entrepreneur Forum,, from 5:20 to 8 p.m., Thursday, Oct. 14, at FIRST Place, 200 Bedford St., Manchester.
Advising presenting company Hyndsight Vision Systems will be: Dulcie Madden, co-founder and CEO of Mimo Baby Monitor; Peter White, an angel investor and finance director at New England Innovation Center; and Gene Roe, founder of The Future of the Built Environment.
Advising presenting company VidFall will be: Brian Gladstein, EVP of technology marketing at GYK Antler; Josh Verrill, vice president of customer acquisition at Dyn; and Nick Mammola, managing partner at Kingside Partners. Tickets to the event, which include refreshments and a networking session, are $15 for members, $10 for students and $30 for others. Register online at nhhtc.org.
Joel Robinson, CEO of VidFall and winner of the 2014 competition, will be among the judges for the city of Rochester's annual Seacoast NH Start-Up competition.
The contest open to for-profit, New Hampshire-based business with an innovative idea, formed no more than five years prior to the deadline for applications.
Finalists will be announced on Oct. 23, and final judging will be held Nov. 11 at the Frisbie Memorial Hospital Conference Center on Whitehall Road in Rochester.
Entries will be accepted through the end of Friday, Oct. 16.
Contest information, rules and applications are available at SeacoastNHStartUP.com.
The Regional Economic Development Center of Southern New Hampshire will be hosting a local New Hampshire InnovateHER challenge on Thursday, Nov. 19, at the REDC Business Development and Resource Training Center in Raymond.
REDC will select one competitor to be submitted for consideration for the national InnovateHER Final Challenge, a national prize competition aimed at unearthing products and services that impact and empower the lives of women and families through local business competitions that culminate in a live-pitch final round.
During the national InnovateHER Final Challenge, to be held March 16-17, 2016, in Washington, D.C., finalists will compete for the top three cash prizes, totaling $70,000.
The New Hampshire panel of judges for the competition include Taylor Caswell, executive director of the Community Development Finance Authority; Liz Gray, director of Live Free and Start; John Hamilton, managing director of Vested for Growth; Mark Kaplan, CEO of Alpha Loft; Carmen Lorenz, director of the NH Division of Economic Development; and Laurel Bistany, president of the REDC.
To be considered for this competition, entrepreneurs must first submit an application for review at redc.com.