Tech Tidbits From Across NH
Next HR Exchange topic: independent contractors … and more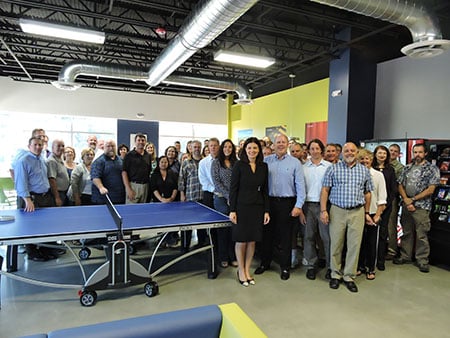 Liz Bailey, an attorney with Sheehan Phinney Bass + Green, will be the speaker at the next HR Exchange, presented by the NH High Tech Council in association with the Manchester-based law firm. The event will be held Oct. 14 at Sheehan Phinney's 1000 Elm St. offices.
She will discuss, "Narrowing of the Travel Lanes: Update on Narrowing World of Independent Contractors."
In order to make arrangements for seating and refreshments, participants must register at least one week before the event.
To pre-register, contact Sandy Rolph, at 603-627-8148 or srolph@sheehan.com.
Professor Jifeng Liu of the Thayer School of Engineering at Dartmouth, and his research team have received a U.S. Department of Energy SunShot Initiative award, the Energy Department has announced.
The award recognizes Liu's work to provide a lower-cost, efficient alternative to conventional solar panel construction that can be applied on a large scale. The invention involves reliable coating technologies that facilitate vacuum-free, high-efficiency, low-cost concentrated solar power systems.
University of New Hampshire alumnus Garrett Ilg, senior vice president and head of worldwide enterprise sales and field operations at Adobe Systems Inc., has been named one of the first 100 Association for the Advancement of Collegiate Schools of Business Influential Leaders.
Peter White of the New England Innovation Center, Dulcie Madden of Mimo and Brian Gladstein of GYK Antler will be among the panelists at the NH High Tech Council's Oct. 14 Entrepreneur Forum.
Two New Hampshire companies, Hyndsight Vision Systems Inc. and VidFall.com, have been selected to present their business challenges to a team of experts.
The event, to be held Wednesday, Oct. 14, will begin at 5:30 pm at FIRST headquarters, 200 Bedford St., Manchester.
During the forum, the presenting companies are given 15 minutes to share their business plan, present opportunities and challenges and receive feedback from a panel of experts in their field as well as the audience
Cost to attend is $15 for council members, $5 for students and $30 for others. Individuals can register at NHHTC.org.
The NH High Tech Council has extended its Product of the Year award entry deadline to Oct. 5. For more information and an application, click here.