Tech Tidbits From Across NH
Plexxi inks another deal … and more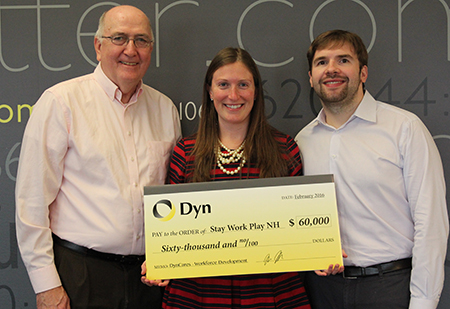 Gov. Maggie Hassan is continuing her "Innovate NH" Tour on Thursday with a visit to Flatley Properties at Nashua Technology Park and MakeIt Labs in Nashua, where she will highlight the importance of supporting innovative, job-creating businesses and New Hampshire's entrepreneurs that help keep New Hampshire's economy moving in the right direction. Governor Hassan has proclaimed Feb. 20-27 as Entrepreneurship Week in New Hampshire.
Kingston-based GourmetGiftBaskets.com, says it has maximized the customer experience for the ever-expanding base of consumers making online purchases via mobile devices by implementing an entirely new e-commerce platform while creating a new website using responsive design.
During December 2015, GourmetGiftBaskets.com said, it yielded a year-over-year boost of 53 percent in sales conversion rates from mobile devices and 20 percent from desktop computers.
GourmetGiftBaskets.com's Vice President of Marketing and Sales Jason Bergeron said the impetus was the creation of "a responsive design that helps our sites adapt to any screen, functioning perfectly and looking consistently great on any device – smartphone, tablet, desktop, laptop – you name it. Page speed has also increased significantly, further boosting conversion rates."
Nashua-based Plexxi has been chosen by Perseus, a provider of managed services, to deploy a network system to expand its service operations into 11 Asian markets. The deal will enable Perseus to supply multipoint ethernet services and global market data distribution into many Asian markets, and offer new services between 29 sites across the world, Plexxi said.
"This is tremendous for us," said Rich Napolitano, CEO of Plexxi. "This is a vote of confidence for our founder, and the engineers that have built it."
Southern New Hampshire University is partnering with Worcester Polytechnic Institute to help create SNHU's first-ever engineering degree program – an MBA in engineering management.
SNHU's new MBA in Engineering Management will incorporate concentration courses in engineering, which will be developed and taught by WPI faculty for SNHU. Coursework will introduce students to various engineering disciplines and provide a framework for making business decisions within an engineering systems environment.
UNHInnovation (UNHI) has officially moved to its new location in the recently constructed Madbury Commons, a mixed-use development located at 21 Madbury Rd. in downtown Durham.
UNHI is focused on promoting UNH's intellectual property, building partnerships between UNH and the business community, and advocating entrepreneurship.
UNHI occupies the ground floor of the development along with the InterOperability Lab, the Peter T. Paul Entrepreneurship Center and the Connectivity Research Center. The space incorporates an open floor plan with collaborative-style workspaces throughout the area and a shared, interactive training room for events.
Alpha Loft, a nonprofit dedicated to developing early-stage, scalable businesses, has also relocated to Madbury Commons from its previous location in Durham.
An open house to showcase the new space has been planned for Tuesday, April 19, and will be open to the public.