Tech Tidbits From Across New Hampshire
Single Digits expands, Cybersecurity Forum set for Tuesday .. and more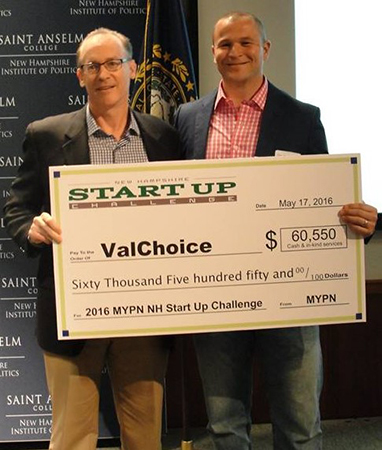 Bedford-based Single Digits has acquired the hospitality high-speed internet access and internet protocol television assets of Signal Share Infrastructure, a subsidiary of Roomlinx Inc.
The acquisition includes more than 20 engineers and technicians who will be integrated into Single Digits customer support and operations.
CEO Bob Goldstein said the acquisition will enable the company to expand its support and engineering footprint in the central part of the country, while also expanding its product offerings.
Peterborough-based Hyndsight Vision Systems' Journey, a new rear-view camera and monitor system designed for the boating industry, has been named to Boating Industry magazine's third annual Top Product list.
Designed for the harsh boating environment, Journey is a portable, wire-free rear-view system that can be mounted on any type of power or sailboat, providing real-time video as a way to maintain safety on the water.
Sharon Kaiser, chief information officer at New England BioLabs will be the guest speaker at the next TechWomen Power Breakfast, which will be held from 7:30 to 9 a.m. at the recently opened University of New Hampshire InterOperability Laboratory in Durham.
Kaiser's talk is titled, "Succeeding as a lifelong learner" and she will also speak about her experience overseeing global information technology and the complexities and challenges she faced along the way in an industry that is highly regulated.
The June Power Breakfast is sponsored by Microsoft. Tickets are $10 for members of the NH High Tech Council and $20 for others. Register online or call 603-935-8951. Seating is limited, so individuals are encouraged to register early.
DARPA – The Defense Advanced Research Projects Agency – has selected BAE Systems to develop an undersea navigation system aimed at enhancing the U.S. Navy's ability to provide precise, global positioning throughout the ocean basins. The contract will support a program called the Positioning System for Deep Ocean Navigation (POSYDON), which seeks to allow undersea vehicles to accurately navigate while remaining below the ocean's surface.
POSYDON aims to replace current navigational methods that pose a detection risk for undersea vehicles forced to surface periodically to access the space-based global positioning system, which cannot sufficiently penetrate seawater.
The vehicle instrumentation needed to capture and process acoustic signals for accurate navigation will also be developed under this program. The company will leverage its expertise and capabilities in signal processing, acoustic communications, interference cancellation, and anti-jam/anti-spoof technologies for the program. Other members of BAE Systems' POSYDON team are the University of Washington, the Massachusetts Institute of Technology, and the University of Texas at Austin.
Manchester-based Millennium Integrated Marketing has been selected as one of the 20 Most Promising Google Tech Solution Providers of 2016 by CIOReview-Google Tech.
B2W Software, a provider of heavy civil construction management software, has acquired 25 percent more space at its headquarters at 99 Bow St. in Portsmouth. The company now occupies the top two floors of the building, with a total of 18,000 square feet of office space.
The company said it grew annual revenue by more than 25 percent for the third consecutive year in 2015, attracting close to 150 new clients.
"Heavy construction companies are moving to more sophisticated software to improve profitability and competitiveness," said B2W Software founder and CEO Paul McKeon.
The Executive Series Cybersecurity Forum presented by the NH High Tech Council and NH Business Review will be held from 7:30 to 11 a.m. Tuesday, May 24, at the Radisson Hotel in Manchester.
The forum is aimed at teaching businesspeople how to identify and protect sensitive data from cyber threats.
Presenting the keynote address will be Jeff Bardin, chief intelligence officer of Treadstone 71. Following his talk, a panel, moderated by cybersecurity consultant Candy Alexander, will look at issues specific to small and medium sized businesses in New Hampshire.
Tickets are $35 and available to purchase online until May 22. For more information on the forum and to purchase tickets, visit NHBR's event page.