Tech Tidbits From Across New Hampshire
Tender Corporation completes transaction with Victor Capital Partners, deadlines approach for Accelerate NH, Air Force Pitch Day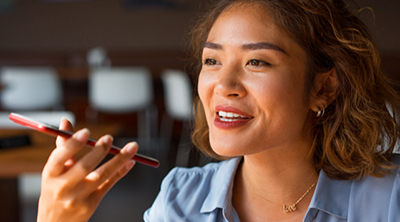 Kennebunk Savings Bank, a Maine-based bank with locations in New Hampshire, is the first community bank in New England to partner with Nuance to deploy Voice ID. The technology enables the bank to identify customers calling the customer care line by the unique characteristics of their voice. Kennebunk Savings partnered with Nuance Communications to deploy voice biometrics technology, which will ultimately allow customers to bank faster and more securely, the bank said in a press release. The convenience of Voice ID reduces, or in some cases eliminates, the need for security questions. Instead, when a customer calls in and chooses to use Voice ID, they will engage in a natural conversation with a bank representative. During that conversation, Voice ID will create a voiceprint that can be used to verify their identity each time they call in by analyzing their voice and comparing it to the voiceprint associated with their account.
ColorChip, a global Israeli firm that produces photonic integrated transceivers, tested its 200G QSFP56 FR4 2km transceiver at the Higher Speed Networking Interoperability Plugfest event, held in the University of New Hampshire's Interoperability Lab (UNH-IOL) in Durham. The transceiver could be available to the commercial market by the second quarter of this year. The plugfest advances new Ethernet technologies that are required to meet the rapidly expanding bandwidth demands of a connected world, working towards the next generation of networking solutions that are robust, energy-efficient and cost effective.
Littleton-based outdoor product maker Tender Corporation has completed a transaction with investor group Victor Capital Partners, a private equity firm that invests in middle-market businesses with powerful brands. The management-led transaction will allow Tender Corporation to recapitalize the business and help the company accelerate its growth in both the outdoor and consumer packaged goods marketplaces. The company's CEO Jason Cartwright, who is a member of Victor Capital Partners, will retain a significant investment in the business. Financial terms of the private transaction were not disclosed. The primary selling shareholder was Prospect Partners, LLC, a Chicago-based private equity firm.
Tender's product portfolio includes After Bite, the leader in insect bite relief, highly-rated insect repellents Ben's® and Natrapel®, and outdoor first aid and survival product leaders Adventure Medical Kits® and Survive Outdoors Longer. Tender Corporation will maintain its operational headquarters and manufacturing facilities in Littleton, New Hampshire, as well as its marketing and sales office in Alameda, California.
Applications are due Sunday, Feb. 3 for Accelerate NH, a 12-week intensive program for startup founders hosted by Manchester-based tech incubator Alpha Loft. The program is open to any entrepreneur who is the founder of a New Hampshire-based startup or who resides in New Hampshire and has raised less than $500,000.
Accelerate NH includes:
Coaching:
1-on-1 mentorship with leading entrepreneurs with experience in related industry.
Connections:
Introductions to successful entrepreneurs, VCs, angel investors, and other appropriate parties.
Curriculum:
A weekly seminar series and regular check-ins with your Mentors and Alpha Loft staff.
Community:
Peers who will become lifelong friends/colleagues.
Startup Shindig:
The culmination of the program where you will present your polished idea with a pitch to a group of investors, media, business leaders, and the public.
Investment:
Potential investment from the Millworks Fund II.
The application is available here. To learn more contact Joshua Cyr at jcyr@alphaloft.org or visit nhtechalliance.org.
February 6th at 8 p.m. EST is the deadline for submission for all proposal and short pitch decks to participate in the inaugural Air Force Pitch Day, a national event promoted by the New Hampshire Aerospace and Defense Export Consortium. Pitch Days enable pathways for startups to work with the U.S. Air Force. The event is modeled after commercial pitch competitions, and aims to award up to $40 million on startups using one-day, one-page contracts. The Air Force Pitch Day event will take place in New York City from March 6-7. For more information contact NHADEC Executive Director Dawn Wivell at 603-836-4207 or dwivell@nhadec.com.