Tech Tidbits From Across New Hampshire
Littleton-based CAI Technologies acquires Maine company's mapping divisions, Unified Office named to CRN's Next-Gen 250 list ... and more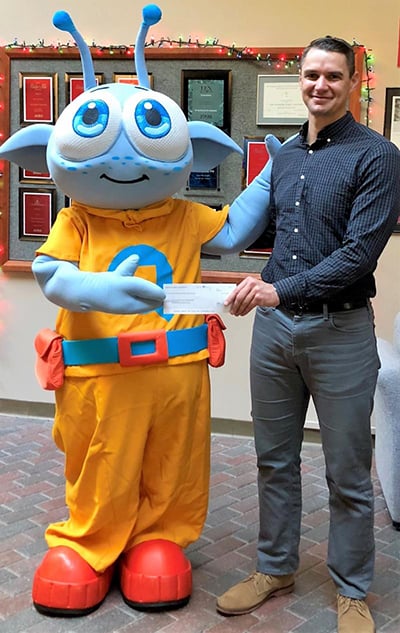 As part of its efforts to support workforce development, Eversource is joining the Quinks in empowering children to ask questions about how things work and to explore concepts in science, technology, engineering and math that provide the answers. A collaboration between New Hampshire Public Broadcasting and Learniverse Educational Media, STEM from the START is helping to ensure that all early learners have access to fun and engaging STEM resources. Free, downloadable lessons blend animated adventures starring three curious characters called the Quinks with hands-on activities and games for young learners. Discovery Guides for teachers, childcare providers and parents supplement each lesson. Tested and evaluated in classrooms across the Granite State, including Manchester, STEM from the START lessons successfully reach Pre-K through third-grade students, regardless of learning style or attention span.
Joshua Cyr, director of education and acceleration at Alpha Loft, will host a Pitch 101 session at Jupiter Hall on Thursday, Nov. 8 from 5:30 to 7:30 p.m. Startups, especially those preparing for the Speed Venture Summit, TechOut or the Social Venture Innovation Challenge, will benefit from this session focusing on investor pitching and pitching to first customers, employees and partners. Participants will learn core concepts around storycrafting, core messaging, physical presentation and more.
CAI Technologies, a municipal mapping and GIS services company located in Littleton, has acquired tax mapping, web hosting and specialty natural resource mapping divisions of the James W. Sewall Company, located in Old Town, Maine. Beginning in the 4th quarter of 2013, Sewall partnered with CAI to provide map maintenance and municipal GIS related services to many of Sewall's clients. This latest transaction finalizes a complete transition of those services and personnel, and allows the two companies to better focus on their respective areas of expertise.
Unified Office Inc., a managed services provider in Nashua that offers reliable hybrid cloud-based virtual communications services and business analytics, has been named to the 2018 Next-Gen 250 list by CRN, a brand of The Channel Company. The annual list identifies IT solution providers who have embraced emerging technologies and are setting the pace for the rest of the channel in their adoption. Those on the list have been able to meet their customers' ever-changing IT needs in leading-edge technologies such as cloud computing, IoT, virtualization, mobility, business analytics and business intelligence.
The latest Online Schools Report ranked Southern New Hampshire University on its list of the Best Online Homeland Security Degrees and Best Online Project Management Bachelor's or Master's Degrees.
Janice DiPietro, founder and CEO of Boston-based Exceptional Leaders International will headline the New Hampshire Tech Alliance's TechWomen Power Breakfast with a discussion on how women leaders can adjust management structures for success. The talk will take place from 7:30 to 9 a.m. on Wednesday, Nov. 14 at the Portsmouth Country Club in Greenland. For more information and to purchase tickets, click here.
HyreCar Inc., a California company that enables carsharing for ridesharing through its proprietary technology platform, has recently expanded access to drivers and vehicle owners in all 50 states. The platform allows individuals to rent cars from nearby dealerships to use while working for Uber and Lyft.
Citizens Count, a New Hampshire-based nonpartisan nonprofit promoting civic engagement, saw the number of downloads of the Citizens Count NH Voter Guide app increase more than five-fold compared to the 2016 election. The app told voters everything they need to know, starting with their local polling location, what state and federal candidates would appear on their ballot, and even where those candidates stood on a plethora of state and national issues.
The Ethernet Alliance, a global consortium dedicated to the continued success and advancement of Ethernet technologies, announced its next Ethernet Alliance Higher Speed Networking Plugfest for port data rates ranging from 25 Gigabits per second (Gb/s) to 400 Gb/s. The weeklong event—beginning Dec. 3, 2018, at the University of New Hampshire InterOperability Laboratory in Durham —will allow Ethernet Alliance members, equipment manufacturers, test and measurement professionals, etc. to test and improve interoperability of their solutions. In addition, members of the 100G Lambda Multisource Agreement Group also are invited to attend the plugfest, under terms of a new memorandum of understanding between that industry consortium and the Ethernet Alliance.
Hypertherm, a Hanover-based manufacturer of industrial cutting systems and software, recently announced the formation of Hypertherm Ventures, a new corporate venture capital arm, to foster greater interaction with the technology venture community. Encompassed by a goal of helping advanced manufacturing deliver positive change to the world, Hypertherm Ventures is seeking partnerships with universities, startups, entrepreneurs and early stage companies to commercialize advanced manufacturing technology in strategic interest areas. Those areas include industrial cutting, welding, and thermal processing; robotics and automation; machine learning and augmented intelligence; industrial Internet of Things; additive manufacturing / 3D printing, and nanotechnology. To learn more about Hypertherm Ventures, submit a proposal, or download a pitchbook, please visit http://www.hypertherm.com/ventures.
The NH Tech Alliance will host the 2018 New Hampshire Speed Venture Summit on Wednesday, Nov. 28 at the Manchester Country Club in Bedford. All startups, investors, ecosystem partners and tech influencers are welcome to a networking reception at 5 p.m., followed by a fireside chat with early-stage venture investor Deb Kemper of the Boston Forum of Golden Seeds. There will be several regional investment firms attending, including 10X, Alumni Ventures, First Run, Impact NH Fund, North Country Angels, Northeast Angels, Rines Fund, Side Car Fund, Wasabi Ventures, Maine Angels, Valia Investments, Hypertherm Ventures and some individual investors. For tickets, click here.
Five finalists have been selected by an esteemed panel of judges to compete for up to $300,000 in investment capital prizes and free office space at New Hampshire Tech Alliance's 2018 TechOut competition on Thursday, Nov. 15. The event, which includes live pitches from the finalists, an unveiling of the winners, networking and refreshments, will run from 5:30 to 7:30 p.m. at Oracle + Dyn in Manchester. Click here for tickets.
The finalists for this year's TechOut competition are:
Aisling Organics, presented by CEO Krysta Lewis, is an organic cosmetics company that is a high-performance, safe alternative to conventional cosmetics. The company's product is formulated with crushed plants and herbs, which makes it last longer on the face and enables the company to offer brighter pigments.
Cyborg, presented by Founder and CEO Tim Near, provides a voice-activated, gamified, mobile fitness platform equipped with an artificially intelligent activity assistant. The platform uses a score and biometrics to create customized fitness plans.
Nolen Ortho, presented by Founder and CEO Darren Nolen, develops next-generation tissue repair material using controlled activation technology. The company produces a synthetic bone graft that hardens after implantation, bonding to adjacent tissue, possessing a micro-structure mimicking native bone, and encouraging cell ingrowth, slowly resorbing and remodeling into new, healthy bone.
TendoNova Corporation, presented by CEO Roy Wallen, has created the Ocelot system, a novel medical technology that addresses chronic tendon pain at lower costs in clinical and office-based settings. The company's technology meets the needs of physicians, payers and patients by improving clinical outcomes, improving patient experience, decreased cost of care and improved physician experience.
VentriFlo (Design Mentor, Inc.), presented by President Doug Vincent, has created a novel blood pump that delivers physiologic flow to achieve superior outcomes and reduce costs for both patients and hospitals. The company's pump delivers a life-like pulse, which improves blood flow to organs.