Tech Tidbits From Across New Hampshire
SNHU acquires Chicago company, Pierce Atwood sponsors UNH ECenter ... and more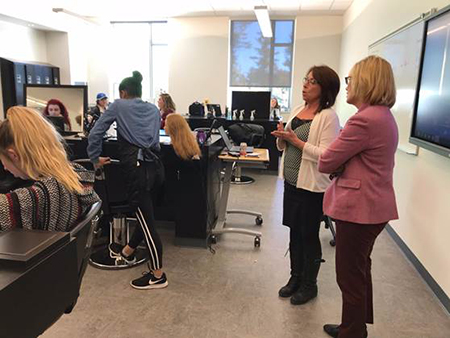 Senator Maggie Hassan visited the newly completed Dover Regional Career Technical Center on Monday, where she met with teachers and students to discuss the importance of expanding access to Career and Technical Education (CTE) programs, which help to strengthen New Hampshire's workforce and expand economic opportunity for Granite Staters. In 2014, then-Governor Hassan signed a bill to provide $13.5 million in funding for the construction of Dover Regional CTC. Offering 15 distinct technical programs, Dover Regional CTC provides students with the opportunity to gain certifications, licenses and college credit.
Southern New Hampshire University's Sandbox Collaborative was one of two recipients of the Social Tech Awards at the 2018 Close It Summit, hosted by Institute for the Future and Innovate+Educate in Austin last week. Sandbox Collaborative is a research and development arm of Southern New Hampshire focused on rethinking higher education in ways to ultimately benefit the learner. Sandbox Collaborative also recently received a $1 million Google grant to assess, train, and employ disconnected young adults across the U.S., providing them opportunities via soft skills assessments and a technology platform.
Pierce Atwood LLP recently announced its sponsorship of The University of New Hampshire's Peter T. Paul Entrepreneurship Center (ECenter), and its funding of the 2019 Summer Seed Grant program. The Summer Seed Grant initiative invites all UNH students to submit applications for grant funding to take their entrepreneurial ideas to the next level through the development of prototypes, business models, and/or companies during the summer months. In addition, Pierce Atwood is providing legal services to the winners of UNH's Social Venture Innovation Challenge (a program from the Center for Social Innovation and Enterprise) and the Holloway Prize Competition (a program from the Peter T. Paul College of Business and Economics).
Milford-based contract manufacturer Cirtronics has received its fifth screen printer from Speedprint Technologies. Like the other Speedprint printers on the Cirtronics production floor, the latest SP710 printer is equipped with Speedprint's unique, dual-head ADu+ dispensing system, built right into the printer.
"The fifth Speedprint printer increases our production capacity and was an easy decision. We have been delighted with the ease of use and reliability of these robust print platforms. Features like in-printer dispensing add to the flexibility we enjoy, allowing us to confidently address any customer subassembly," said Vice President of Manufacturing at Cirtronics Jim McCall.
Southern New Hampshire University is acquiring LRNG, a Chicago-based organization that helps youth find job opportunities through a game-based learning platform. SNHU plans to enable students to obtain credentials towards a degree for a low cost.
The deadline for applications is Wednesday, Oct. 31 for the 7th Annual Flatley Challenge, a tech startup competition that provides winners with a year of free rent for up to 5,000 square feet of office and/or lab space at the Nashua Technology Park and/or Nashua Office Park at Gateway Hills and up to $10,000 in fit-up, connectivity and related costs. Interested candidates may apply online at http://www.gateway-hills.com/flatley-challenge/. Any questions should be directed to Amanda Deiratani via email at amanda.deiratani@johnflatleyco.com