Tech Tidbits From Across New Hampshire
Orion Entrance Control launches new DoorGuard system, Granite State Code Camp seeks support ... and more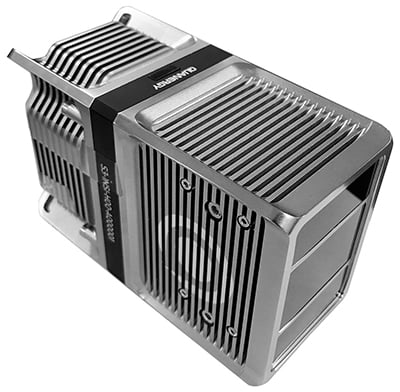 Laconia-based Orion Entrance Control, a global provider of optical SpeedLane turnstile solutions, has launched its new entrance control system designed to enhance security and monitoring at any doorway within a building. The new DoorGuard system, which utilizes LiDAR (light detection and ranging) technology, a key component in autonomous motor vehicles, will be featured in Orion's booth 521 at the GSX Global Security Exchange in Las Vegas, Sept.25-27. According to Orion, DoorGuard is advanced in its accuracy and performance and can be added into current security systems. The DoorGuard unit is mounted above a door and integrates to the access system and Orion's proprietary Infinity software. The LiDAR smart sensing technology generates a half million data points per second with signal processors that calculate the Time-of-Flight (TOF) of each light pulse. The end result is significantly more accuracy that protects points of entry from unauthorized access.
Jim Wilcox of Granite State Users Group is seeking sponsorships to support Granite State Code Camp, a one day conference held on Saturday, Nov. 3, at Manchester Community College. The event is for the local developer community that focuses on software development. There is no charge for attendees. All speakers volunteer their time to share knowledge with fellow developers. All technology tribes are welcome, and topics are only constrained by what speakers volunteer to present on code. The conference is organized by members of the New Hampshire developer community with the encouragement of the New Hampshire Technical Alliance and fiscal organizational support of Granite State Users Groups, LLC. To contact Jim, email nhcodecamp@outlook.com or visit https://granitestateusersgroups.org/code-camp/
PoliteMail, a Portsmouth-based provider of Outlook-based employee email engagement solutions, is No. 1005 on the 37th annual Inc. 5000, the most prestigious ranking of the nation's fastest-growing private companies. PoliteMail has also been ranked the No. 1 fastest-growing New Hampshire-based company to make this year's list. ​
Alpha Loft in Portsmouth will hold its Hoopla — a gathering of entrepreneurs, creatives and technical masterminds — on Tuesday, Sept. 25 from 5:30 to 7:30 p.m. The free event brings together New Hampshire's many doers, makers and innovators in one place to foster great collisions of people, ideas and talent. For more information, click here.
NHADEC (the New Hampshire Aerospace and Defense Export Consortium) will host a workshop on DFARS and cybersecurity requirements that companies must abide by to conduct business with the Department of Defense or a supplier serving as a prime contractor. Companies must be compliant with 252 regulations under the Defense Federal Acquisition Regulation Supplement. The workshop will be conducted by Pragmatic Consulting and take place on Friday, Sept. 7 from 8 a.m. to 11 a.m., with a cost of $49. To register, click here.
On Monday, the SEE Science Center in Manchester put together a new exhibit focused on the wonders of the human genome. The exhibit is so large it was hoisted into the building through a large third story opening on the Commercial Street side of the building. The exhibit answers common questions that surround the human genome, tackling topics such as genetic predetermination, the nature of mutations and the very slight differences in genetic material that separate one human being from another. This exhibit is brought to Manchester through a grant that SEE Science Center's operations director, Peter Gustafson, won through the NH Charitable Foundation's Entrepreneurs' Fund, a generous gift from the Hitchcock Family and the Community Development Finance Authority's Tax Credit program. This is the first of many enhancements and new exhibits coming to SEE Science Center in the next year.
The public is invited to watch five tech startups pitch their business ideas during Startup Pitch Night at the Nashua Technology Park Conference Center on Tuesday, Aug. 28 at 6 p.m. One or more of the startups could win 3 months of free rent space at the Flatley Innovation Center, as well as other monetary prizes. Startup Pitch Night is a great opportunity to network. To register for the free event, click here.
The New Hampshire Joint Engineering Societies will host the 12th annual education conference on Tuesday, October 9 at the Grappone Center in Concord. Afternoon sessions will include presentations by New Hampshire's foremost leaders in the development of the next generation of engineers. Attendance at the all-day conference will earn 7 PDH credits. For more information including registration, contact NHJES President George Fredette at gfredette@sfceng.com.
The Pete Kilpatrick Band will play tonight at Gateway Hill's 2018 Summer Concert Series. The technology park holds concerns at its outdoor ampitheatre at 100 Innovative Way in Nashua. The free concert will begin at 5:30 p.m. To register visit www.gateway-hills.com/events.
For those considering membership with the New Hampshire High Tech Council, the Council is offering half-year membership fees for July to December 2018. Membership fees are tiered based on company sales, starting at $160 for companies with sales less than $1 million to $350 for companies with sales less than $5 million. For more information on membership fees and what membership entails, click here.