Tech Tidbits From Across New Hampshire
Allegro MircroSystems opens R&D center in Prague, Akumina's digital software platform gains a major client ... and more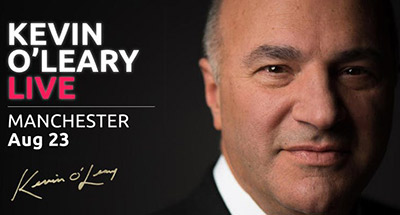 Kevin O'Leary, a business investor and star of ABC's Shark Tank, will host a live wealth-building event in Manchester on Thursday, Aug. 23. The event will take place at 5 p.m. at the Manchester Downtown Hotel. O'Leary will be joined by some of the top speakers on wealth creation. Tickets are free. For more information, click here.​
For those considering membership with the New Hampshire High Tech Council, the Council is offering half-year membership fees for July to December 2018. Membership fees are tiered based on company sales, starting at $160 for companies with sales less than $1 million to $350 for companies with sales less than $5 million. For more information on membership fees and what membership entails, click here.
SilverTech Inc., a custom, integrated digital solutions provider in Manchester, has been recognized along with its client Lancaster, Pa.-based financial holding company Fulton Bank, N.A., for creating a new customer-focused website and have been awarded the 2018 Sitecore Experience Award for the category of "Best Use of Personalization" in North America.
O-I, a prominent glass container manufacturer in Ohio, has adopted Manchester-based Akumina Inc.'s digital workplace software platform to manage its operations, which consists of 26,500 employees at 78 plants in 23 countries, with revenues of up to $6.9 billion. O-I selected Akumina and Microsoft's Office 365 enterprise cloud to enable its entire workforce to do their jobs better, faster and easier. Akumina was also recently named a Top 10 Startup in the State of New Hampshire by The Tech Tribune. Akumina announced record-breaking sales and revenue growth for the quarter ending June 30th and a successful capital raise including a strategic investment by Accenture Ventures and Avanade.
Five New Hampshire companies are asking for votes to help one of them win a year of marketing services from Savoir Faire Marketing/Communications – valued at $75,000. The prize will be given to the company with the most votes. Voting began on Wednesday, August 15.
The five finalists are:
ArgenTech Solutions, Inc., of Newmarket, is a veteran-owned small business providing environmental health assessments, infrastructure inspection, training and security services for the defense and commercial sectors. They utilize high-tech sensors, unmanned aircrafts and software analytics to produce end products crucial to making quality, timely decisions. Vote: https://mymm.co/argentech​
Airex Corporation, of Somersworth, is a third-generation small business offering extensive expertise in engineering innovation and world-class electromagnetic manufacturing. They produce aerospace quality components for military and commercial applications, with the aim of delivering best-in-class technology-based products. Vote: https://mymm.co/airex
​HydroComp, of Durham, creates software products for maritime vehicle designers, which are tested and supported by a team of experienced engineers who demonstrate reliable, detailed results, and a thorough workflow. Designers use the tools to confidently conduct technical calculations to reduce carbon footprints, protect marine mammals, and operate efficiently. Vote: https://mymm.co/hydrocomp
SFC Engineering Partnership, Inc., (SFC), of Windham, is a multi-disciplined engineering consulting firm that provides Structural, Fire Protection and Civil Engineering, Surveying, and Accessibility Consultation to private, commercial, industrial and municipal markets. SFC offers services including roadway improvements, utilities and drainage design, building design, permitting, sprinkler and alarm design, site planning, feasibility studies, infrastructure improvements, accessibility consultation and design, plan code review, and construction administration. Vote: https://mymm.co/sfcengineering
Tech Needs, of Salem, began in a family member's garage and has been serving New England communities by streamlining the job search process for those seeking employment. Tech Needs also assists local employers find talent to grow their businesses and the local economy. Vote: https://mymm.co/techneeds
The University System of New Hampshire has selected a full suite of S2P (spending to purchase) solutions in a significant upgrade to JAGGAER, a North Carolina-based independent spend management company. "We selected JAGGAER's suite because our goal was a complete procurement transformation, and their solutions are the number one choice in the education space. Of particular interest is their ability to give us control over multi-business units. This is unique in the market and critical to our success. We required visibility, immediate access to data and control over four schools. JAGGAER gives us that power," said Michael Durkin, chief procurement officer of The University System of New Hampshire. The University system oversees four schools: University of New Hampshire, Plymouth State University, Keene State College, and Granite State College, and is the largest post-secondary institution in New Hampshire, serving 34,000 students.
Alpha Loft is accepting applications for its Startup Fundamentals 6-week course, which provides intensive instruction in many aspects of building a startup including evaluating ideas, business models, value propositions, product/market fit, customers, revenue models, financing, pitching and more. Applications are due by Aug. 20
Allegro MicroSystems, a leading supplier of high-performance power and sensor semiconductor ICs based in Manchester, has established a new research and development center in the Czech Republic. The new center, which is currently staffed with two dozen engineers located in Prague, is an important addition to Allegro's global product development team, says the company. The Prague team will accelerate Allegro's development of market leading, innovative ICs for both the automotive and industrial markets. The team will initially focus on developing sensor ICs for electrified vehicles, green energy, and high-efficiency industrial motor applications.
Alpha Loft in Portsmouth will host its Lunch & Learn on The Research and Development Tax Crediton Tuesday, Aug. 21 at noon. Until recently, startup companies investing in new or improved products had been unable to take advantage of the R&D tax credit. Tax professional Max Vignola of Bedford Cost Segregation will discuss what the R&D tax credit is and how it can now help startups potentially meet their next milestone in development and business growth. To register for the free event, click here.
The BACnet Testing Laboratories Working Group invites manufacturers of BACnet products to attend the 19th annual PlugFest, the industry's leading workshop for companies to perform interoperability testing for their BACnet-enabled solutions. The event will take place at the University of New Hampshire's InterOperability Laboratory in Durham, from Oct. 9 – 11. The BTL-WG will have a meeting preceding PlugFest on October 8.
The New Hampshire Joint Engineering Societies will host the 12th annual education conference on Tuesday, October 9 at the Grappone Center in Concord. Afternoon sessions will include presentations by New Hampshire's foremost leaders in the development of the next generation of engineers. Attendance at the all-day conference will earn 7 PDH credits. For more information including registration, contact NHJES President George Fredette at gfredette@sfceng.com.
The Pete Kilpatrick Band will play on Aug. 23 at Gateway Hill's 2018 Summer Concert Series. The technology park holds concerns at its outdoor ampitheatre at 100 Innovative Way in Nashua. The free concert will begin at 5:30 p.m. To register visit www.gateway-hills.com/events.