Tech Tidbits From Across New Hampshire
Sen. Hassan expresses concern over Russian hackers, Red River awards six STEM scholarships ... and more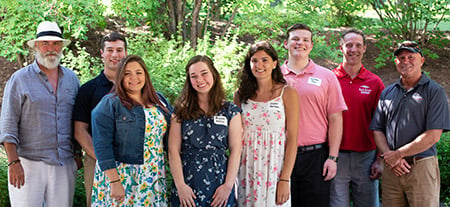 Senator Maggie Hassan, a member of the Senate Homeland Security and Governmental Affairs Committee, called Russian hackers' ability to access control rooms of electric utility companies, as reported by the Wall Street Journal, as "deeply concerning." "These reports reinforce that Russia seems to be positioning itself to carry out crippling attacks on our country's critical infrastructure that could evade some of our existing cyber defenses and thereby threaten the safety of our people and the security of our country," said Hassan. "We need more information from the Department of Homeland Security on this latest report so that we can harden our defenses, prevent further cyberattacks, and punish Russia for its continued shameless attacks on our country. As a member of the Homeland Security and Governmental Affairs Committee, I will work across party lines to get to the bottom of this and to keep our country safe, secure, and free."
The public is welcome to watch startups pitch their business idea at the Nashua Technology Park, Flatley Innovation Center. During Startup Pitch Night, on Tuesday, July 31, at 6 p.m., companies will attempt to win some cash prices and free incubation space. For more information, click here.
Dynamic Benchmarking, a Windham, NH provider of customized online benchmarking software and reporting solutions, has experienced strong sales performance as the the association industry continues to expand its use of the benchmarking solution for use in engaging its members. In June 2018, Dynamic Benchmarking added the Association for Institutional Research (AIR) as a client. In addition to the signing of AIR, Dynamic Benchmarking has over 16 association clients launching new or subsequent year benchmarking platforms in the second quarter of 2018.
Manchester Connects has named Capital Regional Development Council's Chris Wellington, Union Leader columnist John Clayton and Hitchcock Management's Marlana Trombley to its steering committee. FIRST's Dia Stolnitz and Lavallee Brensinger Architect's Anne Ketterer and Steve Hebsch will head some of the group's various initiatives.
Red River, a technology company based out of Claremont, hosted its 12th Annual Charity Golf Classic at the Quechee Club in Vermont on July 19. The yearly tournament is the primary fundraiser for the Red River Charitable Foundation, which awarded six scholarships to New England students looking to enter STEM fields:
Amber Beliveau, from Fall Mountain Regional High School, is attending Worchester Polytechnic Institute to study mechanical engineering. Brianna Aubrey, from Hartford High School, is attending Dartmouth College to study neuroscience. Matthias Page, homeschooled, is attending the University of New Hampshire to study ocean engineering. Elizabeth Jones, from Lebanon High School, is attending Colorado State University to study biomedical and chemical biological engineering. Elyse Scott, from Stevens High School, is attending Clarkson University to study environmental engineering. Vincent Moeykens, from Windsor High School, is attending the University of Vermont to study computer science.
Red River's scholarship recipients completed a lengthy application process and received monetary awards for their college tuition and books, as well as Dell laptops and printers. The students and their families were the guests of honor at this year's event.
SilverTech's Chief Technology Officer Derek Barka has been selected to speak at Sitecore Symposium 2018 in Orlando, Florida. The event is from October 8-11 at the Walt Disney World Swan and Dolphin Resort. In the session, attendees will learn how SilverTech and Fulton Financial Corporation utilized customer data and Sitecore to drive targeted product offerings to qualified customer segments and next-based product cross-sell opportunities to their existing customer base. Derek will be discussing how Lotame, a third-party data management platform, was integrated into Sitecore to drive personalized product offerings to anonymous visitors through audience segmenting.