Tech Tidbits From Across New Hampshire
Stratham company enters partnership with Hitachi, Merrimack security systems operator adds to its team ... and more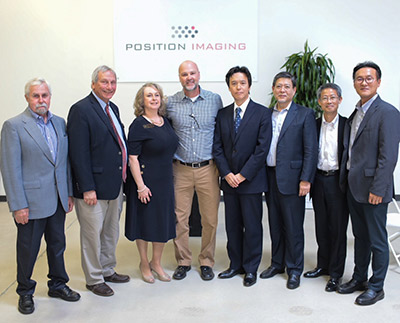 Position Imaging, Inc. in Statham has entered into a partnership with global technology firm Hitachi-LG Data Storage, Inc. (HLDS) for the production of its revolutionary Amoeba product line of package tracking systems. The Amoeba line provides real time visibility of the location and movement of packages, assets and personnel without the use of radio frequency IDs or special labeling, but instead using Position Imaging's computer vision system and radio-tracking line. HLDS, a joint venture of Hitachi and LG Electronics based in Tokyo, specializes in optical technology and will manufacture Position Imaging's innovative package tracking systems. The two companies have been working together to complete product designs and prepare HLDS' manufacturing facility in Malaysia for volume production.
Technology companies in New Hampshire that export their products, and use a mix of domestic and foreign components, could benefit from establishing a Foreign Trade Zone, a mechanism that delays and/or reduces tariffs. Interested companies can visit Foreign Trade Zone Services' website or contact Glenn Page, a former U.S. Customs official and managing partner of FTZ Solutions in Portsmouth, for more information at glenn@foreigntradezonesolutions.com.
One Source Security and Automation, Inc., a security systems integrator in Merrimack, recently hired Brad Peskovitz as a sales manager and Dave Rettig as a sales consultant. As seasoned veterans, together they have 35 years experience in the security, access control and video surveillance industry.
Nine educational institutions including Southern New Hampshire University School of Business and the New Hampshire Learning Initiative through the New Hampshire Department of Education have adopted Motivis' teaching and learning platform. Motivis Learning is a Salem-based company with an online management system that allows students to receive personalized and competency-based learning by better connecting educational institutions with analytics, student information, social learning capabilities and offering advising services.
The University of New Hampshire has chosen the Chicago-based Ex Libris​ Alma library services platform and Ex Libris Primo discovery and delivery solution to provide cloud-based solutions for higher learning. The UNH Library is the 11th member of the Boston Library Consortium to adopt the Alma and Primo solutions. With the Alma platform and the Primo solution, the UNH will gain unified library management functionality and user-friendly discovery service. The library anticipates that the analytics and reporting options will show the benefits of a significantly enhanced user experience.
The University of New Hampshire Interoperability Laboratory (UNH-IOL), an independent testing provider of standard conformance solutions and multi-vendor interoperability, has recently assisted with the certification of two products. French-based Kalray's Target Controller, an inline processing system that offloads the network while securing the data, has been certified by the NVM Express organization through the UNH-IOL.The certification is the first of its kind for a fully integrated system — a system used in artificial intelligence operations. And Santa Clara, Calif.-based E8 Storage, a pioneer in shared accelerated storage for data-intensive, high-performance applications, has certified E8 Storage Software is compliant with the NVMe over Fabrics (NVMe-oF) 1.0 specification, through UNH-IOL's Plugfest held in June.