Tech Tidbits From Across New Hampshire
Next Step Bionics founder honored by High Tech Council, Portsmouth software firm rebrands ... and more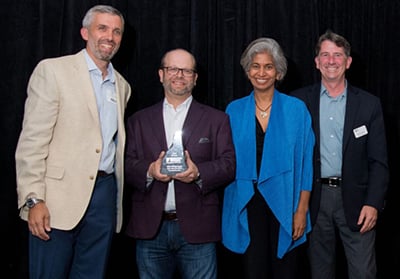 Matt Albuquerque, founder of Next Step Bionics & Prosthetics Inc., was recognized as the 2018 Entrepreneur of the Year by the NH High Tech Council at its event on June 14. In addition to his passion for helping people by designing and fitting them with artificial limbs, Albuquerque spent the last 10 years helping develop the LUKE Arm, an advanced prosthetic making history because of its ability to use electrodes placed on a person's amputated limb to pick up electrical signals from the user's muscles.
Broadband and business communications provider Consolidated Communications recently announced the launch of Cloud Peer Connect, a connectivity solution that provides Consolidated's business customers direct, private access to major cloud providers including Amazon Web Services, Microsoft Azure, Google Cloud and Oracle FastConnect. Cloud Peer Connect provides the necessary bandwidth and reliability to support cloud-based applications, ensuring critical cloud-based workloads get the network performance they require to improve business productivity. Consolidated's Cloud Peer Connect includes an Ethernet Virtual Circuit, connecting to Consolidated's nearest point of presence, and a virtual cross connect, providing a direct connection from Consolidated's point of presence to the cloud service provider, bypassing the public internet.
New Hampshire was one of 25 states analyzed in "Incentivizing Solar Energy," a report by the Consumer Energy Alliance. The report highlighted New Hampshire's Residential Small Renewable Energy Rebate Program, which is fully subscribed and has a waiting list.
Sam Despins, assistant project manager at GZA GeoEnvironmental, Inc. — a Bedford firm providing geotechnical, environmental, ecological, water and construction management — has been named to Catapult Seacoast and Seacoast Media Group's "10 to Watch" list for 2018. The award honors rising young professionals in New Hampshire's Seacoast region for their business and civic accomplishments. In addition to his leadership at GZA of several major environmental, safety, health, and industrial hygiene projects, Despins was honored for his service as a mentor for the University of New Hampshire's Pathways program, which connects UNH undergraduates with alumni for mentoring and career guidance, and as a director of the UNH Alumni Association.
A Portsmouth firm specializing in data analytics software designed for higher education has rebranded itself from Higher Ed Profiles to Precision Campus. Precision Campus allows education officials to create descriptive reports of institutions' data, satisfy reporting requirements and share and access those reports easily and efficiently. The company focuses on six areas: student outcomes, retention and success, course success rates, enrollment tracking, course section optimization, and tuition and revenue. The biggest change is the new, completely free starter product, which enables customers to utilize the many benefits of Precision Campus' renowned reporting at no cost.
Colby Johnson was promoted to director of development, last month, at CommonPlaces Interactive, a Manchester-based digital agency specializing in B2B and nonprofit custom web experiences. Johnson is a UNH Manchester graduate with a degree in computer science. At UNH he participated in the UNHM CompTech program and worked as a technical assistant to develop a software application and device for 2KR Systems owned by Christopher Dundorf. Johnson started his web development career at CommonPlaces in 2014 working on award-winning projects such as the Verizon Wireless App Challenge, California's carbon footprint sustainability project Cool Block, Harvard College's LASPAU and Cummins Diesel website consolidation project.
Applications are being sought for NH High Tech Council's 13th annual Product of the Year award. POY provides a platform for entrepreneurs to receive free advice, product promotion and podium time in front of hundreds of tech leaders. Finalists will present their innovations to a live audience on Thursday, Oct. 11, at the Manchester Country Club in Bedford.