Tech Tidbits From Across New Hampshire
NASA visits Henkel in Seabrook, FirstLight extends fiber service to Lakes Region Community Services ... and more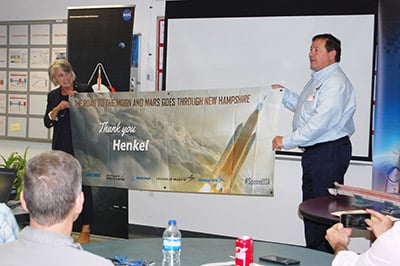 Representatives from NASA and partner company Orbital ATK visited Henkel's Seabrook adhesives technologies facility last week. The global company's Seabrook location that supplies critical materials to NASA's new deep space rocket, the Space Launch System (SLS). Henkel manufactures adhesive products that are integral to Orbital ATK's production of the SLS's solid rocket boosters that help provide the power to launch the rocket. Managers of the SLS program and officials from Orbital ATK, Aerojet Rocketdyne and Boeing were onsite along with NASA astronaut Butch Wilmore to tell employees about the impact the products they manufacture have on the program overall.
Digital Experiential Media Network (DEMN), a Salem-based company with a network of 2,200 in-venue ad-enabled branded experience kiosks across the U.S., has joined DPAA, a global association representing everything digital out-of-home. DEMN is the advertising division of Innovative Foto, the largest full-service designer, manufacturer, operator and distributor of digital imaging photo kiosks in the United States. Its kiosks are placed in locations including high profile retailers, malls, cinemas, zoos, aquariums, museums, hospitality venues and national amusement centers that have opted in for a new revenue stream. The booths generate over 30 million customer interactions annually.
The New Hampshire High Tech Council has announced the appointment of Emily Bolton to its board of directors. Bolton was elected after a voting process that followed the Council's annual member meeting on Thursday, May 31. Bolton will serve a three-year term on the Council's board beginning June 1. Bolton joined Cook, Little, Rosenblatt & Mason, pllc in 2015 as a corporate attorney and advises clients, including local startups and technology companies, on entity formation, capital raising, mergers and acquisitions, contract matters, trademark and copyright protection, and intellectual property licensing. Prior to Cook, Little, Rosenblatt & Manson, Bolton was with Pierce Atwood in Boston and Wadleigh, Starr, Peters in Manchester.
FirstLight, a provider of fiber-optic data, Internet, data center, cloud and voice services to enterprise and carrier customers throughout the Northeast, recently announced a new relationship with Lakes Region Community Services in Laconia. LRCS is a nonprofit, comprehensive family support agency with a primary focus of providing support to individuals with developmental disabilities and/or acquired brain disorders and their families. The partnership is an important step in the work that FirstLight is doing to support communities in the North/Central New Hampshire area, says the company.
Safety Insurance Company, a Durham, N.C. company that provides property and casualty insurance in New Hampshire, has been awarded the IASA 2018 Technology Innovation Award from the Insurance Accounting, & Systems Association. Safety Insurance uses automated voice and SMS notifications to keep claimants updated throughout the claims process, based on their channel of preference and the best channels for distributing immediate information updates. First Notice of Loss notifications as well as Claim Payment notifications are delivered via the SPLICE Software Dialog Suite, an award-winning, patented platform that delivers Data-Driven Dialogs via phone, SMS, and over voice first devices like Amazon Alexa and Google Home.
Star Dargin, founder of Star Leadership, is the featured speaker at the New Hampshire High Tech Council's June TechWomen Power Breakfast on Wednesday, June 13. The breakfast will take place from 7:30 to 9 a.m. at the Manchester Country Club, 180 South River Road, Bedford. Tickets are $10 for council members and $20 for others. Tickets are available here or by calling 603-935-8951.
Applications are being sought for New Hampshire High Tech Council's 13th annual Product of the Year award. POY provides a platform for entrepreneurs to receive free advice, product promotion and podium time in front of hundreds of tech leaders. Finalists will present their innovations to a live audience on Thursday, Oct. 11, at the Manchester Country Club in Bedford.