Tech Tidbits From Across New Hampshire
NASA to visit Titeflex next week, Bensonwood launches building component technology platform ... and more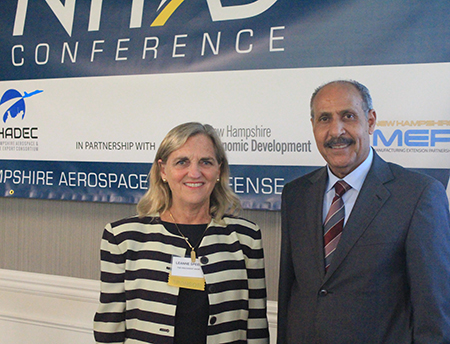 NASA and industry partners will visit New Hampshire Wednesday, May 30 to Thursday, May 31, to highlight the work being done across the state to build the agency's new, deep-space rocket and crew vehicle, the Space Launch System and Orion spacecraft. The Space Launch System will enable a new era of exploration, launching astronauts in the Orion spacecraft on missions to the Moon, Mars and beyond. On Thursday, NASA will visit Titeflex, a Laconia company that manufactures all the external plumbing for all the rocket's engines.
Bensonwood, a custom home building company in Walpole, recently launched Tektoniks, a technology platform that enables automated, simultaneous production of high-quality wood-based wall, floor and roof panels, at its new 110,000-square-foot building component manufacturing facility in Keene. Within the facility is a Hundegger Robot Drive that offers precision and 6 axis capability, with a Routech CNC router to optimize production. "Tektoniks allows the building industry — architects, builders, construction managers and even competitors — to use our high performance building systems, timber fabrication and millwork products directly," said Tedd Benson, Bensonwood's CEO. "We want others to take advantage of the efficiency and quality inherent in off-site fabrication."
Alpha Loft will host its Startup Shindig on the evening of Thursday, May 31 in sponsorship with a number of high-tech startups. Hundreds of Granite Staters will celebrate entrepreneurship in New Hampshire at the premier event featuring networking and 12 startup pitches from Alpha Loft's Accelerate NH cohort. Millworks Fund II will also be announcing an investment of $300,000 in two of the participating startups at the event! To purchase tickets, click here.
CanPay, a Colorado-based debit payment solution for the cannabis industry, recently announced it now processes ecommerce payments for retailers and their customers. CanPay operates in 14 states including New Hampshire.
Matthias Lachance and Rob Parks of Lachance Design LLC will host an Advanced Search Engine Optimization seminar on Wednesday, June 20 from 5:30 to 7 p.m. at MakeItLabs in Nashua.The seminar will cover on-page and on-site optimization strategies that will help better position websites in search results as well as external factors that can affect SEO.
The New Hampshire High Tech Council will honor Ralph Baer, the "father of video games" at the 30th Annual Entrepreneur of the Year Awards, which will take place Wednesday, June 13 from 5:30 to 7:30 p.m. at The Crowne Plaza (soon to be DoubleTree by Hilton) in Nashua. The EOY Lifetime Achievement Award is in addition to the selection of the annual EOY winner, which will be announced at the event. Baer is being recognized for his pioneering contributions to the modern-day video game industry. The inventor lived in Manchester up until his death in 2014 at the age of 92. His son, Mark, will accept the award at the event. A campaign is well underway in Manchester to honor Baer more formally with a permanent bench and sculpture of his likeness in the city through a current fundraising campaign.
Alpha Loft's Portsmouth location will host a free Managing Patent Costs Lunch & Learn on Tuesday, June 12 at noon. Bill O'Sullivan of Sheehan Phinney will discuss some practical strategies for managing and minimizing the costs of patenting your valuable innovations at the startup and early stage.
Kentico Software, a Content Management Solutions (CMS) software company with local offices in Bedford, NH, is holding a global webcast on Wednesday, June 6 at 11 a.m. The webcast will feature CMS practitioners from the U.S., Europe, and Asia Pacific regions, all looking at the state of digital marketing in 2018 and the ramifications for doing business globally.
The New Hampshire High Tech Council is seeking applications for its 13th annual Product of the Year award – a prestigious, annual award that showcases New Hampshire's most innovative products developed within the past year. POY provides a platform for entrepreneurs to receive free advice, product promotion and podium time in front of hundreds of tech leaders. Finalists will present their innovations to a live audience on Thursday, October 11 at the Manchester Country Club in Bedford where the audience will help name the winner through a real-time vote.