Tech Tidbits From Across New Hampshire
Cloud Geared Solutions opens in Manchester, RedBlack partners Silver Management Group ... and more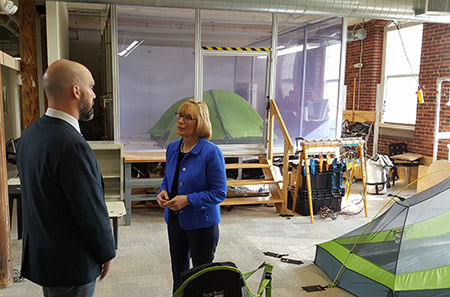 Cloud Geared Solutions, a Manchester-based company that assists with implementing, configuring and customizing Salesforce solutions, has opened its doors. The company is founded with a collective 20+ years of working Salesforce experience amongst their principals. The team holds multiple Salesforce certifications for administration, configuration, data architecture and development.
DEADLINE APPROACHING: The New Hampshire High Tech Council is accepting applications for the 30th anniversary of the Entrepreneur of the Year Award program. The Entrepreneur of the Year Award honors people who have made significant contributions to the advancement of technology-based businesses in New Hampshire. Any founder or senior-level manager of a New Hampshire business who has successfully organized, developed, or managed a technology concept into a commercial product or service is encouraged to apply for the prestigious award, which will be presented at the EOY event in mid-June. The application and full entry requirements are available at nhhtc.org. The application deadline is Friday, May 11. Tickets for the 30th annual Entrepreneur of the Year ($45 for Council members and $65 for not-yet-members) can be purchased here.
The University of New Hampshire InterOperability Laboratory (UNH-IOL), an independent provider of broad-based testing and standards conformance services for the networking industry, will be holding a webinar on Thursday, May 31 at 11 a.m. to highlight the importance of testing to WT-398 metrics. The UNH-IOL recently expanded its WiFi testing capabilities in alignment with the Broadband Forum's WT-398 test plan, a set of performance metrics for WiFi in different scenarios that allows providers to benchmark WiFi Customer Premises Equipment to ensure it meets user expectations. The Broadband Forum WT-398 test plan represents the first time industry has truly agreed to performance testing for WiFi systems and provides service providers with a tool set to compare and qualify equipment for their networks. Click here to register for the webinar.
University of New Hampshire's Center for Family Business will present the Transformation Award to Nick Mercier and Pilot Innovations, a subsidiary of Macy Industries out of Hooksett. The annual awards celebration, which will also honor Law Family Companies of Merrimack and Mike Steinberg of Relcyo, will take place on May 22 at the Manchester Country Club. Click here to register.
RedBlack, a Bedford-based investment management solutions provider, has partnered with New York-based Silver Management Group, Inc., to improve client workflows and streamline complex fee and billing processes. The partnership will enable RedBlack clients to utilize Silver's Fee Billing solution to generate fees using flexible fee methodologies, schedule assignments, exclusions and discounts. The solution automates manual billing processes, prevents intra-period fee leakage and provides detailed reports that explain revenue and investor demographics. RedBlack's clients will be able to take advantage of key features such as Silver's Fee Clarity, an innovative fee explainer that illustrates each component of the fee calculation in easy to understand views so advisors and support staff can quickly address investor questions and investors can grasp the details of their fee information.
The ribbon cutting for the new warehouse for Borosil Glass Work products at Foxx Life Sciences in Salem.
Last month, Foxx Life Sciences, a manufacturer of laboratory filtration, fluid management and safety products, held a "10 years of Innovation" celebration and open house. The open house had well over 150 people from around the world and included a ribbon cutting for a second warehouse building across the street from the corporate headquarters on Delaware Road in Salem, NH to support the new Borosil collaboration. In March, Foxx announced a major new contract with Borosil to be the exclusive supplier of their full line of glass in North America. In addition, Foxx will have the exclusive rights to sell their patented caps on 3.3 glass bottles, flasks, and carboys globally outside of India. The product line will be named PUREGRIP and is scheduled to launch sometime this month.
Earlier this week, Senator Maggie Hassan visited NEMO Equipment, a Dover-based designer of high-tech outdoors equipment, to discuss the impact an internet sales tax would have on small businesses. The Supreme Court is considering South Dakota v. Wayfair, which affects whether New Hampshire small businesses selling products over the internet will be forced to collect sales tax for other states. Sen. Hassan signed an amicus brief to the Supreme Court, urging the Court to rule against South Dakota in the current case. She has also joined her colleagues in introducing a resolution opposing a bill that would require businesses selling goods over the internet to collect sales tax for other states.
"Innovative small businesses like NEMO Equipment are the backbone of our economy in the Granite State, creating jobs for our people and driving economic growth," said Sen. Hassan. "It is clear that mandatory internet sales tax collection would force a complex web of red tape on small businesses like NEMO Equipment and would hurt our state's economy. I will continue standing strong against imposing sales tax collection requirements that would hinder economic growth, and I'll keep fighting to ensure that our innovative small businesses have the support they need to continue to grow and thrive."
The New Hampshire Aerospace and Defense Export Consortium will hold its annual networking event on Thursday, May 17, from 5:30 p.m. to 8 p.m. at the Manchester Country Club in Bedford. This year's event will also include a business-to-business matchmaking session for interested attendees that make appointments by May 14. Tickets can be purchased at by clicking here.
Brand-News-Team, Inc., a New York-based digital PR and visual branding company, has received Federal Aviation Administration authorization to fly an aerial drone within sections of controlled airspace in seven states, from Maine to New Jersey. The company plans on working with a wide-range of clients in tourism, hospitality, construction, economic development, farming, technology, real estate and entertainment. The firm also has an FAA waiver to fly at night in some locations.
The Instant Group, a workspace innovation company, has released its U.S. Market Summary, analyzing flexible workspace growth across the country in 2017. New Hampshire was named among the three emerging markets that have seen considerable growth in desk rates, increasing between 10 and 12 percent. Flexible workspace includes co-working, serviced and hybrid office locations. The other two emerging markets are Missouri and Louisiana.
Alpha Loft will host its Startup Shindig on the evening of Thursday, May 31 in sponsorship with a number of high-tech startups. Hundreds of Granite Staters will celebrate entrepreneurship in New Hampshire at the premier event featuring networking and 12 startup pitches from Alpha Loft's Accelerate NH cohort. Millworks Fund II will also be announcing an investment of $300,000 in two of the participating startups at the event! To purchase tickets, click here.
The Greater Manchester Chamber of Commerce is accepting applications for its Leadership Greater Manchester Class of 2019.