Tech Tidbits From Across New Hampshire
Hitachi Cable America announces addition of medical division, Dartmouth students to race electric race cars ... and more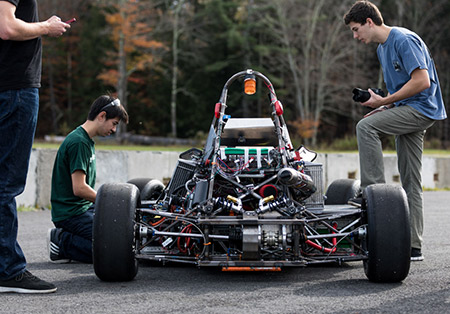 Dartmouth's 12th annual Formula Hybrid Competition will take place April 30 to May 3 at the New Hampshire Motor Speedway in Loudon. Founded and run by Thayer School of Engineering at Dartmouth, the competition features high-performance hybrid and electric race cars built by teams of undergraduate and graduate engineering students. Dartmouth based its event on the Formula SAE competition, in which the Dartmouth Formula Racing team competed for over 10 years. This year, 24 teams are registered. Like Formula SAE, students compete in aspects of design, acceleration, handling and endurance of their vehicle. Formula Hybrid teams, however, are faced with the additional challenge of optimizing both energy efficiency and sustainability of materials used in their cars. For spectators, the best day to attend is either Wednesday, May 2 for the autocross and acceleration events that run from 10 a.m. to 3:30 p.m., followed by the annual BBQ hosted by Dartmouth Society of Engineers and the IEEE Student Chapter, or Thursday morning for the final Endurance Event.
The Echo Group, an enterprise software applications developer in Conway, has partnered with PatientPay to deliver simple and secure billing, and online patient payment solutions. Echo's clients will be able to use an integrated PatientPay solution to help patients better manage their financial healthcare obligations. The integrated solution helps employees automate patient billings once they have collected the patient's email address or mobile number. PatientPay handles all aspects of patient balances including billing, capturing payments, and providing a standard ERA that automatically posts and reconciles just like any insurance payment. All of this is made possible via the seamless technology integration between PatientPay and The Echo Group, according to a press release.
​Hitachi Cable America Inc. has announced the addition of a medical division to its business. The new organization, effective April 1, 2018 will consist of three divisions: the existing Performance Cable Systems and Automotive Solutions divisions and the new High Performance Medical Solutions Division. The High Performance Medical Solutions Division will provide catheter tubing, high performance medical cabling and finished medical devices to OEMs worldwide. The HTP-MEDS brand will remain as a catheter product line under the new division. "This change demonstrates Hitachi's commitment to the health care industry and to the advancement of our global social responsibility initiatives," said Lynne Humenik, president and CEO of Hitachi Cable America. Joseph Iamartino will lead the new division as COO and will also continue his strategic support of the Hitachi Cable America's New Hampshire Specialty Cable product family.
RMON Networks, an IT services provider located in Plaistow, has welcomed Regina Andler to its leadership team as the business solutions manager. The position was created to support the growth of RMON Networks and facilitate the delivery of top quality IT services for their clients. Before starting at RMON Networks Andler owned two computer repair businesses – Computing Made Simple and Remington Technology. She was also director of technical customer management at Virtual Access Networks and director of the Northeast Network Operations Center at Navisite.
Netria Corporation, an independent IT distributor in Exeter has hired Charles Koustas as chief financial officer. Koustas has had many roles including CFO of Nashua Eye Associates, ABnote, North America and Bluefin Robotics Corporation. As CFO at Netria, Koustas will be responsible for driving Netria's economic growth and overseeing all financial operations. Koustas is a seasoned financial and operations professional with experience and expertise in corporate operations, manufacturing and management.
Will Scheideler, a postdoctoral scholar in the Department of Materials Science and Engineering at Stanford University, will discuss scaling nanomanufacturing for the next generation of hybrid electronics at Dartmouth College on Friday, April 27. The talk will take place from 3:30 p.m. to 4:30 p.m. in the Spanos Auditorium (Room 100) in Cummings Hall. Scalable additive nanomanufacturing via printing technologies could enhance the functionality and simplify design of these systems by allowing low-cost integration of nanomaterials with tunable characteristics alongside silicon CMOS, says Scheideler.