Tech Tidbits From Across New Hampshire
Great Bay Community College plays large role in national data science summit, Datanomix appoints CEO ... and more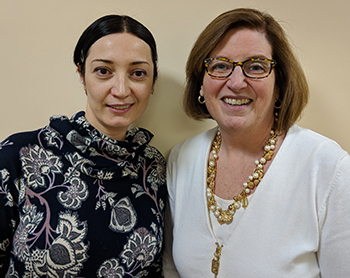 Will Scheideler, a postdoctoral scholar in the Department of Materials Science and Engineering at Stanford University, will discuss scaling nanomanufacturing for the next generation of hybrid electronics at Dartmouth College on Friday, April 27. The talk will take place from 3:30 p.m. to 4:30 p.m. in the Spanos Auditorium (Room 100) in Cummings Hall. Scalable additive nanomanufacturing via printing technologies could enhance the functionality and simplify design of these systems by allowing low-cost integration of nanomaterials with tunable characteristics alongside silicon CMOS, says Scheideler.
Great Bay Community College has received certification from the Cisco Networking Academy for 20 years of active participation in Cisco's global education program. The school began offering Cisco courses soon after they became available on a national scale. David Miller, an IST professor at Great Bay who died in 2013, began the partnership with Cisco, a leading provider of information technology and networking skills. Known as NetAcad, the Cisco academy trains more than 1 million students annually, at 10,000 academies in 180 countries. In any given semester, 45 to 65 of those students are from Great Bay.
B2W Software, a heavy civil construction management software company based in Portsmouth, recently announced that New England-based Casella Construction has implemented the full B2W ONE Platform to manage estimating, scheduling, field performance tracking, equipment maintenance, and data capture and analysis. The potential to integrate all areas of the business and flow information across divisions prompted Casella's investment in B2W Software. Unified B2W tools help construction firms win more bids at better margins, schedule resources, track performance, maintain equipment and leverage data to make more informed decisions.
Datanomix, a Manchester, N.H.-based company that provides a data analytics solution to mid-sized manufacturing companies, has raised $1 million in seed funding. Backers included Mill Works Fund, 10X Ventures, Alumni Venture Group, Wasabi Ventures, the Worcester Polytechnic Institute Accelerator Fund and several angels affiliated with Dyn and EqualLogic. The company intends to use the funds to accelerate product development and introduce the solution to the broader market. In addition, the company announced John Joseph as CEO to launch and scale the company.
DEADLINE APPROACHING: The New Hampshire High Tech Council is accepting applications for the 30th anniversary of the Entrepreneur of the Year Award program. The Entrepreneur of the Year Award honors people who have made significant contributions to the advancement of technology-based businesses in New Hampshire. Any founder or senior-level manager of a New Hampshire business who has successfully organized, developed, or managed a technology concept into a commercial product or service is encouraged to apply for the prestigious award, which will be presented at the EOY event in mid-June. The application and full entry requirements are available at nhhtc.org. The application deadline is Friday, May 4.
Dartmouth's "Green Motor Company" finished second place in the annual Master of Engineering Management Programs Consortium (MEMPC) PriSim Business War Games Competition. This year, Dartmouth was represented by four students: Abhishek Agarwal, Sadie Doran, Adithyan Karunakaran and Poorna Suresh. The five-week virtual business simulation is run by the MEMPC and places students at the helm of a virtual automotive manufacturing company. Students must leverage their technical skills and business acumen through seven decision periods. The competition included students from 7 MEMPC-member schools, including Cornell, Dartmouth, Duke, Johns Hopkins, Northwestern, Purdue and the University of Southern California.
Dean Kamen, renowned entrepreneur, inventor and holder of more than 440 U.S. and foreign patents, will deliver the keynote address at the University of New Hampshire at Manchester's commencement ceremony on Thursday, May 17. Kamen is the founding creator of the Advanced Regenerative Manufacturing Institute (ARMI), which will help build a new human tissue engineering industry centered in Manchester. UNH is leading the national education and workforce development activities for the effort.
Four representatives from Great Bay Community College will attend a Two-Year College Data Science Summit on May 10-11 in Washington, D.C. to talk about the school's experience launching and promoting a two-year data science degree. Mary Rudis, an adjunct professor and former math department chair who led the effort to develop the program, is co-chair of the conference. Also attending will be current math and engineering department chair John Mannarini and data science student Antonela Duni. Deanna Friedman, Great Bay's interim associate vice president for academic affairs, called Rudis "a pioneer for Great Bay" because of her work to build and promote the college's data science program. Great Bay offers a two-year associate's degree in data science, as well as a clear transfer pathway to the University of New Hampshire-Manchester and the prospect of a four-year bachelor's degree in analytics." The conference and Great Bay's participation is funded by a National Science Foundation grant.
​
Great Place to Work and FORTUNE magazine have honored Martin's Point as one of the 2018 Best Workplaces in Health Care & Biopharma. Martin's Point, which owns and operates seven health care centers in southern Maine and Portsmouth, N.H., is one of only two New England Health Care & Biopharma workplaces to make the list. Martin's Point employees overwhelmingly praised the organization, with 96 percent stating they worked in a great atmosphere, 95 percent stating they felt great pride in their work and 90 percent stating they feel good about how they contribute to their community.
Alpha Loft will host its Startup Shindig on the evening of Thursday, May 31 in sponsorship with a number of high-tech startups. Hundreds of Granite Staters will celebrate entrepreneurship in New Hampshire at the premier event featuring networking and 12 startup pitches from Alpha Loft's Accelerate NH cohort. Millworks Fund II will also be announcing an investment of $300,000 in two of the participating startups at the event! To purchase tickets, click here.
Richard Greenwald — co-founder and president of medical device design company Simbex, co-founder of the hands-free walking crutch iWalk, co-director of TREAT (The Center for Translation of Rehabilitation Engineering Advances and Technology) and adjunct professor of engineering at Dartmouth — has been inducted into the American Institute for Medical and Biological Engineering's College of Fellows. Dr. Greenwald was nominated, reviewed, and elected by peers and members of the College of Fellows for invention and commercialization of devices that record head impact in helmeted sports, assist amputees' walking and geriatrics balancing. A formal induction ceremony was held during the AIMBE Annual Meeting at the National Academy of Sciences in Washington, DC on April 9.
Stay Work Play is now accepting nominations for its 2018 Rising Stars Awards.
The Greater Manchester Chamber of Commerce is accepting applications for its Leadership Greater Manchester Class of 2019.