Tech Tidbits From Across New Hampshire
SilverTech acquires Bitwise Solutions, Open Access Technologies enters strategic partnership with codeMantra ... and more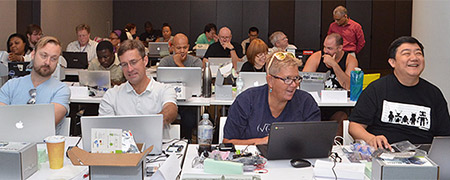 The BioTech/MedTech Cluster's regional event focusing on activities at the Advanced Regenerative Manufacturing Institute has been postponed to Thursday, April 5 due to weather. The event will take place from 5:30 to 8 p.m. at 400 Commercial Street. Tickets can be purchased here.
Peterborough-based Hyndsight Vision Systems has recently become a vendor partner with Bomgaars Supply, one of the mid-west's largest farm and ranch retailers. Hyndsight's versatile portable, rear-view wireless vision system used in both the equine and agriculture industries will be featured in the company's stores. Hyndsight's Journey is a totally portable vision system that can be mounted within seconds on the inside of a trailer, allowing the driver to fully view the trailer interior on a sunlight readable monitor.
Open Access Technologies, Inc., a Nashua-based product technology company focused on making complex data accessible to all people, has entered into a strategic partnership with Boston-based codeMantra, a provider of content-centric Robotic Process Automation solutions across the entire content lifecycle. The partnership will allow Open Access Technologies to deliver accessible robotic publishing automation, extending codeMantra's market leading robust electronic publishing platform to the accessibility market for corporate enterprises, the government, academic and various industries. Open Access Technologies, Inc. is currently attending California State University, Northridge's Assistive Technology Conference, taking place on March 19 – March 23 in San Diego, Calif., booth #416.
SilverTech, a Manchester-based digital marketing agency, has acquired Bitwise Solutions, an established website design and development firm in Indiana, expanding SilverTech's physical footprint 1,000 miles to Indianapolis. SilverTech will retain the current Bitwise Solutions staff, including the long-time ownership team, Ron Brumbarger and Scott Workman, in key leadership roles. The quick growth of the Indianapolis tech-hub was an attractive benefit of the deal. This is the third acquisition in four years for SilverTech CEO Nick Soggu and the SilverTech leadership team. In 2014, SilverTech acquired Poised Solutions, expanding its Salesforce development and marketing automation service offering. At the beginning of 2017, Soggu and a group of investors purchased Pannos Marketing, a specialized banking focused marketing agency located in Bedford, NH.
TechWomen|TechGirls will hold its annual luncheon on Wednesday, April 4 at the Bedford Village Inn. Jessica Gelman, CEO, Kraft Analytics Group will speak about her experience as a female CEO in the world of sports, helping organizations become more data-driven and using analytic insights to grow the bottom line including for the New England Patriots. Tickets can be purchased here.
Paige Yeater has been hired as client service director for Mainstay Technologies, which has branches in Belmont and Manchester. Yeater was previously regional director of customer success at Benefitfocus. Prior to that, she spent thirteen years at Blackbaud in a variety of roles.
The New Hampshire Aerospace & Defense Export Consortium is hosting a spring networking event, open to members and their friends. Global partners will be present at the May 17th event, taking place at the Manchester Country Club from 5:30 to 8 p.m. For more information contact Dawn Wivell at dwivell@nhadec.com.
Alpha Loft's Portsmouth office will hold a "Lunch & Learn: Funding Options for Early-Stage Companies: What to Know Before Accepting a Check" on Tuesday, March 27 from noon to 1 p.m. The event will be led by Cook, Little, Rosenblatt & Manson. For more information, click here.
Cirtronics, a Milford-based contract manufacturer that offers mechanical assembly and complex manufacturing services and provides assistance for customers navigating FDA procedures and requirements, will be exhibiting at the upcoming BIOMEDevice show in Boston from April 18-19. Housed at booth #857, Cirtronics will be highlighting how precision engagement accelerates innovation by tailoring manufacturing services to meet the needs of Medtech devices.
Citizens Bank announced earlier this week that it is providing a $50 million asset-based revolver to Las Vegas-based privately held Go Wireless, Inc., which operates Go Wireless stores across the United States. Citizens is the sole lender and administrative agent. Go Wireless is a Verizon authorized retailer that helps people find cutting edge technology solutions, including smartphones, tablets, mobile internet and discounted television bundles. Go Wireless also offers wireless communications device protection (insurance and replacement) as well as home security and automation solutions.
The New Hampshire High Tech Council is accepting applications for the 30th anniversary of the Entrepreneur of the Year Award program. The Entrepreneur of the Year Award honors people who have made significant contributions to the advancement of technology-based businesses in New Hampshire. Any founder or senior-level manager of a New Hampshire business who has successfully organized, developed, or managed a technology concept into a commercial product or service is encouraged to apply for the prestigious award, which will be presented at the EOY event in mid-June. The application and full entry requirements are available at nhhtc.org. The application deadline is Friday, May 4.
This spring, Granite State College will offer firefighters from across the region the opportunity to earn a degree through a new, innovative bachelor's degree completion program. Through courses offered online and on-site at the Headquarters Fire Station in Manchester, N.H., students will earn a B.S. in Applied Studies – Management in as little as two years, while completing courses alongside other firefighters from around the area. The on-site/online classroom environment gives firefighters the opportunity to complete a degree while balancing their responsibilities at work and home.