Tech Tidbits From Across New Hampshire
PlaneSense welcomes world's first Pilatus PC-24 jet, MCC to host VEX Robotics Competition ... and more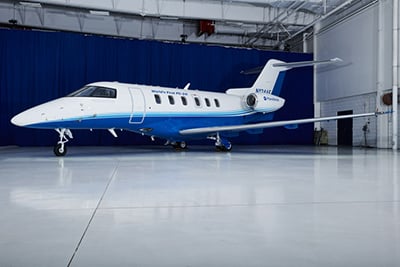 PlaneSense, Inc., a fractional aircraft ownership program, welcomed the arrival of the world's first Pilatus PC-24 jet at its headquarters in Portsmouth, New Hampshire today. As the launch customer of the PC-24, PlaneSense is expecting a total of six jets by end of 2019, the largest order received by Pilatus in its current order book. The highly anticipated jet will serve as the signature aircraft in the PlaneSense jet fleet.
On Saturday, Feb. 17, Manchester Community College will again host the NH/VT State Championship VEX Robotics Competition for high school students, kicking-off a weekend of robotics events on campus. On Sunday, elementary and middle school students will compete in the VEX IQ Challenge. The top 80 teams from New Hampshire and Vermont will compete from 8 a.m. to 4 p.m. both days. Admission is free to the public. More information is available at https://www.mccnh.edu/robotics. For details on additional upcoming events, visit www.RobotEvents.com.
Sean Creeley, founder of Embedly, will discuss the process of forming and selling his company at Alpha Loft's Portsmouth location, as part of its Tuesdays Founders Series. The talk will take place at 5:30 p.m. on Feb. 20. Creeley served as the CEO of Embedly from 2010 through to its acquisition by Medium in 2016. Embedly provided rich media solutions to companies such as LinkedIn, Salesforce, Reddit, The New York Times and many others. At peak, Embedly served close to a billion monthly impressions. Click here to register.
Pinkerton Academy, the largest independent high school in the U.S., has selected FirstLight to provide high speed Internet to connect 23 buildings across its 170-acre campus in Derry. Based in Albany, N.Y., FirstLight formed its New England headquarters in Portsmouth last year. To accommodate its growing network needs, Pinkerton Academy also selected FirstLight's dark fiber services, and is presently working with the company on hosted phone services to replace its existing phone system.
NextEra Energy, Inc., a Florida-based energy firm with operations in New Hampshire, has been recognized by the Ethisphere Institute, a global leader in defining and advancing the standards of ethical business practices, as one of the 2018 World's Most Ethical Companies. NextEra Energy is one of only 20 current honorees in the world to achieve this prestigious honor 11 or more times and one of only six in the energy and utilities sector worldwide to receive this recognition in 2018.
The University of New Hampshire InterOperability Laboratory, an independent provider of broad-based testing and standards conformance services for the networking industry, has expanded its WiFi testing capabilities through the acquisition of cutting-edge test and measurement equipment from Octoscope. The expansion of UNH-IOL's WiFi testing platform is in response to service providers' and customer-premise equipment manufacturers' goals to provide end-users with robust and reliable wireless broadband performance today, and as capacity demands continue to increase at the network edge. Current market analysis predicts that the global WiFi market could grow to be valued at $33.6 billion by 2020.
A dozen students from Spaulding High School in Rochester will spend part of their senior year taking classes for high school and college credit at Great Bay Community College's Advanced Technology & Academic Center in Rochester. After a careful selection process including placement testing, students will be registered for classes in the Advanced Composite Certificate program. Beginning in the fall, they will take classes at Spaulding in the morning, and be on campus at Great Bay in Rochester from September through April.
Mavra Nasir, a PhD candidate at Dartmouth's Thayer School of Engineering will give a lecture on engineering in medicine with a focus on breath based diagnostics for lung infections in cystic fibrosis. The lecture will take place from 12:45 —1:45 p.m. in Room 201 (Rett's Room) in the MacLean Engineering Sciences Center.