Tech Tidbits From Across New Hampshire
BAE Systems awarded $13 million for DARPA project, Resonetics becomes subsidiary of Regatta Medical ... and more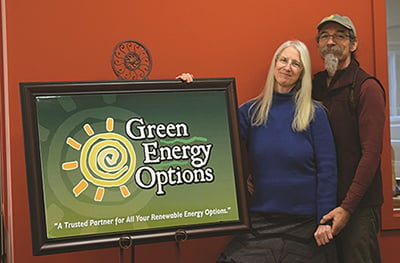 Green Energy Options, a Keene-based installer and provider of alternative home heating products, has become a certified B Corporation. Benefits corporations – or B corps for short – are businesses that have two fiduciary purposes: making money and pursuing a social or environmental goal. "It's not so much about the certification itself; it's about continually measuring ourselves against its high standards, and those of other Certified B Corporations, so that we continue to develop a better business," said Co-owner Pablo Fleischmann.
BAE Systems' Information and Electronic Systems Integration unit in Nashua has been awarded a $13 million contract for the phase 2 Defense Advanced Research Projects Agency Seeker Cost Transformation program. The contract seeks to demonstrate that a high performance seeker can be used in precision guided munitions and accurately guided to a target by a low cost, modular open-architecture, low size, weight, power and cost seeker. Work will be performed in Nashua and is expected to be completed by July 2019.
GTCR, a leading private equity firm based in Chicago, announced it has made a strategic investment in Resonetics, Inc. through GTCR's portfolio company Regatta Medical Holdings, LLC. Going forward, the existing Resonetics management team, led by CEO Tom Burns, will continue in their existing roles as a subsidiary of Regatta Medical. Founded in 1987 and headquartered in Nashua, New Hampshire, Resonetics is a medical device contract manufacturing organization, specializing in laser micro-manufacturing for interventional medical devices. The Company's capabilities include precision laser prototyping and manufacturing, including creating features as small as one micron, a fraction of a human hair, in a variety of materials.
Peterborough-based Hyndsight Vision Systems has recently become an online vendor partner with SmartPak, one of the country's premier online providers of horse supplies and equine supplements. Hyndsight's Journey is a portable, rear-view vision system that can be mounted within seconds on the inside of a trailer, allowing the driver to fully view the trailer interior on a sunlight readable monitor. The system is rugged, weather resistant, and provides a real-time visual field through a direct wireless connection (camera to monitor) and a clear image that can transmit up to one-third of a mile with direct line of sight. Hyndsight's versatile portable, rear-view wireless vision system will be featured in the company's ecommerce store – smartpakequine.com.
The next New Hampshire High Tech Council TechWomen Power Breakfast on Wednesday, February 14 will feature Tranquilo CEO and Founder Melissa Gersin who will discuss how her work and passion led her to create her own technology and ultimately launch her own company. The Valentine's Day Power Breakfast is from 7:30 to 9 a.m. at the Manchester Country Club, 180 South River Road in Bedford. Tickets for the Power Breakfast are $10 for members of the Council and $20 non-members, and include breakfast. Click here for more information.
Thumbtack, a mobile app that helps users find a local professional for any project, has set up a scholarship fund to support high school seniors and undergraduates pursuing careers in any of Thumbtack's nearly 1,000 categories including plumbers, caterers, personal trainers, math tutors and wedding officiants. Thumbtack is currently accepting applications for 2018-2019 school year, with an application deadline of June 1, 2018. Winners will each receive $2,500 biannually. Apply at www.thumbtack.com/scholarship.
The John Flatley Company will be honoring the winners of the 6th Annual Flatley Challenge at Nashua Technology Park on Feb. 8 at 2 p.m. Vybe Software and D&P Bioinnovations were named the winners of the 2017 Flatley Challenge — each be awarded $10,000 as well as up to 5,000 square feet of office and/or lab space at the Nashua Technology Park @ Gateway Hills, off of Exit 1 in Nashua. The runner-up, EDACs, will receive free office space. Nashua Mayor Jim Donchess will be in attendance.
In collaboration with the Massachusetts Biotechnology Council and North Shore Technology Council, New Hampshire's Biotech/MedTech Cluster, an initiative of the NH High Tech Council, will host a regional gathering on Tuesday, March 13 to discuss regenerative medicine and the opportunities it will bring to New England and the nation. Dean Kamen, president of DEKA Research and Development and acting executive director of ARMI/BioFabUSA, will be the keynote speaker. Registration is available online for the March 13 event or by phone at 603.935.8951. Tickets are $15 for Council members, $25 for not-yet-members and $10 for students.
The University of Maine at Augusta, through the Unmanned Aircraft Systems pilot training center, will host a daylong conference, Drone Applications for Business: Navigating Your Airspace, on Saturday, Feb. 17 at Jewett Auditorium on UMA's Augusta campus. This conference will showcase cutting edge drone applications for businesses.
The NH High Tech Council is accepting nominations for Tech Woman of the Year, Tech Student of the Year and Tech Teacher of the Year. Click here for the nomination form.
The Center for Women & Enterprise in Nashua, New Hampshire will hold a ten week business planning course at their Nashua Women's Business Center from February 8th through April 12th, that will culminate in a pitch practice with local banks and business experts. Each class will walk attendees through a single portion of their business plan, leading students to a final, complete plan at the end of the ten weeks. The class costs $450, though scholarships and payment plans are available. For more information, visit cweonline.org or contact Alexandra Bishop at 603-318-7583 or abishop@cweonline.org.
Worcester Polytechnic Institute will be holding an Advanced Biomanufacturing Symposium on April 9-10. Day 1 will focus on traditional protein therapeutics and emerging technologies. Day 2 will focus on cell and tissue therapies. Click here for more details and to register.