Tech Tidbits From Across New Hampshire
Global Relief Technologies receives award from Raytheon, San Diego firm acquires Dover-based Commercial Logic ... and more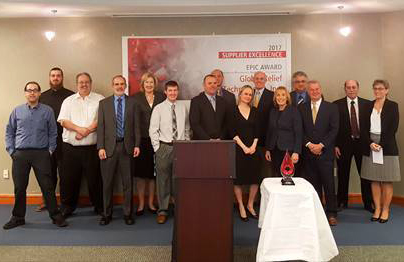 Senator Maggie Hassan visited Global Relief Technologies in Portsmouth on Monday where she congratulated the innovative small business on receiving the Supplier Excellence EPIC Award from Raytheon. GRT provides software and infrastructure support with Raytheon for a Department of Defense program, which includes monitoring and protecting a wide area around important locations and bases, such as those with U.S. personnel in the Middle East. GRT has also provided extensive support for humanitarian projects and organizations, state and local authorities using the IT software and systems it developed.
AbacusNext, a San Diego-based Technology-as- a-Service provider for the legal and accounting professions, today announced their acquisition of Commercial Logic, a Dover, N.H.-based developer of practice management and workflow tools for accounting professionals. For more than 30 years, Commercial Logic has helped professional services companies streamline their internal processes.
Geneia, a Manchester-based analytic solutions and services company that is simplifying the evolution to value-based care, recently announced its new partnership with Salesforce Health Cloud to better serve the needs of health plans, hospitals, providers and employers transitioning to value-based care. The joint solution, which combines the Theon platform's cost and quality analytic capabilities with Salesforce Health Cloud's workflow, member engagement and communication tools, was debuted at Dreamforce 2017.
Alpha Loft is accepting applications for its accelerator program, Accelerate NH, through Sunday, Jan. 14. Accelerate NH is a free 3-month program that will take a small batch of startups through an aggressive program to iterate through their business and product hyothesis to identify what works, and grow. The 2018 cohort will run from late February through late May. Early stage startups in NH are encouraged to apply.
Last Thursday, U.S. Senators Roger Wicker, R-Miss., and Maggie Hassan, D-N.H., introduced the "Internet of Things Consumer Tips to Improve Personal Security Act (IOT Consumer TIPS Act) of 2017," S. 2234, a bill that would require the Federal Trade Commission to develop cyber-security resources for consumers, addressing how consumers can protect themselves against cybercriminals targeting internet-connected devices, widely known as the "Internet of Things." This is part of a broader effort by the Senators to improve cybersecurity. The legislation would require the FTC to develop resources on their website to help consumers:
· Identify the scope of security support from IoT device vendor after purchase;
· Initiate or set-up an IoT device for use;
· Update the software of an IoT device during operation or use;
· Recover or fix compromised IoT devices;
· Reset, delete, or modify data collected or retained by an IoT device when it is no longer in use; and
· Access security services, tools or platforms that may help consumers manage connected devices.
NHADEC (the New Hampshire Aerospace and Defense Export Consortium) has partnered with the State of New Hampshire Office of International Commerce and the U.S. Commercial Service to provide businesses the opportunity to participate in a shared booth space in the U.S. Pavilion at The Farnborough International Airshow. The Airshow will run July 16 – 22, 2018. For more information about exhibiting and pricing, contact Nathaniel Nelson at Nathaniel.Nelson@livefree.nh.gov.
Heavy civil construction management software leader B2W Software, a Portsmouth firm, has announced the availability of its new product: B2W Schedule. B2W Schedule provides centralized resource planning, scheduling and dispatching that empowers users to collaborate in real time to optimize labor, equipment and materials. B2W Schedule is an element within B2W's ONE Platform, which also includes unified elements for estimating, field tracking, equipment maintenance and data capture and analysis. B2W Software will be demonstrating its products at the World of Concrete in Las Vegas from Jan. 23 – 26.