Tech Tidbits From Across New Hampshire
Alpha Loft announces new Manchester location this fall, Nashua begins updating telephone networks to VOIP ... and more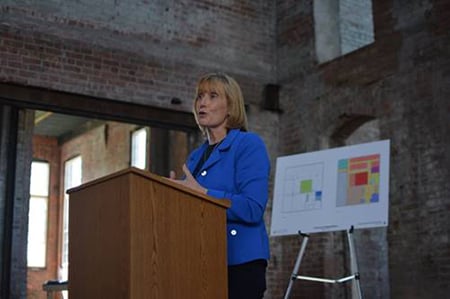 Alpha Loft's Manchester office is moving in late September to a new, cutting edge, co-working space at WBC Office Suites at 1087 Elm St. WBC's renovated space allows for plenty of space for more if entrepreneurs are interested in co-working. The space offers amenities such as controlled access, receptionist, kitchen, conference rooms and more. Those interested in learning more should contact Joshua Cyr at jcyr@alphaloft.com.
Beginning this September, Great Bay Community College will host a monthly Customer Relationship Management user group to help business people in the Seacoast use their CRM software with greater efficiency. CRM refers to the practices, strategies and technologies that companies and other organizations use to analyze and manage customer interactions, to improve customer retention and drive sales growth. The first meeting will take place Tuesday, Sept. 12 in the Student Success Center at Great Bay's Portsmouth campus. Each meeting will last about two hours, and will include a 30-minute presentation about a specific subject. Great Bay is developing the program with input from local businesses and industry that are part of the college's business department advisory groups. For information, contact Monique Jordan at mljordan@ccsnh.edu.
North Eaton, Mass.-based technology integrator Inspired Technology Communications is working in cooperation with Lincoln, RI-based Custom Computer Specialists to complete an expansive cabling project in the City of Nashua. The project will enhance the communications infrastructure for seven local fire houses, 11 elementary schools and three middle schools. It's the first step in Nashua's 2017 agenda to transfer the telephone networks of all municipalities to a single, city-wide Voice Over IP Network.
The University of New Hampshire InterOperability Lab, an independent provider of broad-based testing and standards conformance solutions for the networking industry, will be hosting a test event to kick-off the Ethernet Alliance Power over Ethernet Certification Program during the week of October 2-6, 2017 in Durham, NH. Testing results from this event can be used to apply for the PoE certification program, which will promote interoperability of products based on IEEE 802.3™ PoE specifications. Passing devices will be some of the first listed products in the Ethernet Alliance Certified Product Registry.
Plexxi, a Nashua-based self-proclaimed pioneer in Hyperconverged Networking, has partnered with Decision Lab, a big data and engineering firm in Columbia, Md., to extend Plexxi's HCN software to include real-time analytics. Through the partnership, the companies will co-develop an integrated set of software tools that collect fabric data path and control path statistics to provide users with analytics dashboards that will present customers with critical insights into their Plexxi datacenter network.
Right Networks, a Hudson-based company that aids CPA firms, accounting professionals, and small-to-medium sized businesses in moving their accounting-based desktop and legacy applications into the cloud, has appointed Jim Walsh as the new chief information officer. A 31-year technology industry veteran, Walsh will guide the technology strategy for the management and expansion of Right Networks' award-winning cloud infrastructure as well as lead the scaling of the corporate information technology and security functions enabling Right Networks growth. Walsh previously served as vice president and CIO at Virtustream and spent seven years at Constant Contact helping develop and scale its software.
Nature Research has ranked Dartmouth College 20th out of 200 institutions featured in its 2017 index of academic institutions driving global innovation. The ranking is based on the number of times top science journals' research articles are cited in third-party patents around the world. Dartmouth was the only Ivy League institution in the top 20. Two-hundred institutions were surveyed in the index.
The Dover Mini Maker Faire will be held on Saturday, Aug. 26 in downtown Dover. The annual faire will feature over 65 local Makers offering workshops and hands-on activities, over a dozen food vendors, live entertainment, a beer tasting and robots…lots of robots. Several educational STEM programs and organizations will be returning this year with their student-built robots. The Portsmouth Naval Shipyard's SeaPerch program leads students through the building and testing of a small, underwater remotely operated vehicle, which Maker Faire visitors can try for themselves. Dover Shockwave Robotics, a high school group and their middle school counterparts, the Tie Fighters will bring their creations, which previously competed in the FIRST Robotics Competition and the FIRST Tech Challenges that give students real-world engineering experience. The NH LEGO League will be teaching how to program robots and challenging Faire-goers to take their new RIZE Robotics Challenge. To learn more and purchase tickets, visit http://dover.makerfaire.com/.