Tech Tidbits From Across New Hampshire
DRM extends deadline for patent competition, Design for Good challenge gives nonprofits a chance to win web design services ... and more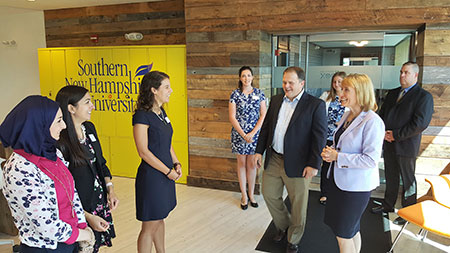 Law firm Downs Rachlin Martin has extended the deadline for its Startup Patent Competition to Friday, Sept. 16. The winning entrant will be connected with a DRM intellectual property attorney to begin the patent application process, valued at $10,000 in legal services. To enter the competition, click here. ​
Senator Jeanne Shaheen, chairman and ranking member of the Senate Committee on Small Business & Entrepreneurship, announced the committee has approved six bipartisan bills to help American small businesses, including one to better prepare them for cyber attacks and hacking. The Small Business Cyber Training Act of 2017 would require the SBA to develop new cybersecurity counseling and training programs through the Small Business Development Centers to help small business owners prepare for cyber threats and recover when a cyber attack occurs.
Brentwood-based ReVision Energy was recently ranked the #1 rooftop solar contractor in New England and #14 nationwide by the industry publication Solar Power World magazine. According to the magazine, New Hampshire is home to 85 solar companies that employ 1,184 people, spurring $155 million in solar investment in the state.
SkyTerra Technologies, an IT consulting company in Portsmouth, has been named 2017 US SMB Rising Star East Region Partner of the Year by Microsoft's U.S. Small and Mid-sized Business Group. It is the second consecutive Microsoft accolade for SkyTerra, which participates in Microsoft's partnership program.
Amherst-based Radar Marketing Group is holding its annual Design for Good challenge that awards a New Hampshire nonprofit in need with a new or redesigned website. The Design for Good challenge provides website design and development services valued at $5,000. Past recipients of the Design for Good challenge include Harrisville Children's Center, Miracles in Motion, Monadnock Conservancy and The Grapevine Family & Community Resource Center. To enter the Design for Good challenge, New Hampshire 501(c)(3) nonprofit organizations can submit a short essay or video to Radar Marketing Group that describes their nonprofit organization, it's mission, and why or how a new website would help their organization succeed. Entry deadline is August 30. The winner will be announced on Radar's website on September 1. For more information, click here.
Selected with eight other proposals to NASA under its Explorers Program, Dr. Harald Kucharek at the University of New Hampshire will provide components and scientific analysis for an investigation into how plasma is heated and accelerated by the dissipation of turbulent fluctuations through kinetic processes. The proposals focus on transformational science about the sun and space environment and aim to fill science gaps between the agency's larger missions.
The 2017 Gateway Hills Summer Concert Series — a free series of summer concerts at the Outdoor Ampitheater at 100 Innovative Way in Nashua — will feature country artist Annie Brobst from 5:30 to 7:30 p.m on Wednesday, Aug. 16. More information can be found here.
Catholic Medical Center, Dr. Thomas Kleeman of the New Hampshire NeuroSpine Institute and Androscoggin Valley Hospital are launching a new telemedicine service, CMC NH TeleNeuroSpine at AVH. The collaboration will allow Dr. Kleeman, a respected orthopaedic/spine surgeon and founder of the New Hampshire NeuroSpine Institute in Bedford, to see patients at AVH in Berlin from his new office in Alaska.
Southern New Hampshire University in Manchester was highlighted with 11 other schools by OnlineSchoolsCenter.com for having the best bachelor's in game design degree program. It was also highlighted among 20 schools for best bachelor's in Web Design degree program. OnlineSchoolsCenter.com looked for diversity and quality of course work, reputation of institution, format of online course delivery, and the success of students in graduating.
Nrby, a Nashua-based company that focuses on location-based workforce collaboration, recently announced the availability of three new solutions designed to transform field service into a more proactive, profitable operation. Nrby's Mobile Discovery and Reporting, Self-Selected Work, and In-Home Sales Referrals solutions make it easy for field technicians to anticipate and eliminate service interruptions, complete more first-call work orders per day, and increase revenue from existing customers. By using Nrby's unique one-touch SmartPins to map an event and convey context-rich details, technicians can easily identify, instantly share and quickly resolve issues, while operation centers are continually updated and supervisors receive real-time status changes, says the company.