Tech Tidbits From Across New Hampshire
Sen. Maggie Hassan introduces ROI Act, Jewell Instruments, LLC acquires assets of Windsor, Conn.-based Gem Electronics, Inc. ... and more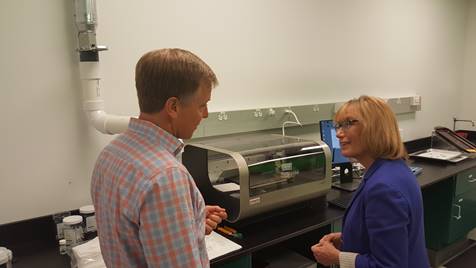 On Wednesday, Senator Maggie Hassan visited the Dartmouth Regional Technology Center, where she met with innovative business leaders, highlighted the importance of supporting New Hampshire's entrepreneurs, and discussed a bill she introduced to build on those efforts – the Reigniting Opportunity for Innovators (ROI) Act. During her visit, Senator Hassan met with employees of Celdara Medical, Mobile Virtual Player, Avitide and FreshAir Sensor. The ROI Act helps provide the student loan debt relief necessary for young entrepreneurs to start up and grow innovative small businesses. The bill allows founders and full-time employees of small business start-ups certified by Small Business Development Centers to have their federal student loan payments and interest accrual deferred for up to three years while launching a start-up. If the start-up is located in an economically distressed area, founders and employees who make twenty-four monthly payments will also be eligible for cancellation of up to $20,000 in student loans.
Manchester-based Jewell Instruments, LLC has acquired the assets of Windsor, Conn.-based Gem Electronics, Inc. Included in the purchase are several market exclusivities for Gem Electronics' products, and technology for an advanced line of terminations, connectors, baluns, boosters, converters, hubs and switches. The Gem products will become part of Jewell's Triplett Test Equipment and Tools division.
Governor Chris Sununu has nominated Taylor Caswell of Hollis to serve as the new Commissioner of the Department of Business and Economic Affairs. The Executive Council plans to hold a public hearing before voting at its next regularly scheduled meeting on July 19. Caswell is currently the executive director of the Community Development Finance Authority. The Department of Business and Economic Affairs combines the divisions of economic development and travel and tourism.
The fifth annual Dover Mini Maker Faire, a one-day festival hosted by the Children's Museum of New Hampshire, will take place on Aug. 26. The festival invites inventors, entrepreneurs, tech-enthusiasts, artisans and more to share their innovations with the public. The faire takes place inside the Children's Museum, throughout upper and lower Henry Law Park and across the Cocheco river at One Washington Mill. For more information or to purchase tickets call 603-742-2002 or visit dover.makerfaire.com.
Auburn-based product development firm Sunrise Labs will host its 3rd annual charity golf tournament to benefit the David Ortiz Children's Fund. The event will take place on Monday, Oct. 16 with a 10 a.m. shotgun start at Portsmouth Country Club in Greenland. More information can be found here.
Michael Jones, the president of The Maritime Alliance and The Maritime Alliance Foundation, will speak at UNH Marine Innovation Day on Thursday, July 27 at the Victory Club at Wildcat Stadium in Durham. The all-day event will focus on "the blue economy, innovation, bluetech and clusters". The event will feature information about the UNH School of Marine Science and Ocean Engineering, UNH Center for Coastal and Ocean Mapping/Joint Hydrographic Center, UNH University Instrumentation Center, research vessels and more. Participants are encouraged to register here.
"Facebook Advertising: Be where the eyeballs are," a free seminar offered at the Enterprise Center at Plymouth, will take place on Thursday, July 13 from 9 to 10:30 a.m. More information can be found here.