Tech Tidbits From Across New Hampshire
Industry supports UNH InterOperability Lab summer program, NEMO Equipment receives award at international outdoor industry competition ... and more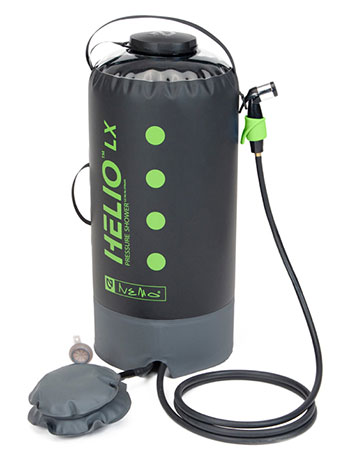 Dover-based outdoor gear manufacturer NEMO Equipment Inc. was recognized with the OutDoor Industry Award 2017 for its Helio LX Pressure Shower at the OutDoor Show in Germany, an international competition for the outdoor industry. The Helio LX Pressure Shower was selected by the jury particularly because of its patent-pending foot pump that pressurizes the water flowing from a 22-liter welded fabric water tank, versus relying simply on gravity like previous products.
San Jose, Calif.-based Bay Microsystems, a big data networking firm, is now using Portsmouth-based Unified Office's Total Connect Now, a cloud-based, VOIP, analytics business communications platform, to improve productivity.
White Mountain Science, Inc. in Bethlehem has received $45,500 from the Neil and Louise Tillotson Fund of the New Hampshire Charitable Foundation to support the mobile STEM Lab providing afterschool programming in Coös County.
Michael Jones, the president of The Maritime Alliance and The Maritime Alliance Foundation, will speak at UNH Marine Innovation Day on Thursday, July 27 at the Victory Club at Wildcat Stadium in Durham. The all-day event will fous on "the blue economy, innovaiton, bluetech and clusters". The event will feature information about the UNH School of Marine Science and Ocean Engineering, UNH Center for Coastal and Ocean Mapping/Joint Hydrographic Center, UNH University Instrumentation Center, research vessels and more. Participants are encouraged to register here.
The University of New Hampshire InterOperability Laboratory, an independent provider of broad-based testing and standards conformance solutions for the networking industry, has received donations from Fidelity, Dell, HPE, Liberty Mutual, QA Cafe, Verizon, Senet, MACOM and Alexander Technology Group to support the continuation of the UNH-IOL high school summer internship program, HighTech Bound. This year marks the 12th year of the program and the UNH-IOL will host 12 students from around the country for the six-week internship. HighTech Bound is a stepping stone for students interested in computer science or electrical engineering in hopes of attending UNH.
The DFARS Cybersecurity Conference will be held on Thursday, June 29 from 8:30 a.m. to noon at Nashua Community College. The conference will focus on compliance with the DFARS Cybersecurity requirements, which have been on the books for several years, but have an implementation deadline of December 31, 2017. Companies at any tier in the defense and homeland security supply chain should attend. More information and registration can be found here.
The 2017 Gateway Hills Summer Concert Series — a free series of summer concerts at the Outdoor Ampitheater at 100 Innovative Way in Nashua — will feature the Brickyard Blues Band on Thursday, June 29 from 5:30 to 7:30 p.m. More information can be found here.
"Facebook Advertising: Be where the eyeballs are," a free seminar offered at the Enterprise Center at Plymouth, will take place on Thursday, July 13 from 9 to 10:30 a.m. More information can be found here.