Tech Tidbits From Across New Hampshire
HappsNow strikes deal with Brockton Rox, UNH schedules Marine Innovation Day ... and more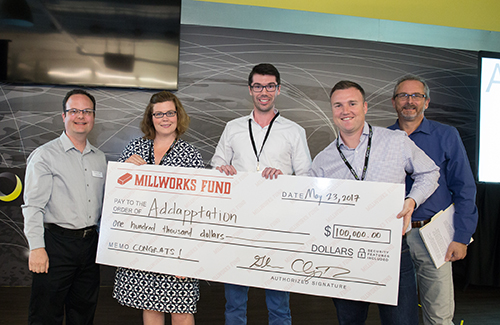 UNH will be holding Marine Innovation Day on Thursday, July 27 at the Victory Club at Wildcat Stadium in Durham. All are welcome to learn about UNH research in seafloor mapping, sonar capabilities/acoustics, data visualization, fishing, aquaculture and barrier technologies, ocean invasive species, tidal energy and more. Interact directly with professors, researchers, industry experts and government officials to discover the edge of possible. Click here to register.
---
Kentico Software, a CMS and cloud software company based out of Bedford with offices in Europe, Asia-Pacific and elsewhere in North America, was named one of the world's top 20 content management solutions by Capterra, a web-based service that reviews software products. ​Capterra's recognition follows Kentico being named A Top-rated CMS Platform by Software Users of TrustRadiusin March and being recognized as a "High Performer" on G2Crowd's Grid for Web Content Management in February.
---
Medicus Healthcare Solutions in Windham has been selected by Modern HealthCare as one of the 2017 Top 100 Best Places to Work in Healthcare. Winners were chosen based on an employee survey, as well as a comprehensive employer questionnaire. Topics of interest included diversity, employee bonus and incentives, benefits offered, sustainable or green practices, career development programs, communication tools, employee appreciation efforts, and much more.
---
Nashua-based mobile app developer Zco hosted Kersarge Regional High School students to discuss careers in tech. "There's a serious demand for skilled software engineers, coders, UI designers, and technical artists. We want to show the next generation that there are many career paths for them to pursue in technology," said Zco Director of Marketing Kyle Mallinger.
---
Deflex Composite, a Saint-Victor, Quebec composites manufacturer, will soon be moving into a building in Berlin, NH that it is leasing. This will be the company's first location in the U.S. It plans to hire three people initially with seven more by the end of the year. The company has a contract to produce front and rear bumpers for Volvo buses.
---
Cactus Jack's Great West Grill — owned by Great NH Restaurants — has become a new customer of Dinova, a dining points-based rewards system that operates through an encrypted corporate card to identify transactions at restaurants in the Dinova network. Cactus Jack's has two locations in Manchester and Laconia.
---
Connecticut-based Wheelen Manufacturing, which has a facility in Charlestown, NH, has selected Infor CloudSuite Industrial to replace its homegrown enterprise resource planning solutions and implement a unified platform to drive operational proficiencies. Infor, a provider of business applications built for the cloud, says cloud-based applications can help organizations better meet customer promises, take them to the global market and digital transform into a more agile, contract make-to-order and configure-to-order environment. Wheelen manufactures audio and visual warning equipment for automotive, aviation and mass notification industries.
---
HappsNow, a comprehensive end to end platform for event management, event promotion and fan engagement based in Portsmouth, has formed a partnership agreement with the Brockton Rox of the Futures Collegiate Baseball league to implement the HappsNow platform.HappsNow will enable all tickets to be viewed and purchased via web and mobile applications for iPhone and Android and will provide patrons the ability to alleviate food and beverage lines by ordering directly from their phone.
---
People's United Bank recently announced its mobile banking app offers debit card controls and Person-2-Person payment options as well as a new layout and more streamlined navigation. Debit card controls enable the customers to set transaction, merchant type, location and spend threshold amounts. P2P allows the customer to send money quickly and securely via text message or email for payment to a bank account, PayPal or a debit card.
---
Milpitas, Calif.-based Viavi Solutions is one of several companies participating today in the NVMe (Nonvolatile Memory Express) Plugfest for storage networking development at UNH's InterOperability Laboratory in Durham.