Tech Tidbits From Across New Hampshire
UNH student helps with emergency management plan for NH National Guard, Live Free & Start to hold women angel investing event ... and more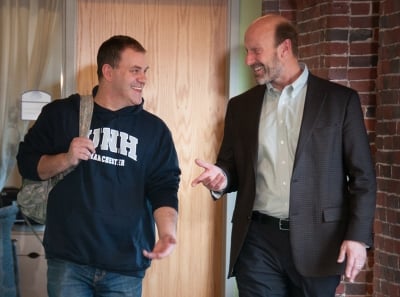 As part of UNH's Homeland Security program, Staff Sergeant Dennis Fitton is assisting with contributing to the emergency management plan for the New Hampshire National Guard while completing an internship within the Guard's Joint Operations Center. Fitton is also designing an exercise to test the plan for potential gaps once it's completed. A longer story can be found here.
This week, the Tag and Label Manufacturers Institute formally recognized Keene-based Electronic Imaging Materials, Inc. with the 2016 Eugene Singer Best Managed Company award, edging out over 30 print and label competitors of its size in U.S. and Canada. The achievement comes just in time to celebrate EIM's 30th anniversary of its incorporation this May. Thirty years ago Paul & Sue Henkel decided to enter the manufacturing world with durable label products for high-performance applications. In 2007, their son Alex Henkel and his wife Heather Bell purchased the Keene company.
Today and tomorrow are Girls Technology Days, an interactive conference for high school freshmen and sophomore women, co-sponsored by the NH Department of Education with the NH Community College System, University System of New Hampshire and the New Hampshire High Tech Council. Tomorrow the event will be held at Manchester Community College. For more information, click here or contact Courtney Ritchings (Courtney.Ritchings@doe.nh.gov) or Jennifer Kiley (Jennifer.Kiley@doe.nh.gov).
Technology Seed in Salem has recently hired It Specialist Cameron Cerasuolo. Cerasuolo is a U.S. Army Veteran with over 10 years of IT experience.
Live Free & Start is holding a panel discussion and breakfast entitled Women Angels II: Getting Started in Angel Investing on Wednesday, March 29 in Manchester. This event for accredited women investors will provide insight and information on how women can get started investing in early-stage companies. There will also be a discussion on the Impact NH Fund—a new angel fund focused on engaging female investors and fueling female entrepreneurs. For more details and to register for this event, please contact Liz Gray, director of entrepreneurship for the NHBFA at lizg@nhbfa.com.
Live Free & Start recently sat down with FreshAir CEO Jack O'Toole as it's Innovator of the Week. O'Toole discussed how FreshAir is adapting to large-scale production as well as developing new products. The story can be found here.
UNH will hold "A Conversation About University/Industry Strategic Partnerships" on Thursday, March 23 from 4:30 – 5:30 p.m., as part of its Wildcatalyst Seminar series. Peter Egelston, owner of Smuttynose Brewing Company, and Ellen Christo, senior director of strategic partnerships at UNH, are the guest speakers. The event will be held at Alpha Loft at the UNH ECenter, where attendees can also get a taste of Smuttynose's "1866" beer, brewed to commemorate UNH's 150th anniversary. For more information, click here.
Registration is now open for the 2nd annual TechWomen Luncheon, which will be held on Wednesday, April 5 at the Bedford Village Inn. The NH High Tech Council's Annual TechWomen Luncheon showcases the best in the state who have made the commitment to advance the careers of women in technology, as well as inspiring the future. The keynote speaker is Roseann Sdoia, a Boston Marathon bombing survivor.
The New Hampshire High Tech Council will host its next TechWomen|TechGirls Power Breakfast on Wednesday, April 12 from 7:30 to 9 a.m. at the Portsmouth Country Club. The featured speaker will be Claritza Abreu, MSCIS, vice president of enterprise technology risk management for State Street Corporation — a financial services holding company — who will discuss how her mentor and role models impacted her career. Click here for more information.
Nominations are now open for Young Entrepreneur of the Year, an award program sponsored by the High Tech Council, Alpha Loft and Stay Work Play. The program honors the work young entrepreneurs have done in and for New Hampshire. The winner will receive a $500 stipend to be used in the winner's entrepreneurial venture, for membership in a professional organization, leadership program, attendance at a conference or something specifically entrepreneurially-related.
Dave Arnold, founder and CEO of Retrieve, will speak at Alpha Loft's March 21 Founders Series event along with Kevin Low, founder and CEO of Secured Network Services. More information can be found here.
UNH will hold an Information Systems and Business Analytics Symposium for students, faculty and industry experts interested in emerging trends in big data and data analytics. The event will be held on Tuesday, April 4 at UNH Paul College in Durham. The format of the symposium will be a series of speakers each presenting for 25 minutes followed by 10 minutes of Q&A after each presentation. Each of the speakers will represent different aspects of business analytics and the goal is to bring awareness to the audience on how data analytics and intelligence are used in different industries to drive decisions and create value for the firm. More information can be found here.
Brian Bouchard of Sheehan Phinney will lead HR Exchange – Getting a Little Spring Back in Your Step: An Employer's Guide to Light Duty and Related Accommodations, a monthly discussion about light duty and related accommodations on Wednesday, April 12 at Sheehan Phinney's office in Manchester. This event is ideal for HR managers, CEOs, supervisors and other experienced professionals to share information and experiences in this often difficult but important area of management. Those interested must register by Wednesday, April 5.
The Seacoast NH WordPress Developers Group will hold an event on Thursday, April 13 called "Utilizing Custom Post Types and Custom Fields in Word Press". The event will focus on understanding the concepts and the correct usage of these two aspects of WordPress will make WordPress much more powerful for building custom themes or plugins.
The Concord Regional Technical Center will hold an event on Tuesday, May 9 for industry employers and professionals to help expand enrollment of nontraditional students in programs where one gender is underrepresented, and to encourage participation and success in high-growth career fields for both male and female students. This event is designed to strengthen the bond between the program and businesses and professions by finding ways to expose nontraditional students to career fields where one sex is underrepresented (including Automotive, Construction, Computer Engineering and IT, Cosmetology, Teaching, and Fire Science). To learn more click here.