Tech Tidbits from Across New Hampshire
The APEX Accelerator program kicks off, deadlines approach for the Startup Challenge and DEN 3DS Startup Weekend ... and more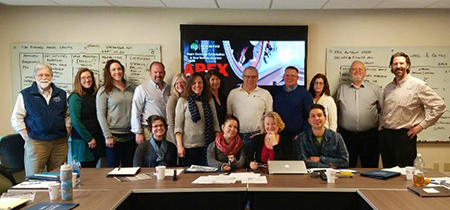 Tomorrow is the application deadline for startups seeking UNH Durham students for internships, with their stipend provided by UNH, thanks to a donation from an alum. The Startup Internship Program provides students with an experiential learning opportunity over a 10-week period and a $4,500 stipend. More information can be found here.
Ken Peterson, president of Portsmouth-based Next Level Now, Inc., will discuss key performance indicators as an important tool to manage a growing company at Alpha Loft – Portsmouth's Startup Tuesdays Launch Series on March 14. Attendees will learn about different types of KPIs, how to identify those central to their company and how frequently to track them. More information can be found here.
Women in the tech field are invited to attend Cultivating Cultures In Tech Where Women Succeed, a networking event with speakers including Lauren Provost, Ph.D.
director of science & technology outreach, Dartmouth College; Jenny Houston, executive vice president, Warwick Mills; and Leslie Ann Buckley, division vice president of Northeast Division Engineering and Network Operations Centers at Comcast. The event will be held Monday, April 10. More information can be found here.
Earlier this week, the Enterprise Center at Plymouth kicked off their first class for the newly-created APEX Accelerator program. Fifteen companies were selected from the Central New Hampshire region to take part in the first APEX Accelerator program, which assists participating entrepreneurs and established business owners accelerate their businesses' growth through weekly educational sessions, direct mentorship from experienced industry professionals and networking opportunities. The APEX Accelerator will culminate on May 8th with a Demo Day, providing each participant the opportunity to present their business idea to a panel of judges with a chance to win a cash prize. List of participating businesses include: Karl Drerup Art Gallery / Museum of The White Mountains, AdasKo Enterprises, Homeward Bound Professional Animal Care, Live a Little Fitness, Utility Choice Savings, White Mountains Helicopter, Sara Holland & Company, Country Cupboard Candies, SuzieBlu Party & Event Design, Synergy Construction, Mindful Making LLC, Schatelier Architectural Studio, and Keene Systems Inc.
The Enterprise Center at Plymouth is holding an Intro to Cybersecurity: Safeguarding Your Small Business seminar on Monday, April 17 from 9:30 to 11:30 a.m. Candy Alexander, CISSP CISM will lead the seminar. Individuals can register here.
SymQuest Group, Inc., a wholly-owned subsidiary of Konica Minolta Business Solutions U.S.A., Inc., with an office in Lebanon, has appointed Meg Fleming as president of SymQuest effective April 1. Fleming will succeed Co-Founder and acting President and CEO Larry Sudbay, after 21 years of service with SymQuest. Fleming has served in various positions within the company including COO, client support manager, service manager, director of service and regional director of sales.
The deadline for the Manchester Young Professional Network's New Hampshire Startup Challenge is Monday, March 13. The New Hampshire Startup Challenge is a statewide business plan competition that connects entrepreneurs and social innovators with seed capital and key services to help them on their path toward the creation of value, sustainable growth, and profitability. The Challenge is open to any granite state resident with an idea. Click here for more information.
The deadline is approaching for the Dartmouth Entrepreneurial Network's 3DS Startup Weekend applications. The 3 Day Startup is a 72-hour learning-by-doing campus workshop that teaches entrepreneurial skills in an extreme hands-on environment. More information can be found here.