Tech Tidbits Across New Hampshire
SNHU launches streamlined financial aid platform, The Provident Bank visits BIOMEDevice ... and more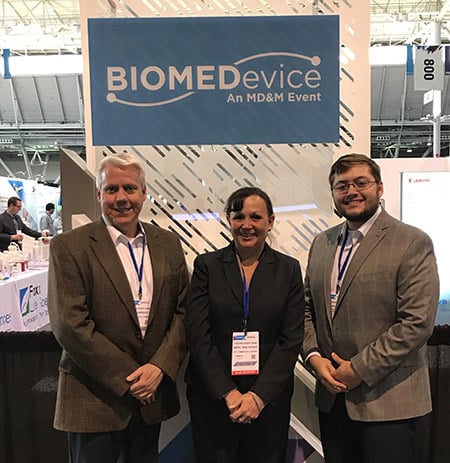 Ahead of The Provident Bank's trip to the global medical Hospitalar tradeshow in Sao Paulo, Brazil, bank staff explored the world of medical manufacturing in Boston at the BIOMEDevice expo.The Provident has formed partnerships in both New Hampshire and Massachusetts with local government and state agencies in an effort to bring export financing products and education to small and medium-sized businesses. The Provident's President and Chief Lending Officer Chuck Withee and Senior Vice President and International Finance Officer Leanne Spees are traveling to the Hospitalar medical tradeshow to explore the potential for expansion of U.S. medical exports to Latin America and around the world. The Provident offers niche lending services of mergers and acquisitions and export financing. "The BIOMED Device Expo and Hospitalar are both excellent opportunities for us to learn how we can help businesses in the medical manufacturing equipment industry," said Spees.

Dartmouth College has launched a $3 billion capital campaign, The Call to Lead, which includes plans to transform the west end of campus into a hub of technological and entrepreneurial innovation. The campaign includes $250 million to integrate engineering and computer science, expand both faculties to be able to teach more students, and construct a new state-of-the-art building to house engineering, computer science, the Digital Arts, Leadership & Innovation (DALI) Lab and the Center for Entrepreneurship. Seventy percent of Dartmouth undergraduates take at least one engineering or computer science course, says the college, with demand from both men and women.
Uniguest, a cybersecurity technology company based in Tennessee with an office in Portsmouth, NH, has acquired ONELAN, a U.K.-based digital signage and visual communications company. ONELAN is a global leader in developing and managing visual applications such as digital signage, wayfinding and meeting space bookings.
Southern New Hampshire University has launched a new platform designed to streamline the financial aid process for students, families, and staff. Developed by Arizona-based CampusLogic, a higher education financial services platform, the platform includes a suite of mobile-friendly products to help students complete critical financial aid documents and make communication more effective between SNHU students and the financial aid office. SNHU will have access to StudentForms, which automates complex forms and keeps students engaged with text message updates, and CampusMetrics, which provides real-time analytics and data dashboards to help institutions adjust services to the needs of the student population. CampusLogic works with more than 450 colleges and universities nationwide. It announced last week an investment of $55 million from JMI Equity to expand its platform to colleges and universities nationwide.
Nrby, a location-based awareness and collaboration platform in Nashua, has hired Ron Miller as vice president of product management. Miller is a 25-year cable industry veteran, with an extensive broadband career that includes product and project management positions at Tellabs and Thomson Multimedia. Miller joins Nrby from Espial, where he was general manager of Elevate, the business unit created after the company acquired ARRIS' Consumer Solution business. At Nrby, he is responsible for driving a customer-centric approach to product development and helping extend Nrby's adoption by cable and other service providers.