Task force takes aim at teen drug, alcohol abuse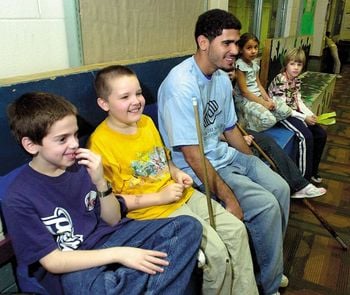 NASHUA – Mario Pena first went to the Boys & Girls Club of Greater Nashua at age 13 to play sports with other kids. By the time he was 18, the center had turned his life around.
Pena, the child of a working single mother, developed a close relationship with a club mentor who encouraged him to be the first in his family to graduate from college. This year, Pena graduated from Daniel Webster College with a degree in sports management.
"If I'd never had that relationship with a staff member, I don't know where I'd be," said 22-year-old Pena, who is now the individual services director for the Boys & Girls Club.
A personal connection between kids and community members – through sports, the arts or special interest groups – is exactly what the Nashua Task Force on Alcohol and Other Drugs believes will keep kids out of the court system.
On Wednesday, at the task force's Red Ribbon Week breakfast, representatives from the Adolescent Treatment Initiative and Reclaiming Futures said community involvement is the key to preventing teen alcohol and substance abuse.
"We're working on creating and funding opportunities to engage them in the community in a positive way," said Tym Rourke, community resource specialist for Reclaiming Futures.
Reclaiming Futures is a national of the juvenile justice system. The Adolescent Treatment Initiative is an effort by the New Hampshire Charitable Foundation and New Futures, an agency that combats drug and alcohol use, to support and improve community-based teen treatment programs.
Both projects hope to offer all New Hampshire kids access to more youth programs.
Joe Diament, director of the Adolescent Treatment Initiative, is hopeful that today's teen drug and alcohol programs will be more successful than in the past. He said programs are more effective when they make young people feel as though they are a part of the community around them.
"The horizon is very optimistic," Diament said. "The future is very promising in this field."
Rourke said it is the responsibility of community members to help engage youth in any way possible – through more meaningful community service, employment or entertainment – to give them a positive connection to the area around them.
For Pena, that positive connection was the Boys & Girls Club. Eight years after his mentor made a positive impact on his life, Pena is working to get other kids involved with the organization and off the streets.
"Once we bring these kids into the building and keep them involved, we keep them out of the court system," he said.